Villages around Mount Ventoux
Part of the PACA region, the département of the Vaucluse offers all the fragrance of Provence ! Bédoin, Vaison-la-Romaine and Saint-Didier are delightful communes basking in the sun at the foot of Mount Ventoux.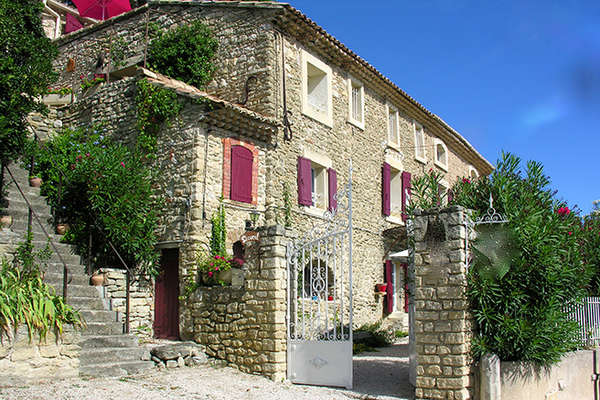 On the outskirts of a charming village with shops, this stone "mas" consists of three independent homes in 1,566 m2 of grounds with a pool. The stone building of almost 385 m2 is ideal for a large family or B&B activity. 990.000 €. Boschi Immobilier (04 75 26 09 78).
At an altutide of 1911 metres, Mount Ventoux overlooks a number of Provençal villages, each one more charming than the last. This "mountain one can see from afar" has become a real symbol for the region. Green tourism and outdoor sports have really grown in popularity here as a result of improvement work, including hiking paths which now replace the old trails, and the organization of events such as top-notch cycling competitions.
David Boschi, property specialist for the Drôme Provençale and Vaucluse since 1960, recently opened his ninth agency, Boschi Immobilier, in Bédoin. This commune in the Upper Vaucluse offers lots of charm. The departure-point for climbing Mount Ventoux, it draws lots of visitors from the first days of spring until the end of autumn. Here, buyers can choose from three types of properties. Single-storey villas, near the village, with gardens and pools, appeal particularly to retirees with budgets from 300,000 to 450,000 €, wanting to settle here on a permanent basis and benefit from a pleasant setting near amenities. Boschi Immobilier just sold one such villa of 137 m2 in mature grounds of 1,002 m2, priced at 352,000 €. As for stone houses in the countryside, ranging from 300,000 to 500,000 €, they are in high demand from families from outside the region as holiday homes. "We recently sold one that had been restored, in pretty grounds of 2,031 m2, for 435,000 €," says David Boschi. Finally, stone "mas" priced from 700,000 to 1 M € embody the dream of Provence nurtured by Parisian, Belgian, Swiss, German and other clients. A dream that recently came true for clients who treated themselves to a very beautiful "mas" of 275 m2 in wooded grounds of 8,814 m2 with a pool, in the midst of vines and olive-trees, and enjoying a sweeping view of Le Ventoux and the surrounding hills, for 820,000 €.
"In Vaison-la-Romaine, after a rather sluggish period with declining prices, we are seeing an upturn in the market," says Jean-Pierre Garcia of CTI – L'immobilier en Provence. All kinds of properties can be found here : apartments, new developments, Provençal villas, stone "mas"... Something to suit all tastes and budgets, as prices vary depending on the property itself, its location, character, view, appointments and layout... On average, for a stone "mas", which is still the most sought-after property, one can expect to pay from 400,000 to 500,000 €, sometimes with renovation on the cards, costing up to 250,000 €. Ten km from the foot of Mount Ventoux, the commune is popular among fans of walking, biking and hiking. Foreign clients who buy houses as holiday homes often settle here permanently. "Our foreign clientele is mainly comprised of Belgians. We recently sold a lovely apartment of 100 m2 with a terrace of 45 m2, a 5 min­ute walk to the centre, to Belgian clients who paid 287,000 €," says Jean-Pierre Garcia. "Curently, very close to the village, two new developments are rising from the ground. Very smart and well-equipped, they will consist of apartments with good-sized terraces which will appeal to local buyers."
In Saint-Didier, Christiane Auquier, manageress of Côté Sud Provence Immobilier for the past 40 years, is surprised to see just how inexhaustible the area's property market actually is. "There are always properties for sale, and the market is very buoyant." An hour from the airport, 25 minutes from the TGV, and 20 minutes from the motorway, the quality living conditions offered by Saint-Didier and its surrounding area are remarkable, and the absence of any noise much appreciated. Pernes, and especially the hill of Le Puy, a wooded residential area in the centre and upper part of the commune, are the "nec plus ultra". The most widely sought-after property is a traditional villa of 100-130 m2 with a garden and pool, or at least the possibility of a pool, priced from 300,000 to 400,000 €. In Saint-Didier, near the village, Côté Sud Provence has just handled the sale of one such villa. The clients fell for the charm of its living space of 110 m2, its garden and pool, and bought it for 340,000 €. These new residents will undoubtedly take full advantage of the delightful lifestyle offered by the Vaucluse...
You will also like