Valence : the appeal of both modern and Provençal styles
Between Vercors and Provence, the "Gateway to the South of France" draws both tourists and the actively employed. The local market is of particular interest to investors and buyers looking for permanant homes. A local market which is picking up...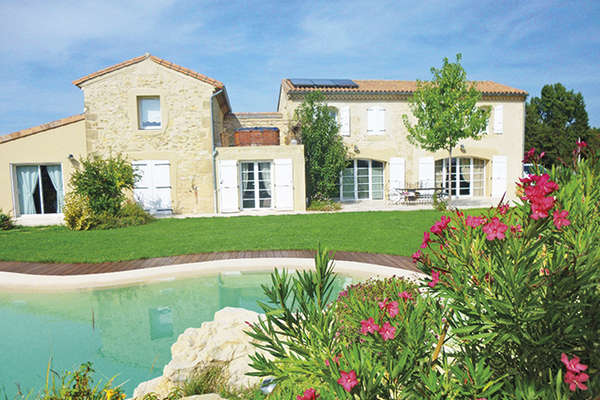 South of Valence, this stone "bastide" of 315 m2 is in a very lovely environment with an open view. It stands in almost 5 acres of grounds with a swimming pool. 740.000 € Amouroux Immobilier (04 75 56 72 48).
The most highly populated town in the Drôme, Valence is a commune with a pleasant climate and easy access, whether via the motorways, TGV train or the Valence-Chabeuil airport. The Old Town of Valence is rich in history, and the town can be discovered along its canals and in its gardens.
For the past 30 years, Anne-Marie Amouroux of the Amouroux Immobilier agency has proposed recent villas such as one of 226 m2 in Montmeyran priced at 520,000 € in grounds of 3,500 m2 with a pool, houses of character, especially farmhouses in the Drôme, highly-prized in the region, like one of 190 m2 in 4,000 m2 of grounds 10 minutes from Romans, priced at 450,000 €, or a stone "bastide" of 315 m2 on five acres of land with a pool, 20 minutes south of Valence, priced at 740,000 €. Most of the agency's transactions are, however, within Valence, with a clientele of senior executives aged 30 to 45, transferred to the region and in search of year-round homes. For Anne-Marie Amouroux, it is a real challenge to find just the right home to welcome a happy family. On her website amourouximmobilier.fr, she currently proposes 70 houses and apartments of character. Since 2015, she has noted a certain recovery in the area, a turnaround probably due to low interest rates. Most of the properties sold here are worth around 200,000 €, though some buyers are looking for homes with gardens and pools. Outside the town, houses in both modern and Provençal styles are in dem­and, even old properties requiring renovation.
In the Danton area, a lovely spot near amenities, PMP Promotion/Immobilier is currently building a new development called "Le 17", a high-end residence offering tasteful appointments. This approach is deliberate and found in all the developer's projects, as explained by agency manager Pierre de Grandprey : "We function as both an estate agency and as a development group. The two entities are independent, but in both cases we give great importance to details and, of course, the clients. The market can be broken down between 70% of local buyers, 30% from outside the Drôme. Our most recent development is a residence with 9 units, on a human scale. On three floors, the apartments range from 45.45 m2 with two main rooms, to 104.93 m2, with four main rooms. Each apartment has its own private outdoor area, and prices range from 126,975 to 358,000 €". Currently being marketed, the development's delivery is scheduled for the end of 2017. Pierre de Grandprey continues : "Our clients often have very clear ideas of what they want to buy, and our role is to offer properties meeting their requirements by building viable developments. It is important for us, especially as the market has been picking up over the past six months or so".
You will also like