Vaison-la-Romaine, gem of Le Haut-Vaucluse...
Home to around 6,200 year-round residents, Vaison-la-Romaine is a charming town 27 km north of Orange, between the Valley of the Rhône and Mount Ventoux. Well-known for its delightful lifestyle and prestigious cultural events, it is especially popular among retirees in search of a pleasant life in the sun.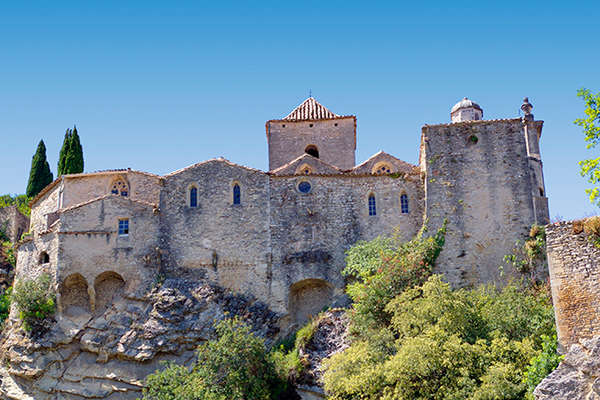 A gem of the Provence dating back to the Roman era, the "Haute-Ville" of Vaison-la-Romaine was built on a rocky outcrop in the 13th century.
Based for 30 years in Vaison-la-Romaine, the Agence CTI proposes all kinds of properties including a selection of charming and prestigious residences, as well as new developments such as the residence Le Vassio just 800 metres from the town. Consisting of 19 apartments, this high-end residence benefiting from quality appointments and the most recent energy standards is scheduled for delivery in the first quarter of 2020. Priced from 3,200 to 3,800 € per sq.m, these apartments with 1 to 3 bedrooms, all extended by generous terraces or private gardens, have drawn lots of interest. "The largest were the ones which sold first," says agency manager Jean-Pierre Garcia. In addition to new apartments, the agency also handles sales of houses. "Our buyers are now mostly French, from various regions in northern France. A few Belgians, Dutch and Swiss are still interested, though they are fewer in number than eight years ago. They are often planning ahead for when they retire, looking for a pleasant, well-maintained villa or a stone "mas" with open views in a quiet location, near the centre. Their budgets usually range from 300,000 to 400,000 €."
Specializing in Vaison-Ia-Romaine's property market for several years, Manon Cottet launched Cottet Immobilier just one year ago. Offering a varied selection of properties in Vaison but also within a radius of about 20 km around the town, she meets the requirements of a clientele mainly from Lyon, Paris, Brittany, Normandy and Savoy, completed by Belgian and Swiss clients, and not forgetting local buyers who have been more inclined to become home-owners since the general decline in prices. The sales she handles are evenly shared out between permanent and holiday homes. "Houses comprise 70% of the agency's portfolio. Today's most typical request is for a villa with a garden ranging from 200,000 to 350,000 €," says Manon Cottet, mentioning by way of example a recent 4-bedroomed villa of 135 m2 with a mature, enclosed garden of 732 m2 which could take a pool. Featuring a generous lounge of 49 m2, it is up for sale at 353,000 €. "The Vaison-la-Romaine area is also appreciated for its lovely old residences, some of which have been tastefully rehabilitated, like one elegant village house of 240 m2 renovated by an architect. Offering a terrace, an inner courtyard and a solarium with an unimpeded view of the surrounding mountains, it is on offer at 550,000 €. A charming residence harmoniously blending old and contemporary styles, at the heart of the village of Sablet."
Founded in 1960, the family enterprise Boschi Immobilier, now with nine agencies in the Drôme Provençale and Haut Vaucluse, provides assistance for home-hunters in the nothern part of Provence. "Currently comprised of about 800 properties, our portfolio offers a wide choice to both French and foreign clients looking for a life change," explains agency director David Boschi. "When preparing for retirement, they set their hearts on pleasant houses, ideally all on one floor, near the centre of small towns. Accounting for about 50% of our clientele, buyers of holiday residences set their sights on larger properties in the midst of nature, so as to be able to organize family get-togethers. Thanks to its fine cultural reputation, enviable lifestyle and amenities, Vaison-la-Romaine is one of the most highly-prized addresses. Though we are noticing that clients are now more inclined to broaden their horizons if they come across a property meeting their requirements elsewhere, especially as charming neighbouring communes post lower prices than those in Vaison." What about prices ? "They range from 250,000 to 350,000 € for 1-storey villas requested by young retirees. Houses offering generous volumes in grounds with swimming pools start from 400,000 €, while charming stone residences which have preserved their lovely old materials will be targeted by buyers with budgets between 500,000 and 700,000 €." As an example, David Boschi mentions a stone country house with a pool and very beautiful views, in proximity to Vaison-la-Romaine, which just sold for 635,000 €.
You will also like