Vaison-la-Romaine : a classic example of a town in Provence
A town on a human scale in the Vaucluse, Vaison-la-Romaine is an appealing blend of culture, nature and a pleasant lifestyle. Nestling at the foot of Mount Ventoux, it benefits from a privileged location between the Alps and the Mediterranean.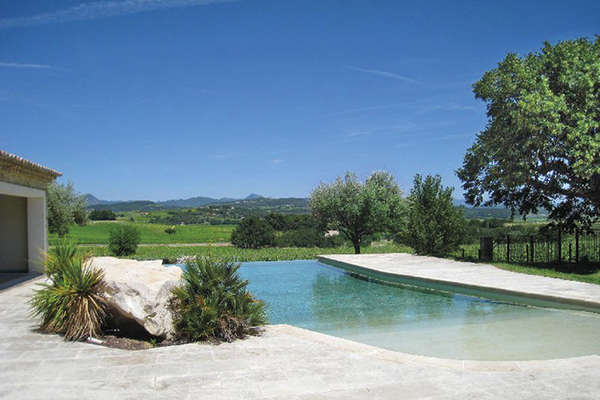 Enjoying a view of Le Ventoux, this superb renovated "mas" offers living space of 268 m2 plus annexes in enclosed grounds of 2,805 m2. 740.000 €. Boschi Immobilier (04 75 26 09 78).
Buyers fall for the charm of the Provençal climate enjoyed by Vaison-la-Romaine, its casual lifestyle, rolling countryside with vineyards and olive-groves, but also its Roman theatre and the cultural life associated with it," explains David Boschi, manager of Boschi Immobilier. "Our clients are mostly young retirees looking for single-storey villas with three bedrooms and a medium-sized garden in a residential area near the town centre. Their budgets range from 250,000 to 350,000 €, though some can invest up to 450,000 € in larger houses with quality appointments and swimming pools. Recently-built houses in perfect condition with good energy ratings are the most widely sought-after." According to David Boschi : "Other buyers are looking for second residences in which to spend holidays with their families. They want to be in the country, in peaceful surroundings, with a view (preferably of Le Ventoux). They have a fondness for old stone houses, if possible with a pool. With budgets ranging from 400,000 to 600,000 €, these buyers give priority to their plans for family gatherings, and can find what they are looking for just as easily in the Upper Vaucluse or the Drôme Provençale". Other clients with higher budgets can treat themselves to a beautiful "mas". Like one of 350 m2 on the hills above Vaison-la-Romaine, in grounds of 3,435 m² with a pool, pool-house, masses of charm and a fabulous view, recently sold by the agency for over 1 million euros. "Which is how, with our seven branches in this area, we manage to propose the best properties available to our clients. We have, in fact, just opened a new agency in Sainte Cécile les Vignes," adds David Boschi.
Unlike other towns in the region, Vaison-la-Romaine is lucky enough to be sheltered from the Mistral wind. According to Jean-Pierre Garcia, director of the Agence CTI, this is just one of its many charms. "It has a very lovely town centre, two churches, and architecture dating back to the Age of Antiquity, the Middle Ages and the modern era. The town-hall is very active and there is always something going on. The region attracts not only retirees, but also younger people in the 25-35 year-old bracket, with a taste for old houses and their stylishness. We have few first-time buyers moving into the area, as prices are high : from 3,500 to 3,800 € per sq. metre. Our clients want a view, simple construction and quietness." Characteristics that a lovely stone Provençal villa of 150 m2 is capable of offering, in exchange for 484,000 €. Set in enclosed grounds of 1,612 m2, it comes with a garage and is close to the centre of Vaison. Opened in 1989, the Agence CTI has specialized over the years in desirable properties. As explained by Jean-Pierre Garcia : "We prefer houses to be sound and clean. With regard to their appearance, but also their prices. We are especially fond of stone, and properties which have retained their local character. Such as one Provençal "mas" in an elevated pos­ition, which has been restored to reflect its origins, and has kept its terra-cotta floors. That's what makes for the region's charm !" Up for sale at 880,000 €, this particular "mas" offers living space of 215 m2 and a panoramic view of the surrounding hills and villages. It also benefits from almost 2.5 acres of land, and a true Provençal atmosphere with its seventy olive-trees
and truffle grove.
You will also like