Uzès and its surrounding region : the good life !
A privileged climate, landscapes bathed in light, an inestimable architectural heritage... Uzès and its surrounding region offer exceptional living conditions. Yet prices here are not as high as in the rest of the département.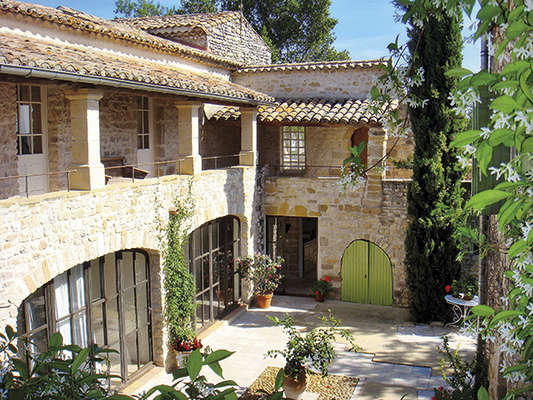 This typical "mas" close to Uzès offers living space of 320 m2 in wooded grounds with a pool. 1.055.000 €. Emile Garcin Propriétés (04 66 03 24 10).
It's hard not to fall for the charm of Uzès, a town steeped in history with many listed monuments (castles, Le Duché, the Fenestrelle tower...), nestling amidst the garrigue and vineyards. "Referred to a few months ago as "the hidden gem of southern France" in the New York Times," recalls Jérôme Caillon, negotiator for Emile Garcin Propriétés, an agency in the group specializing in outstanding real estate and based in Uzès since 1999. Despite all this : "The area isn't overpriced. The average price per sq. metre is no more expensive here than in Nîmes, Aigues-Mortes or Port Camargue". Studios in old buildings start at 60,000 €. "For a larger apartment of 180 m2, for example, with a terrace, one needs a budget of about 600,000 €." As for houses, Jérôme Caillon currently has a village house of 160 m2 for sale, 10 minutes from Uzès, with a garden and 100 m2 of outbuildings, at 495,000 €. "Within a radius of 15 km around the commune, old properties with several acres of land are being snapped up, while in the centre, townhouses and private mansions are in high demand." Almost 50 % of the agency's clientele, "in search of authenticity and charm", is comprised of foreigners. "The most highly represented country is Belgium, followed by Switzerland, England, Australia, the USA and Germany." The remaining clients, shared out between the actively employed and retirees, "illustrate a very clear trend : the search for a holiday home destined to become their main residence as soon as the owners retire".
Eric Bardel, sales manager for Immo 30 Duché d'Uzès, says that a third of his clients are foreigners. "They now mostly come from the Benelux. Though the Swiss are loyal fans, and the English are staging a comeback." Another third, "usually close to retirement", come fom northern France, with the rest comprised of locals, "often first-time buyers". Based for the past 10 years in Saint-Quentin-la-Poterie (5 km from Uzès), the agency has built up a renov­ation activity. Understandably so : "Apartments here can be found at 1,500 € per sq. metre, but often require rehab­ilitation. This is, in fact, true of many properties in the area". Otherwise, the price per sq. metre in Uzès, "much more appealing than in the Luberon or the region around Montpellier", ranges from 2,000 € for the middle range to 3,000 € for the top end of the market, "and occasionally even more". With one constant factor : "The further one goes from the town centre, the cheaper the prices. Five km away, they are already 15 to 20 % lower". As for building land, for which the agency can claim "recognized expertise", it costs around 150 € per sq. metre. "For a plot which is not on an estate, the price is 120 €, or even less : we are currently proposing plots in Saint-Victor-des-Oules (6 km from Uzès) at 100 € per sq. metre."
Johanne Meurant, manageress of Cigal Immo, an agency based in Uzès since 1999, emphasizes the advantages of "the commune's position, close to the sea, motorways, and large towns such as Nîmes (25 km), Alès (32 km) and Avignon (40 km)". Noting high demand for recently-built houses, many of her clients have budgets ranging from 450,000 to 500,000 €. "The most sought-after property is still, however, the old "mas" in the town of Uzès itself, even though it is rare, as the centre mostly consists of town houses." The average price of this type of property is 800,000 €. And what about building plots ? Johanne Meurant currently has two examples on offer in Uzès, "which is also rare" : the first priced at 130 € per sqm., the second, smaller, at 180 € per sqm. Two-thirds of her clients come from outside Le Gard : "Many of them, either retired or close to retirement, come from northern France. Though we also have Swiss and German clients who are back again, as well as British and Belgian buyers, who never really left."
You will also like