Uzès, a town on a human scale
40 km from Avignon, 25 km from Nîmes, Uzès with 8,550 inhabitants is surrounded by vineyards, olive-groves and "garrigue". The centre of this Town of Art and History, its paved streets and the façades of its 16th- and 18th-century buildings are particularly well-preserved.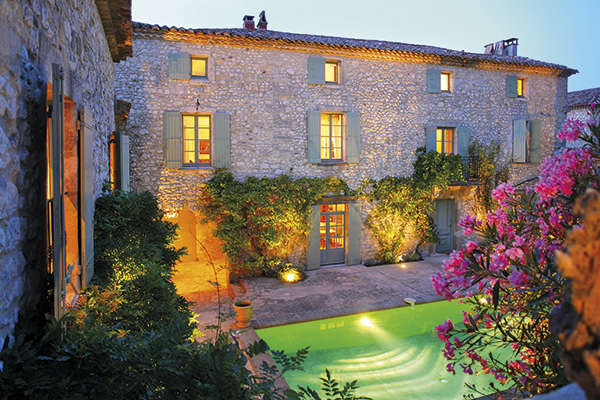 10 km from Uzès, the main house of approx. 310 m2, renovated as per the rules of the art, is accompanied by a second building of about 170 m2 in a park of 2,520 m2. 1.875.000 €. Catherine La Bruyère (04 66 03 41 71).
Houses with arcades line the Place aux Herbes, dotted with plane-trees and serving as the backdrop for a much-appreciated weekly market. The Chapelle des Capucins built in 1635 now houses the tourist office. Boasting three feudal towers, the duchy of Uzès can lay claim to an architectural legacy bequeathed by various eras, testifying to its rich past. This little town in Le Gard is indeed a very pleasant place to live.
"In 2012, the property market in Uzès showed real solidity," says Hervé de Maulmont of Catherine La Bruyère Immobilier, an agency specializing in property transactions. "While the 400,000 to 600,000 € bracket is flowing along somewhat less smoothly, properties ranging from 800,000 to 1.7 million euros are seeing more completions thanks, in particular, to a Swiss and Belgian clientele. It's hard to deny, however, that it takes longer to sell, given the precise and rational demands made by the buyers." Beneath the 350,000 € level, activity is also quite lively, fuelled by demand from buyers from Paris and the Rhône-Alpes region. The main/holiday home ratio is in the process of reversing, to the benefit of the first. Recently, a Parisian couple in their forties, keen to move to the region within two years' time, treated themselves to a village "mas" of 200 m2 built in the 1830's, giving onto a small garden with a modest pool and costing 450,000 €. Another couple from the region around Paris, looking for a holiday home, then paid 800,000 € for a partly renovated "mas" of 375 m2 in grounds of 5,000 m2. Finally, clients looking forward to retirement parted with 1.8 million euros to acquire a 17th-C. "bastide" of 400 m2 in excellent condition, on over 6.9 acres of land. Clients often compare Uzès to Saint-Rémy. They point to the authenticity of the setting, the cultural activities and the nobility of buildings inherited from a time when the area owed its prosperity to the silk industry. Just like the "pearl of the Alpilles", this address draws the interest of captains of industry in search of discretion and privacy.
Fabienne Thonat-Guessab of Objectif Sud Immobilier draws a distinction between two buyer profiles. Starting with the locals, ready to pay from 150,000 to 250,000 € in a lively village within a 10-km radius around Uzès. Often, the properties on offer do not come up to their expectations. As for occasional residents, they are looking for stone-built "mas" with gardens, 15 km at most from the town. Traditional villas are clearly seeing a setback. In order to offer all-round service, Fabienne Thonat-Guessab works in partnership with an architect and a prime contractor, catering for both local and international clients by building a network abroad. She mentions a village house in a charming commune in L'Uzège – 250 m2 on three floors (two with vaulted ceilings) with an outdoor area, priced at 165,000 €. Following restoration, estimated at 170,000 €, the property could be re-sold for close on 600,000 €. Another example is the entire top floor of a noble mansion in the historic part of Uzès, giving a surface area of 220 m2 awaiting development, priced at 252,000 €. By investing another 150,000 € in restoration work, the buyer can make a hefty profit. When all's said and done, whether a property is in excellent or very poor condition, the only things that count are potential and authenticity. There is, in fact an Uzès label, proudly flaunted by its typical buildings.
"The property file of Côté Soleil Immobilier covers a very wide spectrum, from 50,000 to 1.5 million euros, with the latest transactions ranging from 89,000 to 1.5 million euros, and a higher concentration over the last quarter under the bar of 400,000 €," says Yann Wojtera. Everything sells as long as the price-tag matches market reality. Many clients come from other French regions, looking to buy with a view to retirement, and especially drawn by the lovely setting. Over and above 700,000 €, one finds a few foreign buyers. Today, they mostly focus on prime locations, ie. no more than 10 km from the centre of Uzès. This clientele is naturally drawn by the closeness of the towns and international airports of Nîmes and Montpellier, not forgetting the TGV station in Avignon. On Saturday mornings, the market is in full swing... All advantages which justify stable prices and pretty much the same volume of business throughout 2012.
You will also like