Uzès, a must address in Le Gard
In 2008, the charming town of Uzès was awarded the "Town of Art and History" label. A well-deserved title, given the rich heritage it continues to maintain, for the greater enjoyment of its visitors and residents.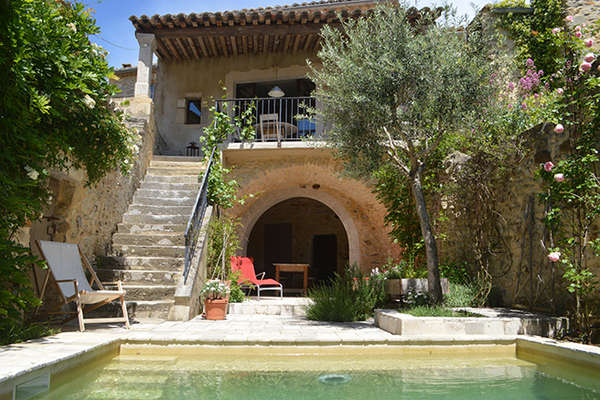 Typical of the region, this village house has been renovated with quality materials and lots of taste. It offers living space of 151 m2, an annex and a leafy courtyard with a pool. 490.000 €. Terres du Sud (04 66 22 70 14).
40 km from Avignon, 32 km from Alès, and 25 km from Nîmes, Uzès is easily reached by train, the motorway or even by plane. More and more people are buying second residences here to take advantage of the town's exceptional setting. A lively town in all four seasons, providing all the amenities needed for daily life.
Since the beginning of the year, the property market has been very active. As confirmed by Hervé de Maulmont, manager of the Agence Catherine Labruyère : "The economic context is favorable and, over the past four months, we have even noticed a slight rise in average prices per sq. metre." Another noteworthy fact : renewed interest for holiday homes. Buyers from Belgium, the UK, Switzerland, Australia and New Zealand, accounting for about 75 % of the agency's clientele, are setting their sights on the area for its peacefulness and authenticity. Sales here mainly involve three types of properties. First, small town houses of around 150 m2, with 3 or 4 bedrooms, a terrace and, ideally, a small garden, priced around 450,000 €. Then the traditional "mas", which still arouses considerable enthusiasm. Facing south, offering living space of 200-250 m2, in grounds from 2,000 to 6,000 m2, they fetch from 3,000 to 3,500 € per sq.m. Finally, Uzès boasts some very large properties, for budgets often exceeding 1.5 million euros, like one example in the neighbourhood of La Lauze, contemporary in style, and near the historic centre, which won the hearts of Swiss buyers. "This area is highly sought-after because, if you want to build, the minimum amount of land required is 2,400 m2," explains Hervé de Maulmont. "You therefore find very desirable properties, discreet, and in good locations. Especially as a renowned chef has just taken over the ovens at the restaurant L'Artémise, on the Chemin de la Lauze."
Aurélia Vincens of the Terres du Sud agency is also happy to see a market benefiting from a fresh boost. "Lots of clients were waiting for the presidential elections before pursuing their plans for acquisition. We are now receiving a growing number of enquiries." The average budget lies somewhere between 300,000 and 400,000 €. For this price, Parisian, Swiss and Belgian buyers, who comprise the majority of the agency's clientele, can treat themselves to a villa of about 100 m2 in pleasant surroundings. Those who can invest more opt for stone houses with gardens large enough to take a pool or, better still, the highly sought-after "mas" with a garden, within a maximum radius of 10 km, priced from 600,000 to 800,000 € or more. At this end of the market, the agency has in fact just handled the sale of a very beautiful recent house of 190 m2, built of top-quality materials and surrounded by drystone walls, 4 km from Uzès. Benefiting from grounds of 1,500 m2 with a pool and sweeping view, it was acquired by Belgian clients for 790,000 €. In less than a week, the agency also sold a completely different kind of property, of particular interest : an apartment of 77 m2 at the very heart of Uzès, priced at 220,000 €. In an old house split in two, this garden-level apartment offered a private outdoor area of 125 m2 and corresponded perfectly as a pied-à-terre for clients from northern France. "With the TGV placing Paris only 2 hrs 40 from Uzès, the market for second residences has developed significantly and allows for more frequent round-trips, as Uzès is a town with a privileged climate, lively year-round, and people want to benefit from it fully. This is definitely why we now have more clients who abandon their plans initially focusing on the Luberon,
in favour of Uzès."
You will also like