Upper Vaucluse : charming villages
No fewer than seven villages in the Upper Vaucluse have won the "Plus Beau Village de France" label. Dotted with historic sites in the midst of majestic nature, the region is attracting a growing number of city-dwellers who decide to settle here for a large part of the year.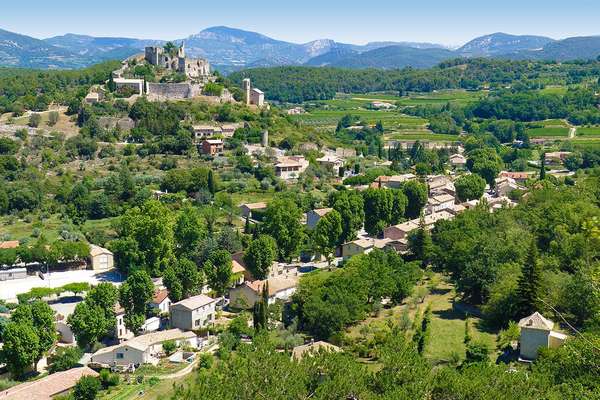 A region renowned for its truffles, lavender and wine, the Upper Vaucluse is a privileged site whose history stretches back over 20 centuries.
Specializing in sales within a radius of 30 km around Vaison-la-Romaine, the Cottet Immobilier agency is run by Manon Cottet who describes a lively market underpinned by abundant offers and rising demand. "Very attractive to tourists, the area has witnessed a significative boost since September in terms of sales. Buyers are mostly French, from Lyon, Paris, Brittany and Normandy, together with clients from Belgium, Germany and Switzerland wanting to acquire holiday homes and, a strong trend, homes they can live in six months of the year. For most of them, the top priority is thus a house of 90 to 140 m2 with 3 or 4 bedrooms, a garden and ideally a pool." For this kind of property, prices range from 280,000 to 380,000 €. "After a noticeable slowdown at the beginning of 2019, sales volume has seen a significant rise since September: the decline in prices in fact served to stimulate and boost the market."
The Christine Miranda Immobilier agency has been based for 30 years in Saint-Paul-Trois-Châteaux in the Drôme Provençale. The recent opening of a second branch in Sainte-Cécile-Les-Vignes has enabled Christine Miranda's teams to extend their coverage to the Upper Vaucluse. "In our region, the flagship property is still a house of character. For permanent homes, it may consist of a village house near shops or, in the case of holiday homes, a residence in the midst of nature - a Provençal "mas" or contemporary house. Villages here are lively all year round and draw senior executives working in the region, but also city-dwellers from Lyon and as far away as Geneva, plus many Belgians who acquire homes here." Budgets range from 200,000 € for a small village village house to over 1.5 million euros for a master residence offering exclusive appointments. "Prices have remained stable for several years," comments Christine Miranda. "It's up to us to convince sellers to offer prices that reflect the market rather than, as is often the case, the price they need to obtain their next acquisition. When prices are right, the market remains buoyant." As for buyers, Christine Miranda says that they base their home-hunting on certain criteria (proximity shops, a garden, pool) rather than a specific location. "The charm and diversity of villages in our region offer buyers a very wide choice."
You will also like