Treating oneself to a farmhouse in Savoy
After chalets, the second kind of property offering typical Savoyard character is the farmhouse. Solid buildings with wooden beam construction, frequently with roofs of "lauze" stone, "ancelle" or "tavaillon" shingle, and massive stone walls, they often feature rooms with superb vaulted ceilings. When in need of renovation, they are real properties of character offering high architectural potential and good value for money, even when renovation costs are taken into consideration.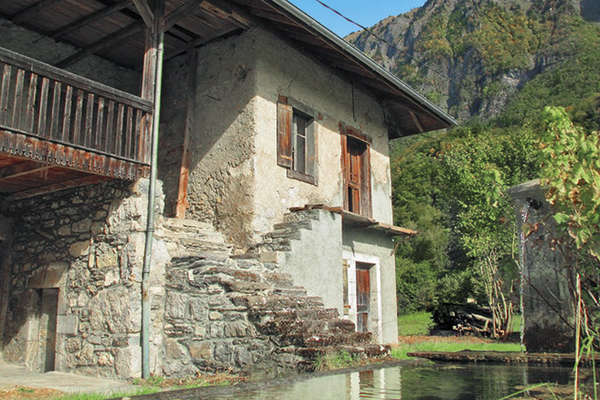 In Taninges, this semi-detached farmhouse with a floor area of 260 m2 offers many possibilities for layout. The three floors could be transformed to give total living space of 650 m2. 255.000 €. Vallée Verte Immobilier. (04 50 31 37 83)
Opened in the year 2000, with three agencies in Habère-Lullin, Mieussy and Bellevaux, Vallée Verte Immobilier thus covers a vast area and regularly proposes farmhouses to renovate, or already benefiting from modernization. "Farmhouses to renovate are particularly popular as permanent homes by local families looking for generous volumes, which have retained the charm of old features and the noble natural materials typical of the region. Their extensive grounds are also undeniable assets," explains Sébastien Belliot. Drawn by this spaciousness allowing for various layouts both inside and out, buyers can create the number of rooms they need. "The cost of renovation is, however, to be taken into consideration : from 800 to 1,200 € per sq. metre on average." Among his most recent sales, our specialist mentions a farmhouse of 300 m2 in Habere-Poche, set in grounds of 1,600 m2, and acquired by a young couple from the region for 220,000 €. Nearby, in grounds of 2,800 m2, another example of 400 m2, already partly renovated, found a taker at 470,000 €.
"At mid-mountain altitudes, farmhouses to renovate, or already renovated, are available at prices offering excellent value for money. Thes properties of traditional charm appeal especially to younger buyers, ready to carry out large-scale work to transform these dwellings of character to suit their own taste," says Hervé Dupraz, whose agency has been based at the heart of Le Chablais since 1984, and under the Neowi sign for the past five years. By way of example, he mentions the recent sale of a farmhouse of 100 m2 requiring renovation, in grounds of 2,900 m2. In the midst of a rural setting on the commune of Bellevaux, and offering high potential, it has just been acquired for 120,000 € by a young French-Swiss couple intending to make it their main home. "The land alone is worth that amount !" comments our specialist. In Vailly, a carfeully renovated farmhouse, backing onto another, offers lots of assets including a small garden of 650 m2, two large living-rooms - one of 40 m2, the second of 30 m2 -, a kitchen of 20 m2 and, on the upper floor, two large bedrooms totalling 50 m2. In impeccable condition, this property of 150 m2 with numerous possibilities for further development is up for sale at 265,000 €. These appealing prices in Le Chablais are explained by its geographic location. "We are not in immediate proximity to the Geneva or Annecy motorways, and it takes a good half-hour to reach Morzine or Avoriaz. Buyers for whom driving is not a problem can find real bargains here, and we are seeing real enthusiasm on the part of young buyers for these old properties. New accommodation, at prices seen as slightly too high (3,500 to 4,000 € per sqm.), draws less interest than it did a few years ago."
You will also like