Théoule-sur-Mer, a well-preserved site on the Côte d'Azur
At the foot of the red rocks of the Estérel hills, the well-preserved coastline and beaches of Théoule make it a particularly popular site for its natural beauty, surprisingly little subject to mass tourism in summer, to the greater pleasure of its residents.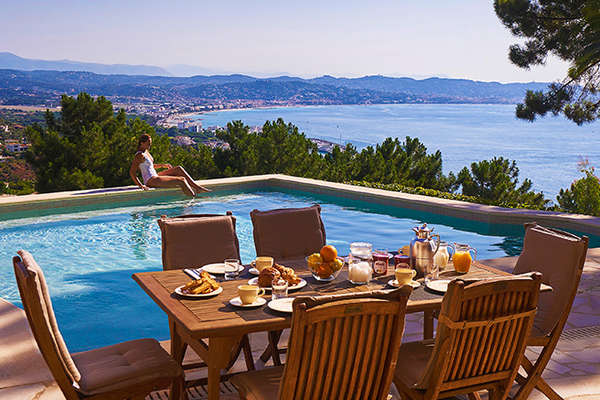 This lovely villa of 280 m² stands at the heart of the Bay of Cannes on a highly sought-after estate with a tennis court. It is comprised of a triple lounge, 5 bedrooms and a pool. 2.490.000 €. Solari Properties (06 60 12 25 95).
About 10 kilometres from Cannes and a few nautical miles from the Lérins Islands, Théoule-sur-Mer is a small seaside town benefiting from lots of assets and on-going popularity. Buyers sometimes have be patient here and wait quite a while to acquire the home of their dreams with an unimpeded view of the sea and a bountiful natural environment.
Specializing in exceptional properties, Julie Solari of Solari Properties is optimistic about the market. "We saw a sharp decline when the Russians disappeared in 2014, but German and English clients are now making a comeback." She points out, however, that Théoule is an insider market and that the vast majority of properties are holiday homes. Buyers here find the prestige of the Côte d'Azur, proximity to the motorway and Cannes, 30 minutes from Nice, and properties offering fabulous sea views. She explains that areas facing the Bay of Cannes are the most popular, and that transactions mainly involve villas as there are very few apartments in Théoule. In her opinion, the most prestigious residence is the "Impérial Bay" on the bay of Cannes, where apartments range from 7,000 to 12,000 € per sq.m. The highest demand is inevitably for properties right at the water's edge though, as she also mentions, some very desirable houses only come up for sale every 20 or 30 years.
Julien Pettine of Immocial Transactions describes pretty much the same scenario. "The market has seen an upturn since 2015. We are seeing more demand, especially since the elections, on the part of both French and foreign clients. Buyers from northern Europe, Luxembourg, Germany, the UK, and even Russia, are now looking for villas from 800,000 to 3 million euros, with sea views and lovely locations essential, if possible in areas overlooking the Bay of Cannes." Julien Pettine emphasizes the fact that the market in Miramar/Le Trayas is more affordable, and that this wilder environment with its sublime panoramic views of the Estérel hills plunging into the sea is much appreciated. This estate agent who has lived in the village for over 30 years with an agency specializing in Théoule offers a real guarantee of seriousness and reliability for both buyers and sellers.
Michel Nowak of the L&G Prestige agency in Mandelieu-La-Napoule confirms buyers' interest in Théoule-sur-Mer. "When they discover this address, our clients often say that it offers one of the most beautiful views in the world." They mostly consist of Europeans particularly fond of lovely scenery : Scandinavians, English, Belgians, Swiss, and always lots of French. "Though over the past few years, we have also seen buyers from Dubai, the USA and Asia," adds Michel Nowak. "They sometimes fall in love with the area, simply on seeing the photos. It's worth noting that setting off properties to their best advantage is a priority in our agency. We focus our communication strategy on the specific assets of a property which is up for sale." Demand almost always targets a villa with a sea view, a pool, and no renovation. One can expect to pay 6,000 to 9,000 € per sq.m for an apartment in Théoule, around 10,000 € per sq.m for a renovated house. "The market has picked up considerably over the past 18 months : we are beginning to see a scarcity of availabilities, and when a property does come onto the market, it sells very quickly. My team is trying to find new properties in this area in order to satisfy clients on our waiting-list."
You will also like