The Urban Community of Strasbourg : a buoyant real estate market
Benefiting from the economic and cultural vitality of the "capital of Europe", the Urban Community of Strasbourg is more appealing than ever before. It offers a wide array of prices, relatively affordable and now more stable.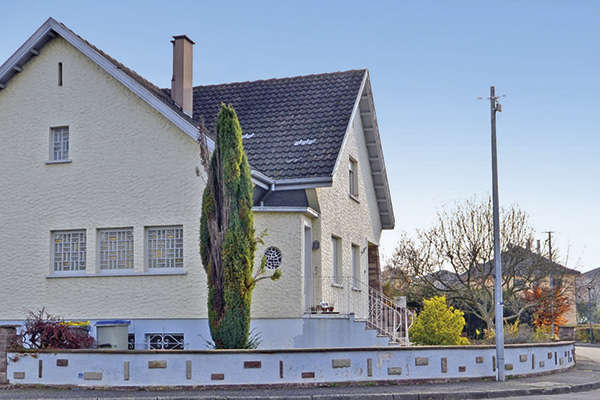 This renovated 3-bedroom apartment is in a 2-family house in Illkirch-Graffenstaden, 200 m from the tramway. 285.000 €. L'Immobilière Wolfisheim (03 88 78 38 50).
Founded in 1967, the Urban Community of Strasbourg is made up of 28 communes accommodating almost 480,000 residents in all. Seven of them have over 10,000 inhabitants : Strasbourg, of course, with about 60 % of the Community's population, Schiltigheim, Illkirch-Graffenstaden, Bischheim, Lingolsheim, Ostwald and Hoenheim. Today's attractive inter-communality is mainly due to the dynamism of Strasbourg, a business hub, the seat of many European and international institutions, and a city with an outstanding historic heritage.
As for its property market, "there are wide differences in prices," explains Christophe Hodapp, manager of L'Immobilière Wolfisheim, a family-run agency based since 1997 in Wolfisheim (less than 15 minutes west of Strasbourg), covering the west side of the urban area. This residential sector posts some of the Community's highest prices : "For apartments in old buildings, the price per sq. metre ranges from 1,500 to 2,500 €. In new residences, it attains 3,500 € per sqm.". Prices for houses are seeing slight declines for the less well-located. "But they are holding steady for properties of quality and are stable overall," comments Christophe Hodapp. By way of example, he recently handled the sale of a 1980's terraced house with a garden of 400 m2, priced at 230,000 €, and a villa of approx. 120 m2 in good condition with a garden of 500 m2, at under 300,000 €. Serviced building plots can be found at around 30,000 € per 100 sqm. Christophe Hodapp's clientele is extremely diverse : "We receive enquiries from clients of all ages and profiles".
Bruno Ursin, sales manager for Immo Equity, an agency based in Illkirch-Graffenstaden (15 minutes south of Strasbourg) since 2010, covers all of the Urban Community. "Prices haven't really dropped - except in some spots such as the Strasbourg neighbourhoods of Cronenbourg, Koenigshoffen and Montagne Verte - and are still very stable," he says. "Several addresses are even remarkably buoyant, such as the communes of Illkirch-Graffenstaden and Schiltigheim, or the neighbourhoods of La Robertsau, Neudorf and Krutenau. Not forgetting the hyper-centre." His clients do not share any particular profile, either. "Though they do have one point in common : they are looking for 1-bedroomed apartments in recent or renovated residences. Investors, who virtually disappeared over the past two years, are also making a comeback." The agency's most recent sales in fact consist of rental investments : a studio of over 30 m2 in Illkirch-Graffenstaden, priced at 69,000 €, a 1-bedroomed apartment of over 40 m2 with a garage, at 137,000 €, and a 2-bedroomed apartment of almost 60 m2 in the town centre, at 135,000 €. Finally, building plots, "rare and expensive" in the Urban Community, range from 30,000 to 50,000 € per 100 sqm.
You will also like