The Upper Vaucluse, Provence in country style
Luxuriant and peaceful, the northern part of the Vaucluse offers rugged scenery overlooked by Mount Ventoux and Les Dentelles de Montmirail. Popular among fans of stone "mas" at the heart of the Provençal countryside, the area offers a wide array of properties of charm and character at prices representing excellent value for money.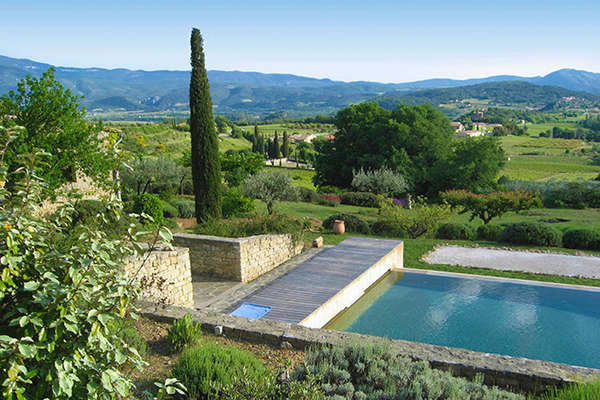 d'une piscine à débordement. This 6-bedroomed stone property of 187 m2 stands on a hillside in Vaison-la-Romaine. On almost 2.5 acres of land, it benefits from an infinity pool. 1.000.000 €. Boschi Immobilier (04 90 36 33 33).
"Budgets ranging from 400,000 to 450,000 € allow clients to set their sets on lovely properties in our area," says Jean-Pierre Garcia, director of CTI L'Immobilier en Provence, an agency launched in 1989 working within a perimeter of 30 km around Vaison-la-Romaine, or even further out for outstanding properties. Specializing in residences of charm, prestige and exception, the agency's portfolio proposes, in particular, beautiful stone properties set in extensive grounds in prime locations. "Highly sought-after, authentic stone houses draw a French and foreign clientele looking for an enchanting holiday home. We can offer fine examples from 700,000 €, or larger properties of character, tastefully renovated and located close to Vaison-la-Romaine, from 1 million euros. The most remarkable, offering breathtaking views, can exceed 2 M €." Over the past six months or so, Jean-Pierre Garcia has noticed relative stability in prices, with availabilities confronted by steady demand, thus tending to shrink in the case of outstanding stone properties.
Opened in 1960, the family agency Boschi Immobilier covers the Drôme Provençale, the Upper Vaucluse and the Enclave des Papes through nine agences with a team of 33. "We specialize in transactions in all the various segments and offer a specific department dedicated to high-end properties, called Boschi Immobilier Prestige," explains manager David Boschi, representing the third generation. "65% of our sales of desirable stone properties involve French buyers, 35 % foreigners, especially Belgian, Swiss, German and English. In this category, the most frequent budgets range from 700,000 to 1.5 million euros. Intended to become permanent residences upon retirement, or holiday homes for get-togethers with family and friends during holidays or long weekends, these properties now offer excellent value for money, especially as the choice is currently satisfactory." By way of example, David Boschi mentions a very beautiful stone "mas" in 2.96 acres of grounds with a heated infinity pool and an exceptional view. On a hillside in Vaison-la-Romaine, it is on offer at 1 million euros. At the lower end of the market, clients can envisage villas with 3 or 4 bedrooms and good-sized gardens for 250,000-450,000 €. "The most highly-prized areas are still Vaison-la-Romaine for its charm, cultural life and wide range of amenities, Bédoin, a delightful commune languishing at the foot of Mount Ventoux, Seguret, a superb village on the hillside, overlooked by the ruins of a feudal castle and surrounded by vines. Pernes-les-Fontaines, south of Mount Ventoux and, of course, L'Isle-sur-la-Sorgue, are also appreciated for their charm and quality living conditions."
Based for the past five years in L'Isle-sur-la-Sorgue, Janssens Immobilier has just opened an agency in the centre of Vaison-la-Romaine. "Buyers were contacting us more and more frequently for the Vaison-la-Romaine area, so we decided to open an agency here to focus more closely on this market," says Franck de Mondesir, who manages both agencies. "We offer properties of charm, character and prestige in both the Vaison-la-Romaine area and L'Isle-sur-la-Sorgue, at prices lower than those in the Alpilles or the Luberon. What differentiates the two areas the most is the scenery. In Vaison-la-Romaine, views are of craggy landscapes, thanks especially to Mount Ventoux and Les Dentelles de Montmirail, overlooking the Gigondas vineyards. Substantial residences and properties here can attain up to 2.9 million euros for exceptional little châteaux. On this side of 1 million euros, our clients can, however, set their sights on properties with lots of assets." One example is a "mas" of about 317 m2 in the country, on the hills above Vaison-la-Romaine, on almost 9.5 acres of land with an infinity pool and commanding views of the valley. Completed by an independent apartment, a workshop, garage and chalet, this property is up for sale at 990,000 €.
You will also like