The southern part of Les Landes, opportunities and outstanding properties
The Atlantic Ocean, superb sandy beaches, surfing spots, ponds and lakes, not forgetting the nature reserve of Les Marais d'Orx... At the gateway to the Basque country, the southern part of Les Landes offers breathtaking panoramic views of nature.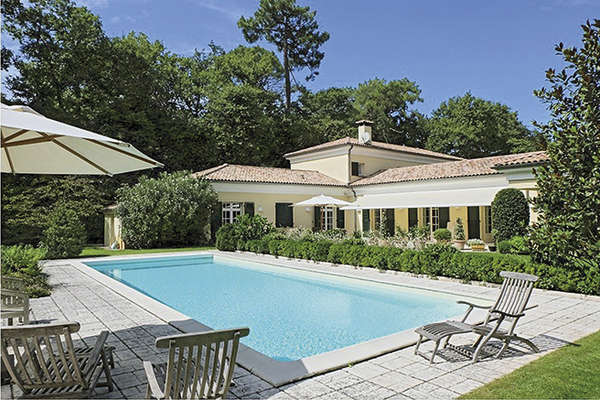 Benefiting from a superb location on the Hossegor golf-course, this high-end property built in 2002 is comprised of the main house (5 bedrooms), a caretaker's house, three garages, a heated pool and technical unit. 2.205.000 €. Terres & Océan (05 58 43 60 41)
From Moliets to Tarnos via Seignosse, Capbreton and Hossegor, this area is very popular among tourists, many of whom fall for its charm and set their hearts on acquiring holiday homes here.
"As the property markets of Hossegor, Capbreton and Seignosse are rather narrow, small neighbouring communes offer attractive fall-back addresses at more affordable prices for buyers with more modest budgets," says Alexandre Baylaucq, manager of the Maisons du Sud-Ouest agency based in Capbreton. "Our catchment area extends about 25 km around Capbreton, and we introduce our clients to charming communes such as Saubion, a prolongation of Seignosse. With its typical 13th-C. church, its château and little shops, this commune with a real soul offers prices 10 to 20 % lower than those in its illustrious neighbours." By way of example, our estate agent mentions a charming house of 137 m2 with a garden of 800 m2. Built in traditional style in a pleasant residential setting, it is up for sale at 368,000 €.
Having seen a buoyant start to the year, the Terres & Océan agency is trying to meet rising demand for properties of quality. "In the highly-prized area between the lake and ocean in Hossegor, we have just sold a very lovely 1930's Basco-Landaise residence priced at 2.5 million euros, and a house at the edge of the lake on the Seignosse golf-course, priced at 850,000 €," says Serge Pilke, manager of the Terres & Océan agencies in Hossegor and Biarritz. "We are getting many enquiries, from both French and foreign clients, and communes such as Seignosse, especially the golf-course and Ocean neighbourhoods, close to both the lake and beaches, are drawing more and more interest." He mentions, for example, a 1960's villa, recently enlarged and renovated, ideal for a large family with its six bedrooms and vast living-room. Offering living space of 220 m2 in grounds of about 1,000 m2, this property in Seignosse, a short walk to the beaches and 500 metres from the lake, is on offer at 830,000 €. Set further back, in the midst of the countryside of the southern Landes, a master residence in a 4-acre park, 20 minutes from the beaches and centre of Hossegor, also offers a very appealing alternative for those fond of buildings with character. Renovated but retaining its 19th-C. architectural features, it is comprised of five bedrooms, several reception rooms, plus a self-contained 2-bedroom apartment. Priced at 670,000 €, its current owners are prepared to consider offers from buyers who really fall for this exceptional property. "The most highly sought-after commune is still, of course, Hossegor, even though its prices are higher. The market is certainly tight, though top-quality properties can still be found, such as one of 500 m2 on the golf-course. Comprised of the main residence with five bedrooms, plus annexes including a house for guests or caretakers, it offers top-notch appointments. Built in 2002 in 3,000 m2 of grounds with a pool, it is up for sale at 2,205,000 €."
You will also like