The southern part of L'Ardèche : Provençal charm
A luxuriant area offering varied scenery and a Mediterranean climate, the southern part of L'Ardèche benefits from the tranquillity of Provence. It also proposes lower property prices than areas further south.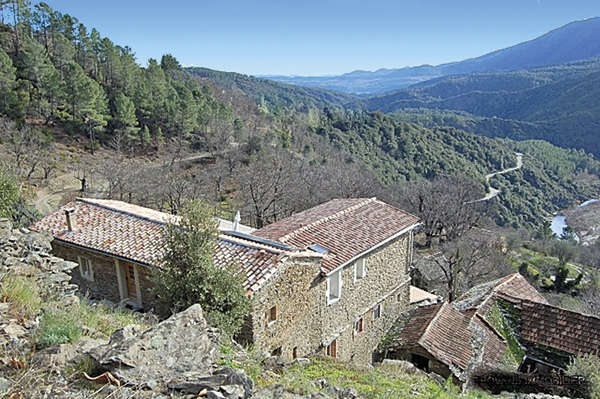 This house of 190 m2 comes with grounds of 5,000 m2 plus a further 7.5 acres of non-adjacent land. 289.000 €. Provans Immobilier (04 75 88 17 26).
One of the "must" addresses in the southern part of L'Ardèche is Les Vans, a pleasant little commune with about 3,000 residents who live there year-round, though it is much more lively in summer. Situated in the south-west part of the département, it in fact offers a good number of sightseeing and leisure activities : hiking, canyoning, fishing and visits to sites of local heritage (the Saint-Pierre Church, ruins of the château, Naves, bearing the Ardèche's "Village of Character" label...).
This is where Mathieu Cayrat and Jamel Bezzazi are based, associate directors of the Agence Teissier, founded 30 years ago. "Natives of the area involved in the life of Les Vans, professionally qualified and deeply attached to their work and the region", they describe prices "which remain relatively steady compared to the rest of L'Ardèche, due to the very real appeal benefiting the southern part of the département", but also rather affordable for Provence. "For apartments, the price bracket ranges from 60,000 € for a studio in good condition to over 200,000 € for a high-end apartment. For houses and old properties, it is very wide, as one can find village houses requiring renovation from 80,000 €, but also properties on several acres of land for over 900,000 €". The most widely sought-after properties are old stone houses "with character and a view, close to Les Vans". As for building land, one can expect to pay 80,000 € for a plot of approx. 1,500 m2. Our estate-agents are mainly contacted by "European city-dellers in their fifties, who invest in bricks and mortar to combine personal pleasure with a long-term asset. Initially, they are looking for a holiday home, though the aim is usually to settle here permanently in the not-so-distant future".
Also based in Les Vans, Julien Suarez, manager of Provans Immobilier, has exactly the same type of clientele. "From Belgium, the Netherlands or Switzerland, traditionally the northern part of France, but also and increasingly the south : some buyers from the Côte d'Azur and Montpellier in fact choose our commune and its surrounding region for their tranquillity and reasonable prices." Founded five years ago and specializing in transactions, his agency covers the entire southern part of L'Ardèche, the northern part of Le Gard and some areas in Lozère. His portfolio contains a wide range of properties : "Apartments from 70,000 to 200,000 €, small houses to restore in rather isolated areas from 100,000 to 150,000 €, villas of about 140 m2 with gardens of 500 m2 at around 300,000 €, and stone "mas" from 400,000 to 800,000 €". One of his latest sales in fact concerned such a property of 250 m2, restored, in 5,000 m2 of grounds, priced at 380,000 €. For building plots, average prices range from 50 to 60 € per sq. metre, "with spikes up to 100 € per sqm., depending on the location". This type of plot would then be at the heart of Les Vans.
An hour's drive away, on the banks of the Rhône, on the border between L'Ardèche and La Drôme, one comes across Le Teil, a lively, tourist-oriented commune with over 8,000 inhabitants. Here, Isabelle Michel has been manageress of Aplimmo since 2011, a family-run agency which has also had a branch in Beaurepaire in L'Isère since 1998. Proposing an insurance brokerage service in addition to sales and rentals, she covers the southern part of L'Ardèche and the triangle formed by Vienne/Grenoble/Le Péage-de-Roussillon in L'Isère. "Le Teil offers the particular advantage of being close to main roads and the very attractive town of Montélimar. And prices in Le Teil are more enticing than in La Drôme Provençale. You simply have to cross the Rhône to find more affordable prices, in villages of real character." In the case of apartments, they range from 30,000 to 130,000 € in quality residences. For houses, the choice is wide : "From small homes to renovate at 60,000 € to stone "mas" of approx. 300 m2 at 600,000 €, or even more". Serviced building plots are available at 100 € per sqm. Isabelle Michel's clients include, among others, "first-time buyers when work needs to be carried out, Belgians, Swiss and French from the north and even the south, looking for holiday homes, and also investors".
You will also like