The southern coast of Finistère : Brittany with a smile !
From Le Pays Bigouden to La Laïta, an estuary serving as a natural frontier between Le Finistère and Le Morbihan, this stretch of the coast offers Breton scenery both authentic and well-preserved. A pleasant place to live, with high property prices.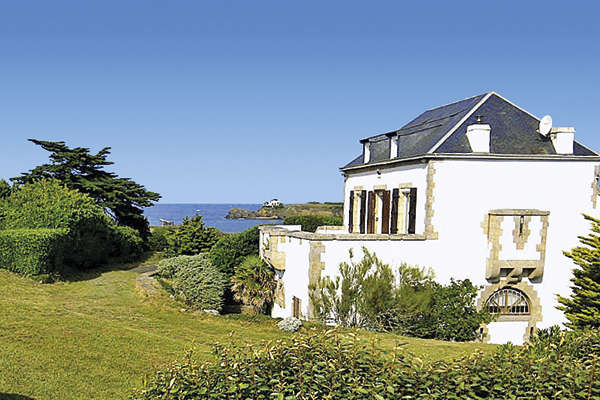 In Le Pouldu, in Clohars-Carnoët, this property of 4,500 m2 is comprised of a fortress built by Vauban in the 18th century and a recent house with three bedrooms. 895.700 €. Creff Immobilier (02 98 06 63 46).
"The southern coast of Finistère has not followed the example of La Baule or Les Sables-d'Olonne. It has succeeded in protecting its lovely white sandy beaches from urbanization and mass tourism, and now proposes living conditions of outstanding quality," says Martial Briant, manager of the Armoric Agence. "Furthermore, the ballet of sailboats between the typical harbours of La Forêt-Fouesnant, Sainte-Marine and Port-la-Forêt is a daily sight for sore eyes." Based in Bénodet and covering the surrounding area as far as Fouesnant, he adds : "Prices are, in fact, higher here than elsewhere in the département". For apartments, the price per sq. metre ranges from 2,000 to 5,000 €. "From standard residences built from the 1960's to 1980's, often requiring renovation, to top-notch examples offering a view of the sea - which, of course, is highly-prized." For houses without this particular asset, prices range from 150,000 to 600,000 €. They then jump to 750,000 and can attain 1.5 million euros. "Only one other area in Le Finistère records such prices : the region of Carantec, in the north, which also boasts a beautiful rugged coastline and lively port activity." The typical buyer here is almost inevitably someone looking for a second home. "They are mostly in their fifties and making plans for retirement. Many of them come from the Parisian region." As for foreigners, they have been noticeable for their absence since 2008.
Following the coast towards the east, on the border with Le Morbihan, one comes across Clohars-Carnoët, a commune with 4,000 residents, where Sébastien Creff has exactly the same type of clientele. The manager of Creff Immobilier, he specializes in the sale of shoreline properties and also describes substantial and highly variable prices : "In the centre of Clohars, which tends to draw buyers of year-round homes or rental investors, the price per sq. metre for apartments is about 1,500 €. However, it soon rises to 3,000-4,000 € in Le Pouldu, the commune's seaside resort". Inevitably, the closer one gets to the beaches, the higher the prices. Properties which are particularly highly-prized are small houses of character, "longère" farmhouses or thatched cottages, and neo-Breton houses facing the sea. As for building land, the average price is 100 € per sq. metre, "plus or minus 10 % ". Two of the transactions currently being handled by Sébastien Creff are, in fact, building plots : 440 m2 at 44,000 € and 530 m2 at 58,000 €. He also recently sold a new apartment of 90 m2 priced at 165,000 €, and a 3-bedroomed house in grounds of 1,500 m2, at 180,000 €. He believes that, more than ever before, now is the time to buy. All the conditions are favourable : "Prices have fallen, there is a real margin for bargaining, and mortgage rates are historically low".