The seaside town of Hyères
Halfway between Toulon and Le Lavandou, opening its arms to the Mediteranean and boasting 2,400 years of history, the "Cité des Palmiers" offers a magnificent setting where holiday residences are called upon more and more frequently to become year-round homes.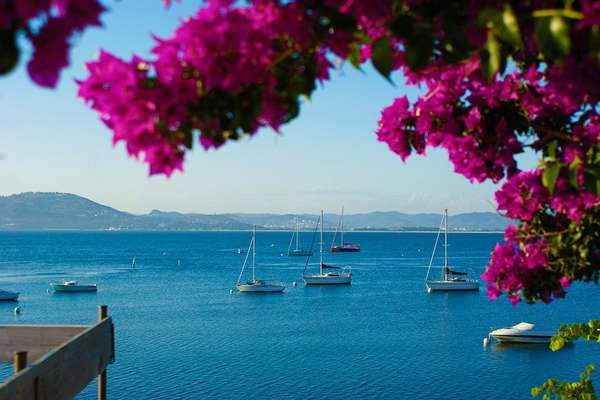 With large stretches of white sand and wild creeks surrounded by lush vegetation, residents and tourists in Hyères can all benefit from their favourite seaside spot.
Languishing on the seafront between Toulon and Le Lavandou, Hyères is the town lying furthest to the south in Provence. Renowned for its remarkable sunshine, the town and its Giens peninsula offer a 39-km coastline devoid of concrete, comprised of sandy beaches and rocky creeks that are still wild. Nicknamed the "cité des palmiers", Hyères was for many decades one of the most popular resorts among celebrities and an intellectual, bourgeois elite. Sumptuous early 20th-C. residences still bear witness to its past, especially around the Old Town. Together with the harbour, the medieval site is one of Hyères' top tourist attractions. For fans of culture, the town plays host to the well-known Villa Noailles designed by architect Robert Mallet-Stevens, which holds international events year-round focusing on fashion, photography and design.
Based in the centre of Hyères since 1966, the Cabinet Ripoll is an independent, family-run agency which has acquired expertise in all fields of real estate : sales, rentals, management, and "syndic" administration, within a perimeter around the communes of Hyères, La Londe Les Maures, Carqueiranne and La Crau. "While property prices have remained steady here, sales volume has chalked up a new record in 2019, thanks in particular to exceptionally attractive borrowing rates," says Cyrille Tizon, in charge of sales. "Today's most sought-after properties are apartments, 70% of which are destined to become year-round homes, like those we recently sold : a select 3-bedroomed apartment of 108 m2 with two garages, priced at 592,000 €, and a 2-bedroomed apartment of 73 m2, priced at 400,000 €." The most highly-prized neighbourhoods are those in the town centre, together with Costebelle and the area around the Olbius Riquier park.
Canat & Warton is this year celebrating its 20th anniversary, with over 2,000 transactions to date, completed through its eight agencies based in Le Var, including one just opened in Cavalaire-sur-Mer. "We specialize in the sale of high-end apartments and houses : properties offering exceptional features, in terms of both location and appointments," explains Frédéric Warton, the company's co-founder. Penthouses enjoying panoramic views, residences designed by architects, holiday homes right at the water's edge : addresses proposed by Canat & Warton appeal to a mainly French clientele, from Paris, Lyon, sometimes the north, wanting to take advantage now and then of the region's pleasant lifestyle before moving here permanently. "Our market is strongly influenced by our clients' demographic variations, together with economic leverage, so that prices frequently undergo alternating rises and falls. Nevertheless, since 2008, the trend has been towards stability. Only properties offering outstanding appointments post constant price rises. As witnessed by our most recent sale, a property right at the water's edge in Hyères : a superb stone "bergerie" with a Corsican accent, on almost 3.75 acres of land on the Giens peninsula. It found a taker for 4 million euros."
Carole Verdino represents the third generation of real-estate professionals in her family. Focusing on sales, her negotiators mainly cover the perimeter of Hyères. "Apartments on top floors and in the centre of Hyères attract the most demand. Houses within walking distance of the town centre and those on the Giens peninsula - the local gem - are also highly sought-after." For an apartment with generous living space and a privileged location, budgets range from 400,000 to 1 million euros. Idem for large houses in the town centre. For holiday homes, the starting price is around 450,000/500,000 €. "In addition to the hyper-centre, the Chateaubriand neighbourhood is also highly prized for its residential atmosphere and Victorian architecture," notes Carole Verdino. "As for prices, the market has remained stable over the past year, with demand well-balanced between new and old. Otherwise, we are seeing the return of a younger clientele, more highly motivated, and taking advantage of the possibility of home ownership thanks to favourable mortgage rates."
You will also like