The russet-red soil of the Luberon
Surrounded by glowing red colours, a rich geological and historic heritage, villages on the "Route des Ocres" appeal to both tourists and home-seekers. Roussillon, the most well-known, is listed as one of France's most beautiful villages and draws the most visitors. More discreet, Gargas and Rustrel also offer lots of assets.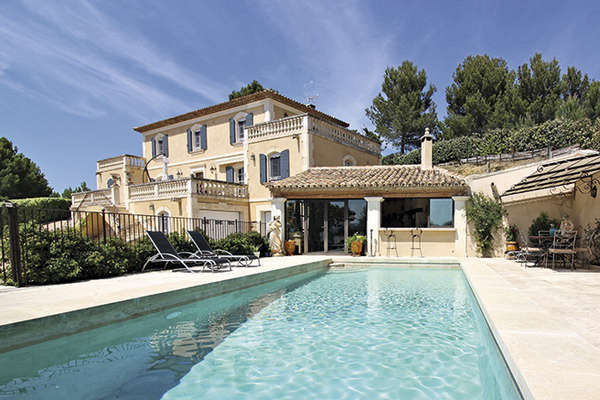 Located in Gargas on the Ochre Trail, this splendid "bastide" in 18th-C. style offers a beautiful pool and a magnificent view of the Luberon. 1,1 M €. Pierres et Tradition (04 90 74 62 17).
Close to Apt, capital of the Luberon, about 1 hour from the TGV station in Avignon, the russet-red soil of the Luberon offers authentic, well-preserved landscapes. This little Colorado in Provence is above all famous for its ochre, a pigment extracted from the red rock which largely contributed to the region's prosperity, as it was once mined and sold all over the world. Ochre gives these landscapes its very special character, though the "Terres Rouges" region also boasts listed sites in a geological nature reserve. Various cultural and sports attractions on a year-round calendar of events attract many visitors.
"The façades of houses typical of the Luberon are tinted with ochre, the raw material obtained from Roussillon's soil. This is what accounts for their special charm and character. Housing here is very well-preserved and strictly controlled," explains Véronique Ydais of Pôle Immobilier. Together with her husband, this specialist in the region for the past 20 years has opened two agencies in the area, one three years ago, in the town of Apt. "The type of property in the highest demand is a house of about 180 m2 offering a view of the Luberon mountain, a pool and about 3,000 m2 of grounds. Prices for this kind of property range from 400,000 to 800,000 €." A market which is still coveted by foreign clients looking for holiday homes, although according to Véronique Ydais, residences in the "Terres Rouges" are now more and more popular among French buyers : "It is worth noting that we are seeing an upsurge in our French clientele. Since the beginning of 2016, the property market here has woken up, and we are receiving lots of enquiries. Buyers are in search of tranquillity, beautiful scenery, a pleasant lifestyle, and a wonderful climate. This is a very privileged place in which to live".
For Alice Sanchez of the Pierres et Tradition agency : "The most highly sought-after properties, and thus the highest prices, are usually to be found in Roussillon. Other communes in the "Terres Rouges", such as Rustrel and Gargas, are more affordable". Roussillon, known as the "village of ochres", draws lots of visitors for its charm, its "ochre trail" of international renown, its weekly market and neighbourhood shops, open year-round. Alice Sanchez and her husband François, experts on the area for the past 17 years, are also natives of the region and have opened three agencies in the Luberon. "In Roussillon and Rustrel, the property market is mixed, with both permanent and holiday homes. Even though the village of Rustrel is less well-known, it is neverthess in demand and is more affordable. It is a wilder site, ideal for hiking. On the other hand, the village of Gargas has become a rather residential area, with a higher share of year-round homes. Those buying properties on this commune mostly work in Apt or the surrounding villages."
On the commune of Gargas, villas are mainly of recent construction, with living space of 100 to 120 m2, gardens of 800 m2, and prices somewhere between 250,000 to 300,000 €. Whereas in Roussillon, the flagship village, 18th- and 19th-C. residences of 200 to 300 m2 on almost an acre of land can attain 1.5 million euros or more. According to Alice Sanchez : "The market is currently stable. Even though we are seeing a rising number of sales, prices have so far
remained steady".
You will also like