The right bank of Bordeaux : a choice of enticing residences
While we are seeing exponential interest in Bordeaux - even more so with the arrival of the new LGV train line in June -, its nearby areas are well worth consideration. The area on the right bank proposes charming properties with their own share of fans...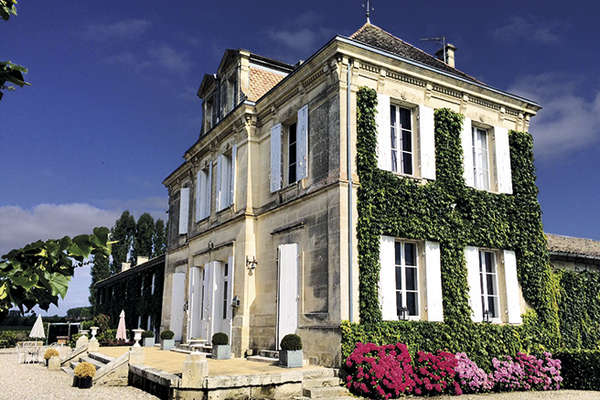 Ideal for a large family, this authentic residence of 320 m² offers 4 bedrooms, adjoining convertible annexes, a large garage, a workshop and wine cellars. 625.000 €. Agence Rulleau. (05 57 43 00 48).
Between the Garonne and Dordogne Rivers, a good number of pretty communes comprise an appealing fall-back market for those wanting to move to the Bordeaux region. Their prices are naturally lower than in the Prefecture of the Gironde, nature is more generous here, and their proximity to Bordeaux, and consequently Paris, soon to be just 2 hours apart, is clearly an asset.
The Agence Rulleau, a family-run business since 1939, is located in Saint-André de Cubzac, about 15 km from Bordeaux. It is managed by Dominique Rulleau, a qualified notary who chose to focus his activity on residences of character. The agency's portfolio is therefore comprised of lovely 17th-C. "chartreuses", late 19th/early 20th-C. master residences, pretty bourgeois houses... A range of properties mainly found on the right bank of the Garonne, within a vast price bracket. Price-tags in fact vary depending on several criteria, and above all a property's closeness to Bordeaux. About 60 km from the city, clients can treat themselves to a house from 350,000 €, often with refurbishment on the cards. In Ambarès, 12 km away, prices begin to climb : one can expect to pay from 800,000 to 900,000 € here for a property of quality. On average, a house on the right bank will cost from 500,000 €, as exemplified by a master residence of 380 m2 in a park of 2,000 m2, forty km from Bordeaux, sold by the agency for 560,000 €, and another property on the banks of the Dordogne, 20 km from the city, offering living space of 320 m2, a lovely view and a pretty park, priced at 520,000 €.
Sandra Remmy of City Golf Immo readily confirms : "The further you go from Bordeaux, the more reasonable the prices". A sponsor of the Golf de Bordeaux-Cameyrac, Sandra Remmy opened her agency three years ago, specializing in houses around golf-courses in the Gironde. "Clients are above all looking for stone houses with gardens, but also properties designed by architects with lofty interiors." These buyers, mostly Parisians transferred to the region, want to live in quiet settings not too far from the city, and benefit from places where nature has maintained its hold. Recently, a house in very good condition 15 km from Bordeaux, on the golf-course, found a taker at over 1 million euros in just one week. Foreign buyers - Belgians, Dutch and a few English - looking for holiday homes, together with a few retirees, are prepared to go further out, into the Entre-deux-Mers region, to acquire a peaceful stone house at a lower price. By way of example, in Monségur, a superb, renovated 1800's house built of quarry stone, on about 2.5 acres of land with a pool and tennis court, is up for sale at 430,000 €.
A negotiator for Grisel Immobilier Libourne, Nathalie Laffon manages a portfolio mainly comprised of houses built of stone. "Demand is constant and mostly targets houses of about 300 m2 in grounds of at least 2,000 m2 with a pool." Over and above 700,000 €, houses are larger, more substantial -approx. 350/400 m2-, and benefit from grounds of at least 5,000 m2. While the market for guest-houses is now very much quieter, that for year-round family homes sought by Parisians, often with newly-formed families, is very buoyant. Only 30 minutes from Bordeaux, Libourne, often referred to as "the little Bordeaux", offers living conditions of real quality : quietness, the countryside, larger surface areas and all the necessary amenites. It appeals particularly to this type of client. Some buyers are ready to live even further from Bordeaux, on the right bank : as far as Montlussan, Salleboeuf, Vayres, in the Entre-deux-Mers region towards Rauzan, Blasimon, or north of Libourne and as far as Saint-Seurin. Nathalie Laffon, who also covers these areas, mentions one house of 600 m2 on almost 2.5 acres of undulating land, in the country in the Entre-deux-Mers, recently acquir­ed by Par­isians for 947,000 €.
You will also like