The region around Cannes, a premium market
There are several communes in the area around Cannes that appeal to clients looking for both permanent and holiday homes. Among them, Mougins can claim lots of assets, while others deploy their attractions, including beautiful views.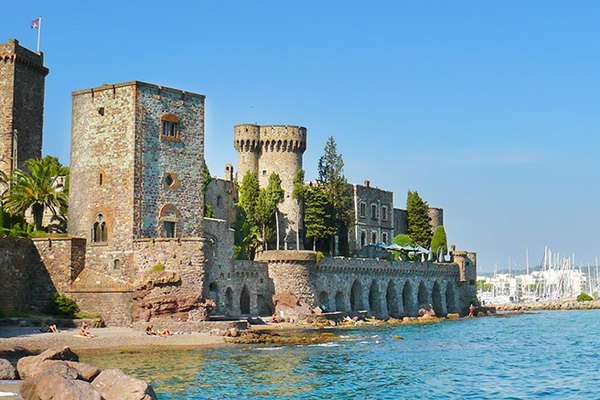 A medieval fortress restored by a couple of American artists, the Château de la Napoule is a very popular tourist attraction in the region around Cannes.
Founded in 1997, Azur Contact Immobilier is ideally located at the entrance to the Domaine Saint Basile at the heart of the residential area of Mougins, between the international "Mougins School", the golf-course and old village. With a porfolio of high-quality properties consisting of "bastides", contemporary, bourgeois and Provençal houses, this agency on a human scale mainly covers Mougins, but also Valbonne, Mouans-Sartoux, Biot, Grasse, La Roquette-sur-Siagne, Cannes and Le Cannet. "We mostly propose houses priced from 700,000 to 2 million euros, though the majority of sales we handle range from 800,000 to 1.5 million euros," explains agency owner Florence Coutin. "Our market has become cyclical and even random. It is no longer subject to seasonal factors, as it once was. Clients are still numerous, but they are faced by slim offerings for budgets of around 700,000 €, and then again around 1.2 million euros. The market can be described as opaque, as many properties are not put up for sale at their real value, which leads to unfounded over-estimation, then a series of long negotiations. On the other hand, when a seller agrees to offer his property at the price we suggest, a sale follows rapidly." Mainly French, Florence Coutin's clients are looking for year-round or holiday homes, in anticipation of either retirement or a return to France in the case of ex-pats. "Charming or contemporary are the most sought-after styles for villas of 180 to 250 m2." Among properties representing her current offerings, Florence Coutin describes a superb, renovated stone oil-mill at the heart of an olive-grove of 26,000 m2. Located between Mougins and Cannes, it is on offer at 1,440,000 €. A charming villa of 170 m2 set in landscaped grounds of 1,900 m2 with a pool in Mougins, completed by an independent apartment, is up for sale at 830,000 €. Then, a superb 5-bedroomed contemporary property in the highly-prized neighbourhood of Castellaras, next to Mougins School and the golf-course, awaits its lucky new owner with a price-tag of 1,850,000 €.
Celebrating the second anniversary of her agency Cannes Rossi Croisette in June, Brigitte Rossi offers a selection of high-end and prestige properties in the best parts of Cannes. "Our growing reputation and our lively team have won the trust of our clients, which now enables us to present properties of quality in Mougins, Mandelieu, Golfe-Juan, Le Cannet and Antibes," says Brigitte Rossi. Pleasant villas with pools in Mougins are thus to be found in the portfolio of this independent agency on the Croisette. "Properties pegged from 700,000 to 900,000 € are of particular interest to local families looking for their main homes, while others at prices over 1 M € are more likely to attract foreign buyers in search of second residences." As an example of her exceptional properties, Brigitte Rossi mentions a superb residence in Mandelieu. Comprised of a Provençal "mas" of 600 m2 in grounds of 2,800 m2 with a pool, it offers stunning views of the sea and is priced at 1,990,000 €.
You will also like