The northern part of L'Ille-et-Vilaine : between sea and countryside
The northern part of L'Ille-et-Vilaine prop­oses two contrasting landscapes : a narrow but well developed seaboard and a luxuriant countryside. The property market here is thus highly diverse. Illustrations in Saint-Malo and Dol-de-Bretagne...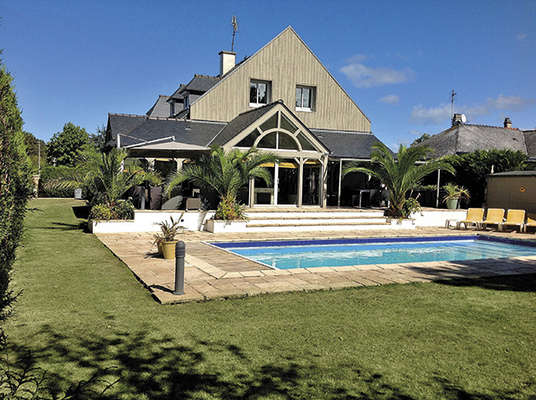 Designed by an architect, this house offering 6 bedrooms is in the Saint-Ideuc neighbourhood of Saint-Malo. 894.400 €. Avis Immobilier (02 99 19 99 99).
The second largest town in the département with about 50,000 inhabitants, Saint-Malo surveys La Côte d'Emeraude. The "cité corsaire" is an important centre for tourism in Brittany and an example of economic dynamism (thanks in particular to its harbour, the largest on the region's northern coastline). It therefore natur­ally benefits from the hi-speed TGV train service, placing it about 3 hours from Paris. "And as from 2015, a new line will mean that the trip will take only 2 hrs 15," comments Agnès Courtois, manageress of Avis Immobilier, whose two agencies in Saint-Servan and Paramé (old communes which became neighbourhoods of Saint-Mao in 1967) cover an area extending from Dinard to Cancale and as far as Château­neuf-d'Ille-et-Vilaine to the south. Agnès Courtois describes a market seeing steady demand but considerable declines in prices, particularly in the case of smaller properties. "On the other hand, those on the seafront have been less affected." In fact, prices, which are "extremely variable from one neighbourhood to the next" are among the highest in L'Ille-et-Vilaine, "though today one can find small houses with gardens for 200,000 €". Otherwise, the agency's most recent sales include an apartment of 80 m2 at 243,000 € (Paramé), a house of 200 m2 at 736,000 € (Paramé), another of 175 m2 at 535,000 € (Rothéneuf area) and another apartment of 70 m2 at 185,000 € (Saint-Servan).
About 25 km south-east of Saint-Malo one finds Dol-de-Bretagne, a small town with almost 6,000 residents, ideally located 25 km from Le Mont-Saint-Michel, 25-30 km from Dinan and 55 km from Rennes. This locality also makes its living from tourism (it boasts seven listed historic monuments) but its rural setting is completely different. It is here that Jean-François Derouet, manager of CIMM Immobilier, has been based since 1997 : "In the case of apartments, one can expect to pay 1,200-1,300 € per sq. metre in old buildings, and about 2,000 € in new residences". Those looking for houses will find "pavillons" less than ten years old for around 200,000 € : one example of 120 m2 sold recently and very quickly for 212,000 €. "In the case of "longères", everything depends on their condition. If renov­ated, they also cost about 200,000 € ; with work on the programme, the price will be about 100,000 €." Larger properties of higher quality range from 400,000 to 500,000 €. And what about town houses ? "We sold one a short time ago for 97,000 €, though it was in need of refurbishment." As for the rare building plots, they range from 70 to 100 € per sqm. "We are now seeing lots of potential buyers coming closer to Dol, motivated by these competitive prices."
You will also like