The Luberon's hidden treasures
Gordes, Bonnieux, Ménerbes, Goult... Nestling at the heart of the Luberon, near Avignon's TGV station, these charming, leafy addresses are very popular among foreigners looking for authentic Provençal residences, ideally built of stone...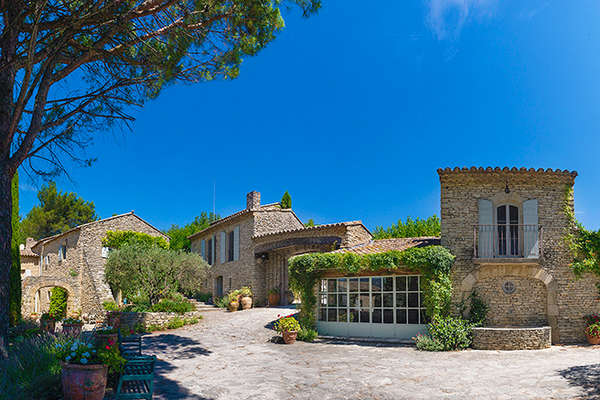 Boasting classic French gardens, a golf practice, tennis court and vast free-form pool, this estate in Ménerbes is comprised of four stone houses accompanied by a lodge and garages. 10 M €. Joys of Provence (04 86 69 50 05).
Opened almost four years ago by Joy Mason, the Joys of Provence agency deals with international clients looking for holiday residences, often destined to become their permanent homes when they retire, at the heart of the Luberon. "Gordes, Goult, Ménerbes, Bonnieux and, increasingly, Saint Saturnin, are the most highly-prized addresses among our clientele comprised of English, German, Dutch, Swedish and Belgian buyers," explains Joy Mason, the agency's founder. "They all know the region well after coming here for holidays, some even living here already. We often handle two transactions, for people wanting larger houses or more generous grounds. A beautiful view and closeness to Avignon's TGV station are the most frequent search criteria, together, of course, with the property's architectural style." Fans of Provence, these buyers are ideally looking for stone buildings embodying all the region's charm and authenticity. "We handle a good number of sales involving budgets from 600,000 to 1.2 million euros. In this price range, clients have a good choice," adds our expert, whose portfolio also includes about a dozen outstanding properties worth several million euros. Such as an estate in Ménerbes comprised of four stone houses, a private golf practice and a tennis court, on almost 40 acres of land shared out beween parks, ponds, fruit trees and a spectacular landscaped garden in the shape of a butterfly. A luxury hamlet, priced at 10 M €.
Perched on a hill on the midst of the Luberon's regional nature park, the village of Goult is made up of several hamlets. The commune is surrounded by beautiful Provençal countryside : olive-groves, century-old oaks and agricultural land provide further attractions for fans of old stone. Based in the centre of Goult, the agency Your Provence also welcomes an international clientele comprised of Australians, Germans (German is one of the languages spoken by the agency's team), Belgians, Swiss, as well as French. "We offer properties ranging from 100,000 to 3 million euros all over the Luberon, including numerous houses in Goult itself," says agency manager Andrea Bichi. "Foreign clients appreciate its discretion and leisurely lifestyle. Some buyers decide to live here year-round, especially as Goult benefits from shops and good restaurants open in all four seasons, allowing for a pleasant life in both summer and winter." Among transactions recently handled by the agency, Andrea Bichi mentions a master residence offering typical charm. Retaining its lovely original staircase and concrete slab floors, this property of 330 m2 extended by a small outdoor area nestles at the heart of the village. Priced at 735,000 €, it was the subject of love at first sight for a French-American couple, wanting to live permanently in the region. "Many clients appreciate turnkey houses, already refurbished, decorated and furnished. Ready to move in, these properties sell more easily," comments Andrea Bichi. Among exceptional properties currently up for sale, he mentions a "mas" of 360 m2 on about 6.25 acres of land with a pool in Bonnieux. Benefiting from outbuildings, this delightful home is on offer at almost 2 million euros.
Laid out on terraced embankments on a cliffside above the valley, Bonnieux is undeniably one of the Luberon's loveliest villages. With their terra-cotta roofs, houses in the centre of the village create perfect harmony in both shapes and colours running down the hillside. Blessed by a prestigious past, Bonnieux boasts a few architectural gems from the 16th, 17th and 18th centuries, some of which were bishops' residences. "Bonnieux is as popular as ever. Our clients appreciate its charm, quietness, and the fact that the village is lively year-round thanks to its shops and restaurants. Within the village, houses with terraces can be found from 300,000 to 500,000 €. They are sought by our international clients, wanting to treat themelves to a charming pied-à-terre in the Luberon," explains Ludivine Le Monnier, a partner of Chris Banks at the Bacon Immobilier agency, based in Bonnieux since 1975. Benefiting from a portfolio of high-quality properties all over the Luberon, this agency orchestrates numerous transactions involving holiday homes for clients (often English speaking), usually with budgets ranging from 500,000 to 2 M €, though the agency's offerings also include outstanding addresses at higher prices. As witnessed by a stone property of 378 m2 with lots of character, set on approx. 23.7 acres of wooded land overlooking the valley and enjoying a panoramic view of the Luberon mountains. At the heart of the wild Luberon, not far from Bonnieux, this exceptional residence benefiting from two truffle fields, a 17-metre pool and a tennis court, is up for sale at 2.1 M €.
You will also like