The Luberon, Provence with lots of character
Giving its name to the area, the Luberon mountain stretches out between the Alpes de Haute Provence and the plain of the Vaucluse, a natural link between the valleys of Le Cavalon and La Durance, flowing at its feet.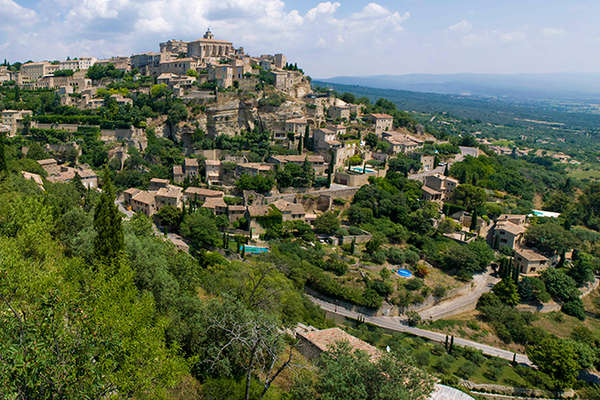 At the heart of the Luberon's regional nature park, Goult is a charming hill-top village in the Petit Luberon.
Specializing in transactions in Cabrières-d'Avignon, Lagnes, Robion, Oppède, Goult, Bonnieux and Maubec, the Agence Coustellet opened its doors in March, 2018. "The sales we handle are shared out evenly between main and holiday homes," says manageress Catherine Cartoux who, with her partner Jack Regnier, currently has over 50 properties on offer in the Luberon. "The locally employed are actively looking for houses from 280,000 to 350,000 €, whereas retirees and foreign buyers in seach of holiday homes target properties on offer from 500,000 to 800,000 €. Quietness, a pleasant view, a pool or the possibility of building one, are the most frequent criteria. Substantial "mas" of 300 m2 in grounds of 4,000 m2 to 2.5 acres are presented from 650,000 € if restoration is required, or around 1.2 million euros if they meet today's taste. More classic villas from 90 to 130 m2 can be found from 300,000 to 470,000 €. The market is stable, and when a property is offered at the right price, it sells quickly." By way of example, Catherine Cartoux mentions a villa of 150 m2 in grounds of 1,500 m2 in Lagnes. Benefiting from refined appointments, it sold for 500,000 € within 15 days.
At the tip of the Petit Luberon, midway between Aix-en-Provence and Avignon, 4 km from Cavaillon, Cheval-Blanc is a peaceful commune with 4,500 residents. Here, Aïchouche Sarri and Aurélie Bertrand of Cheval Blanc Immobilier have offered their services since 2001, focusing mainly on transactions on the communes of Cheval Blanc, Cavaillon, Mérindol, Taillades, Robion, Maubec... And more recently, the entire Petit Luberon, since negotiator Sylvie Ripart joined this dynamic team. "Our portfolio is comprised of all kinds of properties : building plots, stone "mas", a few apartments and village houses, but mainly houses and villas," explains Aïchouche Sari. "A year ago, we also joined the GN Immo real estate group, enabling us to offer our clients an even wider choice." Sales handled by Cheval Blanc Immobilier, 70 % of which involve permanent homes for retirees and the actively employed, are often comprised of houses from 250,000 to 350,000 €. "This is the most frequent budget among clients setting their sights on a 3-bedroomed villa in quiet grounds of about 1,000 m2. They are usually looking for peacefulness while being near amenities. Therein lies the difficulty of orienting their searches towards market realities." Aïchouche Sarri adds that the market offers stable prices, even though demand clearly outstrips supply. As examples of typical properties on the market, she mentions a house of 83 m2 recently sold for around 270,000 € with a garden of 800 m2 and a pool. In good condition, it is on a quiet estate near the centre of Cavaillon. In Cheval-Blanc, a carefully restored stone "mas" set in grounds of 3,000 m2 with a pool just found a taker for 609,000 €. Offering three bedrooms and a clear view of the Luberon, this property comes with a self-contained 1-bedroom apartment which
could bring rental income.
You will also like