The Luberon, a world apart
A Regional Nature Park since 1977, the Luberon owes its renown to a number of factors : a typically Provençal atmosphere, picturesque villages, some acknowledged as among the loveliest in France, undulating scenery... and an international clientele accounting for its remarkable success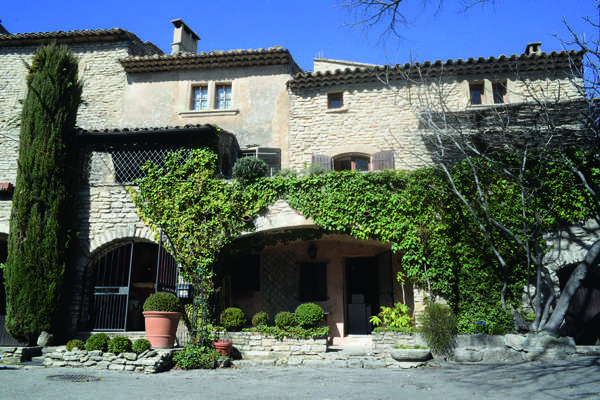 At the top of the village of Goult, this charming stone house of 240 m2 with an independent studio of 18 m2 benefits from lots of sunshine and views of the village and the valley of the Luberon. Its garden of about 250 m2 accommodates a pool and a pool-house with a summer kitchen. 795.000 €. Your Provence (04 90 72 40 64).
In 1989, "A Year in Provence", the autobiographical novel by English writer Peter Mayle, became a best-seller. After falling in love with the region and acquiring a house near Ménerbes, he shared his passion with his readers... The charm of the Luberon hit the headlines across the Channel. Since then, the area's popularity has continued to grow. Ménerbes, Gordes and Roussillon now share their excellent reputations with other villages such as Goult and Bonnieux, where life can be liv­ed in the most delightful way possible, in all four seasons...
An international agency based at the heart of the Luberon for the past 15 years, Your Provence is managed by Andrea Bichi. This professional of Italian-French-German origin (a mastery of foreign languages is one of the agency's strong points), describes in particular the property market in Goult, a village with 1,200 residents, highly-prized for its authenticity. "Set on a plateau, Goult is a very pleasant address, quiet yet lively all year round, holding some very attractive events. A real village, tucked away between Gordes and Bonnieux, it is less well-known than its neighbours, though much appreciated. Especially due to its magnificent views, of the Luberon to one side and the mountains of the Vaucluse to the other." Clients, both French and foreign, give priority to charming old "mas" or village houses offering views and outdoor areas, with pools whenever possible. "To treat yourself to this kind of property, you can expect to pay from 400,000 to 1.5 million euros, depending on its surface area, location and appointments," adds Andréa Bichi. For example, Your Provence recently sold a terraced house on four floors, at the heart of Goult, to Australian buyers. Built of stone, offering living space of 190 m2 with an outdoor area, this house in need of a some refurbishment cost them 400,000 €.
In Bonnieux, Ludivine Le Monnier and Chris Banks of the Agence Bacon, based here for over 40 years, confirm that the market is lively. "Though less well-known than Roussillon or Gordes, the village of Bonnieux is increasingly sought-after." Bonnieux has in fact inherited the charm of Provence and offers superb views of the surrounding plains, the Luberon mountain and Mount Ventoux. Second residences naturally account here for a very high percentage of transactions (about 80 %), and the clientele is mainly international. As in Goult, village houses with gardens or those on the outskirts, as well as "mas", in lovely quiet surroundings, are the most coveted properties. Prices here range from 300,000 to 1 million euros for village houses,
1 to 2 million euros for a "mas", and more for outstanding properties. "Demand is very steady for "mas" and we occasionally have to divert clients' attention to another type of property, which is also very popular : the contemporary house, light and airy, with lofty volumes, built of quality materials, offering pretty views and pool areas. For a home of this kind of around 160 m2, one will need a budget of 900,000 €.
You will also like