The Luberon : a resilient market
Currently absent, foreign buyers are being replaced by French clients who are maintaining the market's liveliness but are confronted by limited availabilities.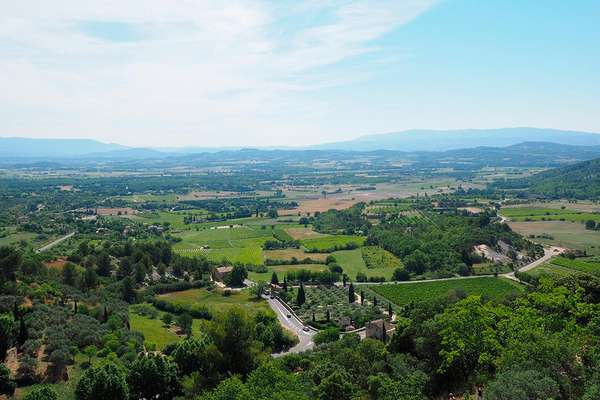 Handling sales, rentals and rental management in the Vaucluse, Le Comtat Venaissin, Mont-Ventoux, Le Pays des Sorgues and the Luberon, the Côté Sud agency was founded in 1976 in Saint-Didier, by Christiane Auquier. "In our region, buyers are primarily looking for a villa or "mas" with a pool, or eventually a village house with a garden. Depending on appointments, prices range from 400,000 to 1 million euros. We work almost exclusively in villages : Pernes-les-Fontaines, Saint-Didier, Mazan, La Roque d'Anthéron and, to a lesser extent, Carpentras." Buyers are mostly from outside the region, from Paris, Lyon, Switzerland, Luxembourg or Belgium. They are looking for second residences though many of them are, in fact, used as main homes, due in particular to the more widespread adoption of tele-working. The marked enthusiasm for the region has led to rarer availabilities, though Christiane Auquier says that the pandemic has not had a negative impact on the market. Sales volume remains high, with stable prices. Furthermore, the rental market is remarkably buoyant, due especially to the growing number of couples who have split up over the past year and must now find separate accommodation, as well as members of the local working population, who have a preference for villages near Avignon.
On the eve of its 20th anniversary, the agency Your Provence focuses exclusively on sales in a perimeter centered around the village of Goult. It is run by Andrea Bichi, who took over its management four years ago. "Mainly comprised of a British clientele, our main target has evolved since Brexit and the start of the health crisis. Buyers are now more from France and Belgium. Even so, we recently completed several sales with English and German clients, and American buyers continue to show an interest in our region. As soon as the borders are fully open, we anticipate a significant return on the part of foreign buyers, to whom we offer a multilingual service." Properties forming the core of demand are village houses with gardens at prices ranging from 400,000 € to over 1 million euros, depending on appointments and amenities. "More discreet than some very touristy villages in the Luberon, Goult appeals to a discerning clientele. To meet their requirements on an increasingly tight market, we have opted to reduce our catalogue in order to offer sellers more personalized assistance with quality proximity service, allowing us to propose exclusive offerings to our buyers. We thus place at their disposal certain tools such as virtual tours, enabling them to narrow down their choices before making travel plans for visits." Over the course of 2020, Andrea Bichi observed a rise in demand of almost 50 % for properties from 400,000 to 800,000 €, not counting future foreign buyers. Prices nevertheless remain stable.
You will also like