The hyper-centre of Bordeaux : magnetic appeal
Over the past few years, Bordeaux's popularity has continued to rise. Its attraction lies in quality rehabilitation throughout the city and the recent introduction of the LGV, linking it to Paris in just two hours...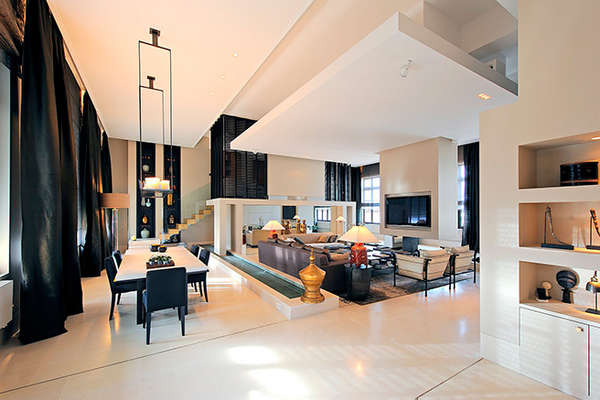 On the top floor of an historic building in the Golden Triangle, this outstanding apartment has been redesigned by a renowned interior decorator. 2.940.000 €. Coldwell Banker Bordeaux Premium (05 57 34 01 39).
For many long years, Bordeaux was a Sleeping Beauty. Today, the city has changed completely in terms of liveliness, and its appeal has become exponential with major development and renovation of the centre, and the arrival this summer of the High Speed Train Line placing Paris just two hours from the capital of the Gironde.
For Marina Tonneau, manageress of Coldwell Banker Bordeaux Premium, the vitality of Bordeaux's property market is even more flagrant when it comes to the hyper-centre. "Demand far outstrips supply, availabilities are scarce," she explains. "We see five or ten buyers for the same property. At least in the case of homes of quality." She adds that she receives lots of requests for so-called "échoppes", requiring renovation : very long and narrow town houses, usually all on one floor, with small back gardens, originally the homes and workplaces of craftsmen. "You can still find a few in an untouched state, from 500,000 to 600,000 €. If they have already been renovated, they can fetch 800,000 or 900,000 €." Demand is also very high for substantial bourgeois houses, old freestone buildings, and private mansions priced from 1 million euros. One of Coldwell Banker's most recent sales provides a perfect example : a lovely bourgeois house in the town centre, sold in just four days to a buyer who had been searching this kind of property for six months and immediately snapped it up. Marina Tonneau says that, due to rising demand, prices have risen by 15 % over the past year for properties in the city centre. She also points out that buildings in the centre are increasingly sold to investors who renovate and restructure the accommodation to provide apartments they then rent out on short-term rental platforms. Already the city preferred by the French as their main home, Bordeaux is increasingly opening up to tourism. Not wanting to see its centre emptied of its residents, the municipality is very concerned and is reinforcing its controls.
Sophie Barbellion Jalladeau of Sof'Imo shares these observations : "Today's market is very lively. In terms of attractiveness, Bordeaux has made up for a century of lost time. It was living on its past achievements, rather closed-in on itself. Today, the atmosphere has changed, the people of Bordeaux have become aware of the quality of their heritage, and the town is benefiting from fresh energy and in-put from people from other regions, and especially Paris, thanks to the LGV". She explains that the town was sad and unsafe in certain neighbourhoods in the centre, whereas it is now lively and beautiful, as on the "quais", for example. She also mentions that demand for "échoppes", the star property in Bordeaux, is as strong as ever, like that for high-end properties offering quality materials and harmonious facades. In her opinion, prices per sq. metre are impossible to determine due to the vast diversity and varied quality of the buildings. "It is obviously demand that sets the price. And it is our job to estimate the best price so that a property sells within a reasonable length of time."
While "échoppes" and smart town mansions are as highly prized as ever, demand for really unusual properties is also very strong. As confiirmed by Cédric Fourteau of Ateliers, Lofts et Associés. Specializing in exceptional properties, he says that, even here, demand and prices have clearly risen over the past four or five years, more so since 2016. "We mainly offer stone properties with classic architecture dating back to the 17th, 18th and 19th centuries, refurbished in highly contemporary style : lofts or split-level apartments, former wine cellars now transformed, and "échoppes" treated to a makeover." For these properties, one can expect to pay from 5,000 to 9,000 € per sq.m within the triangle formed by the hyper-centre, and from 4,000 to 6,500 € in the centre, depending on the neighbourhood. Cédric Fourteau also mentions that certain areas such as Saint-Michel, Bacalan and the entire right bank were looked down upon until they were attractively rehabilitated over the past few years. Finally, he mentions a new phenomenon : the arrival of ex-pats returning to a region they already know or which seems to be well-suited to the quality lifestyle they have become used to, and that they are looking for in France for when they come home.
You will also like