The hyper-centre of Bordeaux, highly-prized by Parisians
Close to cultural and tourist landmarks, the hyper-centre of Bordeaux also offers its residents schools and lots of quality shops. A lively neighbourhood, where demand outstrips supply.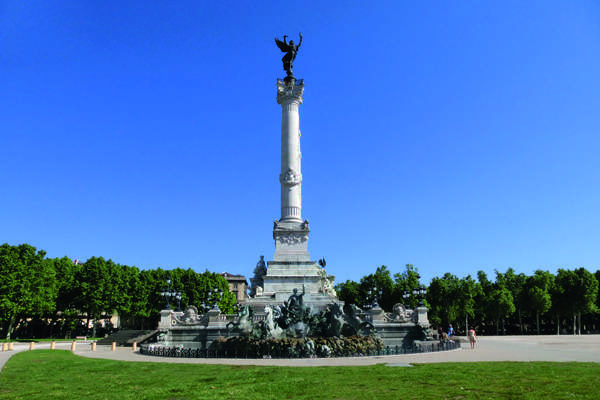 At the very centre of Bordeaux, the Monument aux Girondins overlooks the majestic Place des Quinconces. Surrounded by trees and giving onto the banks of the River Garonne, this 29.6-acre landmark site plays host to many major events held here throughout the year.
Scheduled for this summer, the introduction of the LGV train linking Paris to Bordeaux in just two hours is giving a boost to Bordeaux's real-estate market. In high demand from buyers, and especially Parisians, properties in the hyper-centre sometimes sell within 48 hours !
"The "Golden Triangle", Les Quinconces and Jardin Public are the neighbourhoods forming part of the luxury hyper-centre. Properties here are rather diverse, though they mostly consist of apartments," explains Anne-Valérie Colas, manageress of Bordeaux Sotheby's International Realty. This expert in luxury properties opened her own agency in 2002 and was chosen by Sotheby's International Realty 11 years ago. Lofty volumes and prestigious locations are part and parcel of the agency's specialities. "The Triangle and Les Quinconces offer apartments with varying surface areas. Their price per sq.metre is 7,000 € on average with - this year in particular - spikes of up to 9,000-10,000 €." Highly sought-after by investors, properties within the Triangle are acquired to be rented out furnished. In the hyper-centre of Bordeaux, clients can also find lovely residences around the Jardin Public. "Both private mansions from 300 to 500 m2, and pretty town houses from 180 to 250 m2, at prices ranging from 900,000 to 3 million euros. The most expensive examples benefit from refined decor and views of the gardens," adds Anne-Valérie Colas. These properties usually offer several reception rooms, a garage and a quiet garden. The residential Jardin Public neighbourhood mainly appeals to families. "Demand for Bordeaux is so strong that the hyper-centre is beginning to push back its boundaries. The Saint-Pierre and Chartrons neighbourhoods are all set to join this extremely popular hyper-centre, where prices are constantly rising."
"The hyper-centre is increasingly drawing a clientele from outside the city, including Parisian buyers usually wanting to move to Bordeaux to escape the stress of the capital, and treat themselves to a new life-style," says Nathalie Andria, co-manageress of La Bordelaise de l'Immobilier. Located at the heart of the Triangle, this agency has been run by three partners since it was set up in 2010. "Our agency specializes in old properties in the hyper-centre, an area with few offerings and lots of demand." Today, for example, one can expect to pay 557,000 € for a renovated apartment of 80 m2. "The clientele here is rather well-off and the buyer profile varies, with an average age of over 40. As for clients aged over 50, they are mainly looking for apartments in residences with lifts, a very rare commodity in this neighbourhood," comments Nathalie Andria. Very buoyant, the market clearly has the wind in its sails. Since the start of 2016, rising prices have allowed for a significant up-tick in the number of sales, and thus the agency's turnover. "Over the past few months, the new LGV line and current enthusiasm for the city of Bordeaux, both here in France and internationally, have fuelled the trend for rising prices. Which all results in growing interest and activity in neighbourhoods on the outskirts of the hyper-centre."
"In the hyper-centre, transactions go through very quickly, occasionally within 48 hours. This is due to Parisian clients who visit properties as soon as they come onto the market. Since the beginning of January, 40 % of our sales have involved buyers from Paris," says Valérie Lefort of DPP Real Estate. Managing this agency since November 2016, this property expert can claim sound experience with about 15 years in the profession. "The specific aim of our agency is to offers buyers prestige properties, and especially those for which we have exclusive mandates." In the hyper-centre, one of the areas very popular among families is Saint-Seurin. With a good array of private and public schools, good bus services and lots of shops, Saint-Seurin is currently encountering great success. "This neighbourhood is a little Paris," says Valérie Lefort. "You can easily get around on foot or by bike, and it offers a quiet setting. You find lots of substantial houses here, built of classic Bordeaux stone in the 19th century. They usually offer quality appointments, fireplaces, moulded ceilings and parquet floors, but also small town gardens from 50 to 150 m2." An area mainly comprised of permanent homes, and mostly acquired by buyers from Bordeaux and Paris. "Our market is currently very active : we have to act fast and be highly responsive. I think that here in the hyper-centre, we have another two or three good years before us."
You will also like