The hinterland behind Béziers : varied landscapes and low prices
A pleasant little town with a Mediterranean climate, ideally located between Carcassonne and Narbonne, Lézignan-Corbières is undergoing extensive development. Yet its real estate is surprisingly affordable.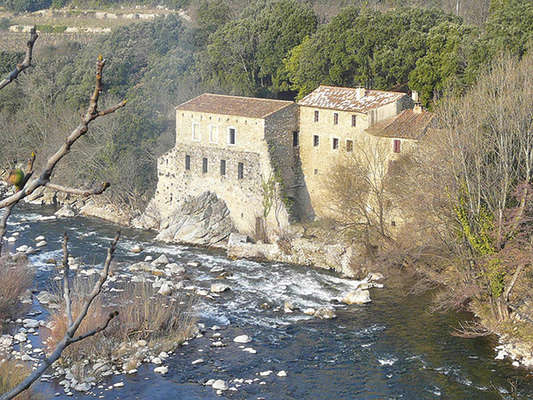 Near Olargues, this old stone mill in need of restoration offers living space of 240 m2 in grounds of 3,750 m2. v220.000 €. Via Sud Immobilier (04 67 49 92 49).
Dotted with small villages typical of the South, the northern part of Béziers proposes a wide diversity of scenery and prop­erties at very affordable prices. A market particularly appreciated by Parisians and North Europeans. From the Massifs du Caroux to the wine-producing plains around Béziers, its back-country boasts a rich natural heritage thanks, in particular, to the River Orb which irrigates the entire area before meeting up with the Canal du Midi. On its banks, villages of very real charm, such as Colombières-sur-Orb and Roquebrun, for which Hugo and Jean-Louis Dreuille of Via Sud Immobilier reveal more good news : "Here, the choice of properties is very wide. Stone houses, village houses, bourgeois resid­ences, vineyard properties, old farmhouses... From 100,000 to 1 million euros, there is something to suit all tastes". Based in Béziers since 1991, where they are known as specialists for properties of quality and character, our estate-agents cover the area extending from Le Cap d'Agde/Valras-Plage to La Salvetat-sur-Agout, and from Narbonne to Montpellier. According to them, village houses of about 100 m2 in good condition range from 100,000 to 150,000 €. "As for large properties, frequently old "vigneronnes", we are currently offering one example of 160 m2 in grounds of 2,600 m2 with outbuildings of 200 m2 at 223,000 €. Another illustration : a late 18th-century residence of 390 m2, renov­ated throughout, on about 2.5 acres of land, up for sale at 636,000 €." Houses on subdivisions can be found at around 1,800 € per sq. metre, serviced building plots from 100 to 120 € per sqm. Prices lower than those applicable elsewhere in L'Hérault. Via Sud's clientele is mainly Parisian, Belgian, English and Scandinavian.
Christine Caudroit, manageress of Cassiopée, Conseil en Immobilier, has been based since 2007 in Lamalou-les-Bains, another leafy village on the banks of the Orb about 30 kilometres from Béziers, in the Nature Park of Le Haut-Languedoc. Focusing on properties of quality and reserving the right to refuse certain mandates, she chalks up 80 % of her transactions within a radius of 20 km around the commune, sometimes extending her coverage as far as Montpellier, Béziers, Sète, and even the Gulf of Saint-Tropez. "A thermal spa for over 300 years, Lamalou-les-Bains now offers remarkable architecture dating back to the 19th century and the "Belle Epoque". You can thus find lots of century-old bourgeois houses which, once renov­ated, sell for over 600,000 €." Otherwise, her portfolio contains "vigneronnes", village houses, with or without outdoor areas, priced from 120,000 to 300,000 €, and villas of 100 to 130 m2, often with pools, from 200,000 to 250,000 €. As for new accommodation, the agency has just sold almost all of the 46 apartments and shops in a development right in the centre. "We also propose tourist residences in L'Hôtel Mas, a 4-star establishment dating back to 1875 currently undergoing renovation. It offers fully equipped studios of 21 to 26 m2 avec with luxury appointments, priced from 120,000 to 140,000 €." Finally, building land (not on estates) can be found for 60 € per sqm on average. Christine Caudroit is mainly contacted by Swiss and North Europeans clients (from Sweden, Denmark, Belgium, Luxembourg). "The English are making a comeback, but not in the same numbers as previously."
You will also like