The greater urban area of Montpellier and its surrounding region
A modern and lively town with about 265,000 inhabitants, Montpellier has retained an active property market with stable prices. Benefiting from its appeal, certain communes in the surrounding region make for interesting fall-back areas.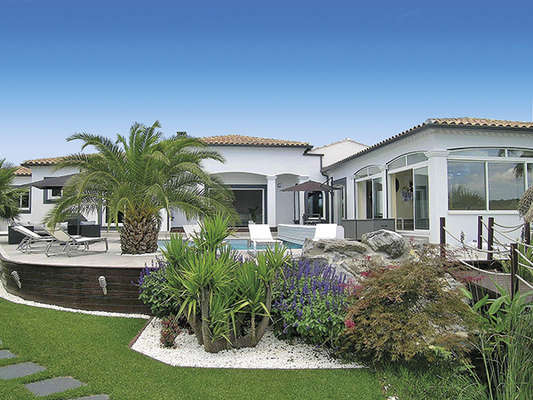 In Saint-Paul-et-Valmalle, this villa of 220 m2 stands in 1,500 m2 of grounds with a pool. 830.000 €. Saint-Benoit Immobilier (04 67 57 37 37).
In Montpellier, prices per sq. metre vary considerably depending on the neighbour­hood : "For apartments, they start at 1,500 € and rise to almost 4,500 €," says Jean-François Ricard, manager of Logimmo, a Montpellier-based agency founded in 1981, covering the entire urban area, ie. within a radius of about 30 km. "In the highly-prized neighbourhood of Aiguelongue, a recent high-end apartment of 110 m2 with 3 bedrooms, a terrace of 50 m2, two garages and a parking place is, for example, currently on offer at 415,000 €." In new resid­ences, prices range from 4,000 to 4,500 € in Montpellier, or from 3,700 to 3,800 € in neighbouring communes. "Studios of about 20 m2 with parking facilities in the basement thus cost 150,000-160,000 €, 1-bedroomed apartments of 45 m2 with terraces and garages from 180,000 to 220,000 €, and 2-bedroomed apartments of 70 m2 from 250,000 to 350,000 €. 3-bedroomed apartments are priced from 350,000 to 450,000 € depending on surface areas." New developments are mainly found in the neighbourhoods of Port-Marianne and those located north of the city (Hôpitaux-Facultés, Aiguelongue...). Sought-after here, but also in the prized addresses of Castelnau-le-Lez, Montferrier-sur-Lez and Saint-Gély-du-Fesc, "Montpelliérain" houses of 130-140 m2 with gardens of 300 to 400 m2 cost close on 400,000 €, "or more, depending on the quality of the location, the advantage of a pool..."
A 20-minute drive from Montpellier (on the A750), one comes across Aniane, a pleasant commune with about 3,000 residents at the end of the Gorges de l'Hérault and at the entrance to the valley of the same name. An area renowned for its vines, olives, natural and architectural her­itage (Abbey of Aniane, Saint-Sauveur Church, Pont du Diable, grotto of La Clamouse...), which is of interest to people working in the northern part of Montpellier. "Especially as prices here are more appealing," comments Christophe Joullié, manager of Saint-Benoit Immobilier, an agency based in Aniane since 1998, specializing in houses of character in the back-country behind Montpellier. "For a village house without an outdoor area, one can expect to pay from 100,000 to 120,000 €, or from 130,000 to 150,000 € with a terrace. For example, we recently sold such a property of 110 m2 with a garage, priced at 110,000 €." As for villas, a 3-bedroomed example of 100 m2 with a garden of 450 m2 recently found a taker for 200,000 €, another of 100 m2 with 2 bedrooms, a garden of 750 m2 and a pool, for 270,000 €. "Building plots of 300 m2 cost 90,000-95,000 €, those of 500 m2 around 130,000 €." Prices which have been "relatively stable over the past few months", drawing first-time buyers and retirees in search of peace and quiet.
You will also like