The Giens peninsula and Sanary-sur-Mer
With a pleasant micro-climate rarely posting winter temperatures below 10°, the Giens peninsula is a protected part of Hyères. Between Bandol and Six-Fours-les-Plages, Sanary-sur-Mer has long been a popular seaside resort.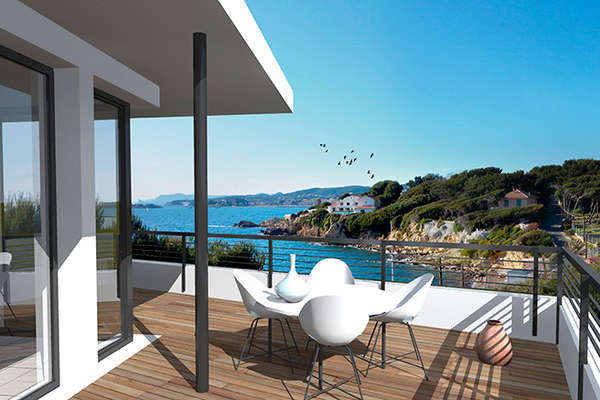 On the Beaucours beach in Sanary-sur-Mer, the select residence "Les Grands Pins" with its terraces, suspended garden, pool and garages is comprised of four luxury apartments right at the water's edge. An apartment here of 110 m2 sold for 790,000 €. GTI-GPI (04 94 88 02 10).
Along with its superb natural scenery, the Giens peninsula offers charm and a unique atmosphere making it elegible for the status of a National Park, together with the islands of Port Cros and Porquerolles. On its west side, one finds the beach of L'Almanarre, 4 km long and well-known among fans of windsurfing, funboard and kitesurfing. The entire southern part of the peninsula is comprised of cliffs and forests, with the little harbours of Le Niel and La Tour Fondue, from which one can take the ferry to Porquerolles.
Since 1999, the Agence Vue Mer has specialized in this locality, which is a real micro-market. "75% of the sales we handle involve holiday homes, especially for Parisian clients who appreciate reaching Hyères on the TGV in just 3 hours. Sales of main residences concern retirees from other regions and a few local families, who also readily opt for La Capte, one of the 14 neighbourhoods in Hyères, with schools," explains Christelle Gonzalez. The most sought-after property ? "2-bedroomed houses as close as possible to the sea, priced around 500,000 €. Though this request is hard to meet, as demand is very high." The agency's portfolio of properties contains both 1-bedroom apartments for around 200,000 € and spacious luxury villas with pools and sea views, over and above 1 M €. "Our future status as a National Park guarantees a lifestyle of incomparable quality for residents, and the assurance of a sound long-term investment."
On the seafront, 12 km from Toulon, Sanary-sur-Mer is home to about 17,000 inhabitants. This peaceful setting is a great place in which to sunbathe and swim from the beaches of L'Esplanade, Dorée, Portissol, Beaucours, La Gorguette, La Roche Taillée or Le Lido. The coastal path and exotic gardens are two of the tourist attractions offered by this Mediterranean address full of charm. "Activity in terms of sales volume is adequate," says Sylviane Garrot, manageress of the GTI-GPI agency. "Ranging from studios on offer at around 120,000 € to substantial properties at the water's edge, fetching over 2 M €, supply is as diverse as demand. Today, our portfolio of properties allows us to offer a good choice of all kinds of homes." In the case of year-round residences, the core of demand implies budgets ranging from 700,000 to 900,000 € for houses with quality appointments. "Over the last quarter, a large majority of our transactions were completed for sums very close to their asking prices. When a property is put up for sale at the price we have estimated, it sells within an average of three months. And much more quickly, if it is in a sought-after area." By way of example, Sylviane Garrot mentions the recent sale of a house of 160 m2 in grounds of 1,000 m2 with a pool, less than 300 metres from the seafront. In good condition, this property in the "Golden Triangle", priced at 750,000€, found a taker in less than two months.
You will also like