The dynamic region west of Lyon
Even though they do not have the same attributes, do not attract the same clientele nor a choice of properties in any way comparable, Ecully, Sainte-Foy and Oullins are drawing more and more buyers and show sustained activity despite the crisis, which is here "nothing more than a bad memory".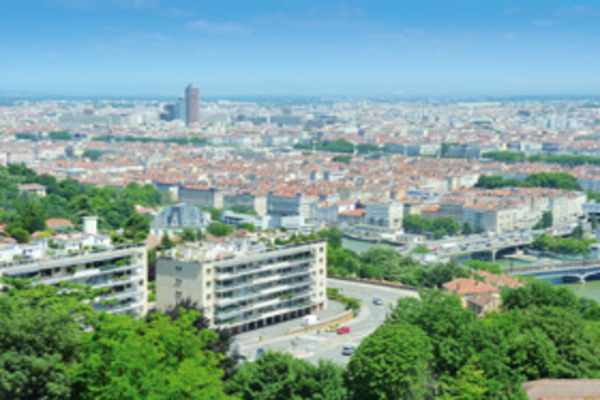 Sainte-Foy offers an unimpeded view of Lyon.
On the borderline with Lyon, Ecully is home to 18,000 people. Served by public transport and the A6 motorway, this locality crossed by a railway line saw restoration of the train station in 2009. It hosts, among other things, the Ecole Centrale, Institut Paul Bocuse and a School of Management, but also four clinics, a municipal swimming pool, gyms, a "boulodrome", multi-function hall, football and rugby ground, a tennis club, four parks, two ponds and 345 acres of classified woodlands. Once a year, it organizes a comic-strip festival. Sainte-Foy, with 22,150 residents, overlooks the Prefecture of Département 69. Its centre is exactly a 10-minute drive from the Presqu'île. Very countrified, the former farming village lies next to to the 5th "arrondissement" of Lyon. It now has 130 associations and 350 companies, including the Boiron laboratory which employs 550 people. 86 % of its buildings rose from the ground after 1945. Purchasers here, relatively well-off, love Rue Georges-Clemenceau, Rue Soeur-Bouvier, Avenue Valioud, the Chemin de Fontanières and Boulevard Narcel. With 25,650 inhabitants, Oullins also forms part of Lyon's Greater Urban Community. Residents here are looking forward to the extension of metro line B in 2013. Nearly two centuries ago, in 1832 to be precise, the town saw the arrival of a locomotive workshop. World War II marked the end of its industrial era. Heneceforth, Oullins turned its attention to commerce and the service sector. The turn of the 20th century was accompanied by an extensive programme of urban renewal. Everyone hailed the creation of "La MéMO", a mediatheque of 2,000 m2 on three floors.
"Highly residential, Ecully has proven to be as well-located as it is well-served," observes Franck Pariset of Ecully Immobilier, referring to its nickname as the "Saint-Germain of Lyon". As countrified as one could wish, this area, once adopted as the second residence of Lyon's silk manufacturers, has kept its character and authenticity. The historic centre, revolving around the church, boasts intimate residences of good quality, pegged at 2,400 to 6,000 €/m2. A penthouse of 200 m2 with terraces of a further 200 m2 is currently on offer at 1,550,000 €. Highly-prized village houses - from 160 to 400 m2, with or without gardens - range from 700,000 to 1.6 million euros. Only 800 metres away, one discovers the first villas - 140-300 m2 in landscaped grounds of 1,000-3,000 m2 - sharing the same price range. Company directors and senior executives transferred to the region with their families appreciate the easy access to the motorway, a friendly atmosphere for everyday life, the surrounding nature and, for the highly endowed, the neighbourhood of Le Château du Vivier.
"Of the three neighbourhoods concerned, Sainte-Foy is the closest to Lyon. Only a few minutes separate it from Place Bellecour. Its elevated position allows for panoramic views of the Presqu'île and the Monts du Lyonnais. The housing stock offers a wide choice. Individual housing is, in fact, better represented here than in the neighbouring 5th "arrondissement". The environment is still well-preserved, with a bare minimum of building permits being granted," says Christian Lafaye of Sainte-Foy Immobilier. The area in fact serves as the second "green lung" for the region, just behind Le Parc de la Tête d'Or. In terms of architectural heritage, however, Ecully can certainly claim to be a notch above. An edge that Sainte-Foy offsets by its proximity to pools of employment and charming scenery, enabling it to post the same prices, except as regards "Pitance" buildings in Ecully, pegged at around 4,000 €/m2. In the case of older buildings, the sq. metre averages around 3,000 €, or 4,000 € if built less than ten years ago. Here too, village houses with gardens, now very scarce on the ground, are the star performers. An example of 120 m2 with an outdoor area of 60 m2 is close on 390,000 €, while 150 m2 in good condition will find a taker at 680,000 €. Villas also enjoy a lot of pop-ularity. A house of 130 m2 built in 1850 with grounds of 1,300 m2 on the Chemin de Fontanières, overlooking Lyon-Confluence, has just changed hands for 720,000 €. Most transactions do not exceed 1 million euros though restricted availability keeps prices steady. Finally, Sainte-Foy attracts interest from foreign buyers, often employed in the chemicals industry, happy to enroll their children in the international school of Gerland, just opposite.
"The advantage of Oullins definitely lies in its margin for progression," notes Jean-Louis Snyers of Solvimo Oullins. With the arrival of the metro in 2013, putting La Part-Dieu only 15-20 minutes away, an estimated rise of 10-15 % is expected on this fall-back market, currently appreciated by people working in Lyon ready to invest 150,000 € in a 2 bedroom apartment. So-called mid-range buildings cost from 2,000 to 3,200 €/m2 : new residences post prices around 3,500 €/m2, though they are less competitive than the former. You can still find a 3-bedroom apartment which needs freshening up from 150,000 to 160,000 € and a gross return of 5-6 % for small surface areas, to the taste of rental investors. Not being the prime attraction of Oullins, the top end of the market is not yet showing much activity. Among his most recent transactions, Jean-Luis Snyers points to a 3-bedroom house of 300 m2 sold at 242,000 €, a reference that would cost over 300,000 € in Ecully or Sainte-Foy. The address in fact serves as a reserve asset and a safe bet over the short term.
You will also like