The Drôme Provençale : a highly coveted market
A tourist region in the southern part of the Drôme enjoying particularly easy access, the Drôme Provençale offers the climate, scenery and all the authenticity of Provence. A pleasant, lively area whose real estate is highly-prized.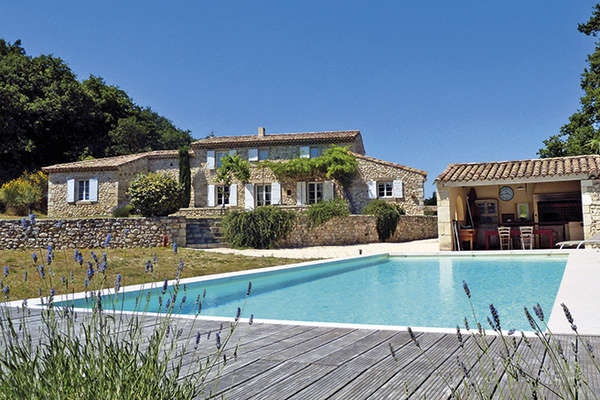 This "mas" near Grignan proposes living space of 200 m2 in 6,700 m2 of grounds with a pool. 630.000 €. Tarriotte Immobilier (04 75 51 82 05 - 04 75 46 53 37 - 04 75 46 87 19).
Stretching from the Pre-Alps of Les Baronnies to the Valley of the Rhône (and covering about one-third of the département), the Drôme Provençale owes its name to its geographic closeness to Provence, but also to its cultural and climatic similarities. Authentic towns and villages with typical architecture are to be found here amidst rolling countryside covered with vines and olive-trees, perpetuating a heritage with self-evident Provençal influences. Furthermore, these charming, sunny addresses (Montélimar, Nyons, Dieulefit, Buis-les-Baronnies, Grignan..., as well as La Garde-Adhémar, Le Poët-Laval and Montbrun-les-Bains, listed among the loveliest villages in France) benefit from amenities and efficient transportation (A7, LGV...), guaranteeing year-round liveliness.
"These quality living conditions firstly attract young retirees, especially from northern France or the Rhône-Alpes region, who make the area their permanent home. Their enquiries mainly target 1-storey villas with three bedrooms and gardens of about 800 m2, near town centres and their amenities, available from 250,000 to 350,000 €," says David Boschi, manager of Boschi Immobilier, a family-run agency founded in 1960 with three branches in the Drôme Provençale (Nyons, Buis-les-Baronnies and Dieulefit), and three more in the northern part of the Vaucluse (Vaison-la-Romaine, Valréas and Visan). "Then come clients looking for family holiday homes : a stone house in the country with a pool, costing from 300,000 to 500,000 €, or a Provençal "mas" with more generous living space, requiring budgets from 700,000 to over 1 milllion euros. We in fact have a specific department for this type of property : Boschi Immobilier Prestige. These buyers mainly come from the regions arounds Lyon and Paris, Belgium, the UK, Switzerland and Germany."
Specializing for more than 15 years in stone properties of character and prestige (village houses, "mas", farmhouses and estates) in the Drôme Provençale (but also in the northern Vaucluse, northern part of Le Gard and southern Ardèche), the Solis Immobilier agency is based in Valaurie (a 10-minute drive from Grignan). "For a "mas" in the country, in need of restoration, one can expect to pay here from 250,000 to 500,000 €, depending on its surface area," explains its manager, Denis Allouche. "If the property has been restored, its price can soar to 1 M €, or even more for outstanding examples. For a village house in good condition, prices range from 250,000 to 350,000 € without a garden or with a small garden, and up to 900,000 € if they offer larger grounds and a lovely view." Also handling real-estate development and building land, Denis Allouche can propose plots of 450 to 700 m2 on estates priced from 60,000 to 80,000 €. Looking for holiday homes for their families which will often become their main homes when they retire, his clients come from Lyon, Paris, Marseille, a few from the Côte d'Azur, as well as Belgium, the Netherlands, Luxembourg, Switzerland and the UK
"Buyers from other French regions and abroad, whose numbers had declined over the past few years, are now again showing great interest in the Drôme Provençale. We are thus seeing a real comeback on the part of Parisians, Lyonnais, residents of other large cities, Belgians and even Swiss," confirms Philippe Tarriotte, manager of Tarriotte Immobilier, with four agencies based for over 25 years in the Drôme Provençale (Montélimar, Grignan and Dieulefit) and the southern Ardèche (Alba-la-Romaine), all proposing a wide choice of stone country houses. "The market has now in fact become much more active. Admittedly, prices still need to come down a little, though the decline is less steep than before." A positive result of this rebalancing : "Stone "mas" of about 200 m2 which need freshening up, benefiting from grounds of at least 2,500 m2, are now on offer from 400,000 to 500,000 €, which was far from being the case three years ago. Demand is also rising and transactions are completed at a brisker pace". Other properties that are currently sought-after : "Small houses under 250,000 €". On the other hand, demand for building land is running out of steam. "The reason : most clients wanting to build a home have all-inclusive budgets of about 200,000 €. Which is too little for this area, given the price of building land : 150 € per sqm. for a plot of 500 m2, slightly under 100 € per sqm. for 1,500 m2."
You will also like