The "Côte d'Emeraude", well-preserved and authentic
Thus named by historian Eugène Herpin due to the very special emerald colour regularly adopted by the sea, the Côte d'Emeraude offers superb scenery dotted with seaside resorts, natural and historic sites. A highly-prized address...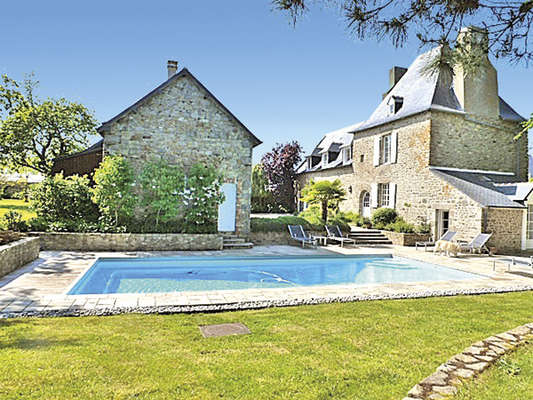 This residence in Saint-Malo offers 5 bedrooms, a garden of 5,000 m2 and a heated pool. 992.700 €. Avis Immobilier (02 99 19 99 99).
Stretching from Cap Fréhel (Côtes-d'Armor) to Cancale (Ille-et-Vilaine), the Côte d'Emeraude is above all a site steeped in history. The tale of trading ties with the Indies, explorers and privateers, is frequently told in Saint-Malo, one of the most widely visited addresses in Brittany (historic stronghold, ramparts, Solidor tower, hand-carved rocks of Rothéneuf...). Though the impressive Fort-la-Latte, dating back to the 14th century, also invites visitors to discover other treasures from the past. Just like Saint-Suliac, listed as one of France's most beautiful villages, home among other things to a remarkable menhir and the remains of a Viking camp. Not forgetting Dinard, where over 400 prot­ected villas testify to the fondness of the British for this area since the late 19th century. As highly-prized as Biarritz and Deauville, this seaside resort where one can sail and play golf is not, in fact, alone, but accompanied by Saint-Lunaire, Saint-Briac, Saint-Jacut-de-la-Mer and Saint-Cast-le-Guildo. Finally, the Emerald Coast offers well-protected and surprising nature exemplified, among other spots, by the estaury of La Rance, Cap Fréhel and La Pointe du Grouin.
Pascal Negaret, manager of the Cabinet Richard, with two agencies in Dinan and Dinard opened 25 years ago, explains : "The second agency proposes lovely residences and quality apartments to a high-end clientele fond of Dinard". Most demand thus targets detached houses with three or four bedrooms, gardens of 400 to 500 m2 and garages, near the beaches and amenities, priced from 500,000 to 700,000 €. "For higher levels of comfort, prices can rise to 1 million euros." In the case of apartments, prices in old buildings have seen a setback, whereas those in new residences are rising : "Developments which are currently being built in the town centre cost from 4,800 to 5,500 € per sq. metre. They are popular among senior citizens who have sold their properties - often in the Ile-de-France - and thus have considerable budgets". These buyers who intend to live here year-round are, in fact, underpinning the market for main homes to the detriment of that for holiday residences. Pascal Negaret also receives enquiries from a few English and American clients. As for building land, he defines two categories of prices : "In the centre of Dinard, the price per sqm. ranges from 250 to 500 €, from 150 to 250 € on the periphery".
Agnès Courtois, manageress of Avis Immobilier, with two agencies in Saint-Malo's residential areas of Saint-Servan and Paramé, covers a zone stretching from Dinard to Hirel and as far as Châteauneuf-d'Ille-et-Vilaine to the south. Emphasizing the "vitality" of Saint-Malo, she refers to a market which is still "active", in which clients are certainly more demanding than before, but very interested even so. Properties of quality, "correctly estimated", are thus selling very well. One example is a stone house of 100 m2 built in the 1950's in the centre of Paramé with a garden of 350 m2, renovated and extended by an architect, "which found a taker at 320,000 € in just three days". Among her latest transactions, she also mentions a house of 250 m2 in Le Petit-Paramé in grounds of 1,700 m2, priced at 610,000 €, and a 1-bedroom apartment in a recent residence in the centre of Saint-Servan with a balcony, parking place in the basement and quality appointments, priced at 130,000 €. "A rare property". Even rarer : building land. Agnès Courtois's portfolio nevertheless contains a plot in Courtoisville up for sale at 169,000 €, "though it is less than 200 m2". Her clients do not have any particular profile, "though they generally have sound financial means".
Based in Dol-de-Bretagne (about 25 km south-east of Saint-Malo) since 1997, Jean-François Derouet, manager of CIMM Immobilier, operates on the Côte d'Emeraude mostly from Saint-Malo to Cancale. "It is an attractive area where prices are relatively stable, which is not necessarily the case further inland." He currently has on offer a studio of over 20 m2 near the centre of Saint-Malo, priced at 96,000 €, and a 2-bedroom apartment of over 30 m2 in the hyper-centre, at 102,000 €. As for houses in Saint-Malo, offers range from a "longère" farmhouse of 120 m2 to renovate with a garden of about 580 m2, at 107,000 €, to a 17th-century manor house of 600 m2 on about 6.25 acres of land, at over 959,000 €, and a villa on about 12.5 acres of land, priced at 330,000 €. "In Cancale, we are also handling the sale of a 3-bedroomed bungalow of about 85 m2 with a garage and garden of over 400 m2, priced at 233,200 €, and a 4-bedroomed house of almost 90 m2 with a garden of 520 m2, at 257,250 €." And if one wants to build ? "A plot of 4,000 m2 is up for sale in Cancale at 360,000 €." On the coast, Jean-François Derouet's clients are mainly looking for holiday homes.
You will also like