The Côte Bleue, an idyllic shoreline at the gateway to Marseille
Lying west of the Phocean City, near the lake known as L'Étang de Berre, the Côte Bleue consists of a protected coastal strip dotted with wild creeks. Comprised of Le Rove, Ensuès-la-Redonne, Carry-le-Rouet, Sausset-les-Pins, La Couronne and Carro, this highly-prized area offers a diverse choice of homes.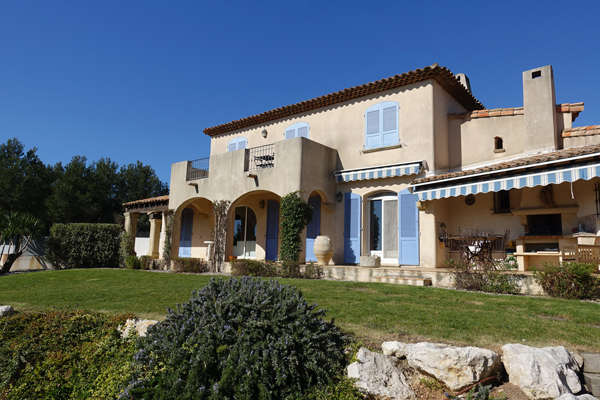 This authentic Provençal house just sold without any bargaining. 750.000 €. A2Mimmo. (04 42 40 40 40).
Conveniently located 30 mins from Marseille, 40 minutes from Aix-en-Provence, close to TGV stations and the airport, the Côte Bleue begins just after the neighbourhood of Marseille called L'Estaque. Here, the deep blue of the sea contrasting with the white rocks and vivid green of the vegetation creates breathtaking scenery. Most of this steep and rugged terrain is, in fact, listed as a non-constructible wooded area.
"Clients contacting our agency mainly consist of company managers and executives, 80 % of them in search of their main residence," explains Michèle Cambiaggi, a native of the Côte Bleue. She opened the a2Mimmo agency to offer a tailormade approach to real estate through a wide array of services ranging from financing to home-staging and assistance with house-moving. "From the regions around Paris and Lyon, as well as Belgium and Switzerland, these clients set their sights on lovely villas near the beaches or offering beautiful views of the sea, ideally located in Sausset-les-Pins or Carry-le-Rouet, the two most highly sought-after communes in the area. Though the creeks of Ensuès-la-Redonne also have their fans who appreciate the unusual, laid-back atmosphere of this seaside micro-market. The Côte Bleue is a market in which demand outstrips supply. Prices thus remain very steady. Villas priced around 450,000 € are highly sought-after. The average budget of our clientele ranges more from 700,000 to 800,000 €, with some buyers with higher financial means enabling them to target homes over 1 million euros." As an example of typical offerings, Michèle Cambiaggi mentions a high-end apartment offering an enchanting view which sold for over 800,000 €, and a contemporary house of about 150 m2 enjoying a panoramic view of the sea, islands and Marseille. Surrounded by garrigue, this villa with a garden of 1,000 m2 in Ensuès-la-Redonne found a taker at around 1.2 million euros. "There is no bargaining when prices reflect market reality."
Specializing in the Sausset-les-Pins area, Judith Agopian, who runs the Promoval agency founded by her mother in 1971, offers a wide choice of properties ranging from studios to pleasant family villas. "The sales I have handled this year mainly involved rental investments and main homes for numerous buyers working locally, especially executives employed by Eurocopter, Total and Arcelor Mittal, large companies in the Etang de Berre area." Highly prized, family homes from 100 to 130 m2 with at least three bedrooms, on estates, are priced from 400,000 to 450,000 €. "These estates were built from the 1970's to 1990's," explains Judith Agopian. "Most of the properties for sale have not benefited from recent renovation and often require an additional budget of 30,000-40,000 €." Offering a nursery, two primary schools, an intermediate school, a multisport gymnasium and, since recently, a retirement home, Sausset is an ideal address for families. Smaller properties attract rental investors and young first-time buyers. A studio of about 20 m2 can be found from 100,000 to 130,000 € depending on whether it benefits or not from a view of the sea or a parking place.
1-bedroomed apartments of about 30 m2 fetch around 200,000 €. Buyers are nevertheless confronted by limited offerings across the board. "A property whose price has been fairly estimated sells quickly," says Judith Agopian, who just completed the sale of a villa within only three weeks.
You will also like