The coast of the Pyrénées-Orientales
Canet-en-Roussillon, Saint-Cyprien and Argelès-sur-Mer offer as many different facets of the coast in the Eastern Pyrenees. Their common denominator consists of long stretches of glorious sand. Picture-postcard scenery which foreshadows the cliffs and creeks of La Côte Vermeille...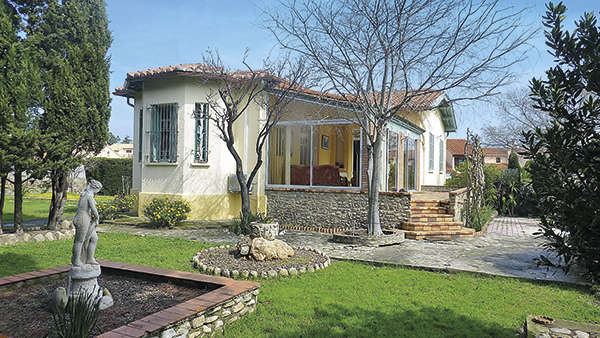 In the centre of Argelès, offering a clear view of Les Albères, this fully restored house of 100 m2 in grounds of 1,276 m2 could be extended by 90 m2. 635.000 €. Peral Immo (04 68 88 54 27).
Reached from Perpignan via the expressway, Canet is home to 11,350 people. The second largest commune in the département, it is comprised of an authentic village, 9 km of sandy beaches and a harbour accommodating up to 1,000 boats. With 8,580 residents, Saint-Cyprien's development goes back to the 1960's like that of six other seaside resorts. Not content with its 6 km of beaches, it hosts the largest harbour in the Gulf of Lion. Finally there is Argelès, which can claim a sandy shoreline 7 km long and 2 km of rocks. It is at this precise point that Les Albères join the Mediterranean. One of the most important seaside resorts in Languedoc-Roussillon in terms of turnover, it lies at the junction of the sandy coastline and that of La Côte Vermeille.
"Over the past few years, the price per sq. metre ratio has dropped," says Maxime Campos of Nouvel Immobilier. "Nevertheless, the shore in general, and Canet in particular, are still seen as sound values." Town buses lay on regular trips to and from Perpignan, to such an extent that Canet is in fact considered as the seaside outpost of the prefecture of the Pyrénées-Orientales. The address is definitely less expensive than Collioure, slightly more so than Saint-Cyprien. Near the beach, the majority of sales concern holiday homes on the 1st, 2nd and 3rd rows, ie. 1- and 2-bedroomed apartments priced around 3,500 €/m2, 4,000 €/m2 in Canet-Sud, an enclave benefiting from direct access to the beach and park. Some clients criticize the old accommodation for its outdatedness, immediately setting their sights on new residences, priced on average at about 3,000 €/m2 without a sea view, 4,200 €/m2 with. The market for rental investments is rather buoyant. In order to remain competitive, sellers of older apartments have no choice but to stick to market prices.
"Saint-Cyprien is a quiet, family destination, offering lovely stretches of sand," enthuses Colette Casanovas of the Agence du Port. "Benefiting from a flat layout, it stands out for its horizontal housing and natural greenery." Apartments here have their own parking facilities, and parking in town is easy and free of charge. Clients like the sailing harbour and twice weekly market, the international golf-course, riding centre, Grand Stade sports complex, sailing club and botanical gardens. Not forgetting the many biking and pedestrian paths. Children can attend school here up to intermediate level, and shops and amenities are open year round. Budgets for holiday homes have seen a decline : potential buyers - French, but also Belgian, Swiss and Scandinavian - are loath to pay more than 2,800 € per sq. metre and 150,000 € in all. Even so, fans of sea or harbour views pay up to 4,500 € per sq. metre. Main residences draw the interest of retirees from other regions, inclined to pay cash. They are mostly looking to invest 220,000 € in a "pavillon" with two or three bedrooms, a garden and garage. However, this type of house starts from 250,000 € in Saint-Cyprien. Two neighbourhoods top the popularity polls : the area around the golf-course and the southern part of the locality, sites where some houses may well attain 1 million euros. The estate-agent's task is find common ground between the two parties concerned. Unfortunately, sellers still over-estimate their properties, and wake-up calls become necessary.
"Argelès-sur-Mer is the first town on the rocky part of the coast," explains Marie-Line Peral of Peral Immo. "As luxuriant as one could wish, it boasts a magnificent prom 5 km long, running along the sandy beach and offering a sublime view of the bay of Collioure. The town itself suffers unjustifiably from a poor image." In summer, its population doubles. The village attracts buyers of year-round homes. These French seniors in search of the sun invest from 250,000 € - the sum required for a terraced house with two bedrooms, giving onto a small garden of 250 m2 - to 350,000 €, bringing a semi-detached 3-bedroom home prolonged by a garden of 300-400 m2. Here again, holiday homes are to be found near the beach, mostly in old buildings. They cost 3,000 €/m2 without a sea view, 4,000 €/m2 with. Launched in 2012, a new development with high-quality appointments is finding takers at elevated prices. Argelès in fact keeps its head above water thanks to its dual vocation.
You will also like