The charm of the "Côte Vermeille"
The hills roll gently down to the creeks, as wild as one could wish, down below the Pyrenean reliefs of Les Albères. The rocky landscape is radically different to that of the sandy Eastern Pyrenees. Cerbère, Banyuls, Port-Vendres and Collioure welcome fans of Catalan towns, nature and scuba diving.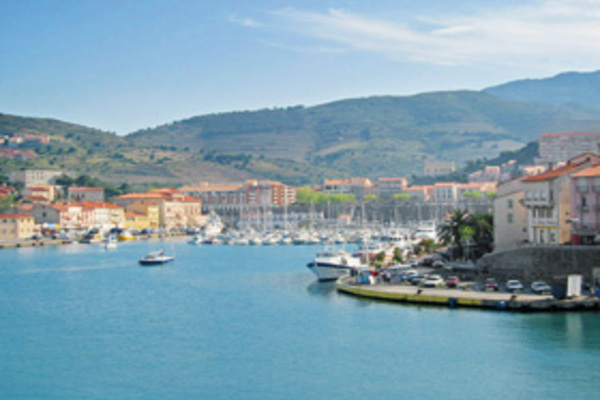 On the second floor of an old fisherman's house at Port-Vendres, this apartment of 50 m2 offers 3 main rooms facing the harbour. 197.600 €. Strategic Immo (04 68 81 31 59).
The Marine Nature Reserve of Cerbère-Banyuls-sur-Mer consists of over 1,500 acres of water and a shoreline 6 km long. Complete with masks and snorkels, visitors discover the coastal path, accessible in the summer. Matisse and Derain were not mistaken : Collioure benefits from a unique quality of light, typical narrow streets and a beautiful architectural heritage, including the Château Royal, Fort Saint-Elme, the Church of Notre Dame-les-Anges and the Cloister of the Dominican Convent. Port-Vendres has a triple vocation : fishing, sailing and shops. While the town has always looked towards the Mediterranean, Louis XIV asked Vauban to fortify it in 1659, in case of war. The number of people in Banyuls rises from 5,000 in the off-season to 15,000 in July and August. The wines of the same name, whose AOC label is one of the oldest in France, evoke the delicacy of the sun and the strength of shale. For many long years, the activity of Cerbère has revolved around the railway line, the frontier office and transportation of both people and goods. The tourist industry began to develop after the Second World War.
"The rocky coast offers panoramic views all in relief, villages that have avoided concrete and preserved natural areas, a far cry from standard amenities offered by seaside resorts catering to mass tourism," explains Thierry Rozier of La Roca Immobilier. The limited number of properties available guarantees a relatively stable market. The four localities allow for a pleasing diversity of products, characterized by a wide price range. Collioure is known as the jewel of the coast, acclaimed by aficionados as "the Saint-Tropez of département 66". Port-Vendres offers typical neighbourhoods to compensate for its lack of vast beaches. The Catalan town of Banyuls is lively year round, a good compromise and providing good value for money, while Cerbère is the least expensive of the four. A 1-bedroom apartment of 35-40 m2, likely to interest occasional French residents wanting to use it for personal enjoyment while making a return on the investment, costs from 130,000 to140,000 € maximum at Banyuls if it comes with a parking place, a terrace or garden, 150,000 to 160,000 € in Collioure, and 85,000 € over towards Cerbère. Priced below 120,000 €, apartments sell with-
out any difficulty. Village houses - a segment that starts at 100,000, a price you won't find in the town of the Fauvist painters - may climb to 380,000 €, the sum recently asked for an example of 110 m2 in excellent condition with a garage and rooftop terrace. A 3-bedroom villa of 90 m2, facing the Med, will not exceed 400,000 €. At these prices, they attract Scandinavian and British holiday-makers. The demand for large properties - for example, a residence of 150 m2 opening out to a swimming pool just a 5-minute walk from the centre of Collioure and pegged at 600,000 € - mostly concerns year-round use. Despite a significant recovery, this range is still moving at a pretty slow pace. The advantage of a sea view and a price estimated by a professional help towards a sale within a reasonable time.
"The 60 % of buyers acquiring holiday homes generally spend 150,000 € for small units with a view of the Mediterranean, parking place, garden or terrace, occasionally 200,000 € and, on rare occasions, 500,000 to 600,000 €," say Marianne Xech and Alexandre Albarede of Strategic Immo. Among year-round residents, retirees, often from the Midi-Pyrénées, are the most numerous, with younger locals moving inland to the plain, to Saint-André, Palau del Vidre and Saint-Genis-des-Fontaines, more affordable areas compared to the coast. Senior citizens look for comfortable 2-bedroom apartments in residences with elevators, costing from 200,000 to 250,000 €. The coast is recovering an acceptable cruising speed, in the wake of the capital of the Pyrénées Orientales, as a result of lower prices, down 10 % on average. Activity for new properties is much the same as that for old ones, thanks to a healthy rental market and their eligibility for Scellier tax benefits.
You will also like