The charm of Provence in the region around Aix
"Mas", "bastides", village houses built of stone... All residences embodying the dream of Provence for many buyers, both French and foreign, who see the countryside around Aix as the symbol of an authentic and well-preserved art of living.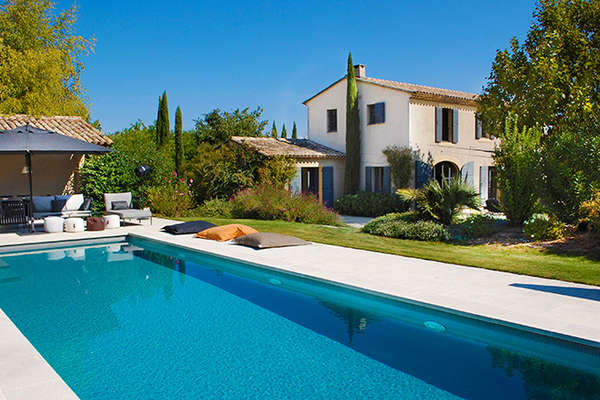 Recently sold, this "mas" of 200 m2 on the hills behind Aix stands in landscaped grounds of 4,000 m2 with a large pool and pool-house. 1,3 M €. Actuel Immobilier (04 42 26 92 42).
"The market is putting up a lively performance without any setbacks," says Guillaume Rey, manager of Actuel Immobilier, an agency based for 20 years on Cours Mirabeau in Aix-en-Provence. "Demand is very steady. We sense a real desire to buy and this, despite a good many complicated files. Sales volume is satisfactory in all the various segments of the market." Highly sought-after as year-round homes by both the locally employed and retirees, houses and villas offer the authentic charm of Provence. "Demand outstrips supply for this type of property which, if it does not suffer from any nuisances, fetches from 6,500 € per sq. metre, depending on the area." As an example of properties with genuine character, our expert mentions an 18th-C. "mas" in the countryside between Aix-en-Provence and Éguilles. Enthroned in the midst of a 2.5-acre park with chestnut trees, this delightful property of 300 m2 in need of total res­toration is up for sale at 1,290,000 €. "It offers high potential, though the work will require a budget of at least 300,000 €." Again to the north, between Éguilles and Saint-Cannat, a pretty, recently-built "mas" of 250 m2 in 7,800 m2 of grounds offers generous volumes and a pleasant pool with pool-house. It is priced at 1,090,000 €. "The further one goes from Aix, the lower the price for this type of property."
Focusing on prestige properties and homes with lots of character, Barnes Provence Littoral has covered the region around Aix since 2009 and presents a wide array of lovely homes in the country, and large properties in the first and second rings around the town. "Our international clients especially want to be near the TGV station. In the case of those wanting to settle here permanently, proximity to the IBS (International School in Luynes) is also one of the most frequent criteria in terms of location," explains Véronica Fougues, sales consultant with Barnes. "Most of the transactions we handle are concentrated to the west and north-west of Aix-en-Provence for properties ranging from 1.2 to 6 million euros. Clients looking for beautiful holiday homes aim for large grounds with lots of privacy in locations near villages, ideally 15 to 20 minutes at most from Aix-en-Provence. They often arrive with a few clichés about the area in their minds. Frequently owning a main home in contemporary style, they would like to acquire a typically Provençal residence. However, authentic properties benefiting from renovation that meets their requirements prove to be rare. Our regular clients, used to being very well cared for by Barnes, are often disappointed by the appointments of these Provençal homes and are readily tempted by contemporary alternatives we can propose. They meet their expectations in terms of comfort and amenities : heated pools, landscaped gardens, under­floor heating, home automation..."
You will also like