The centre of Rennes : properties of character
A lively town centre laden with history, the heart of Rennes and its listed buildings propose enticing properties combining authenticity and modernity. A sought-after neighbourhood, now posting stable prices.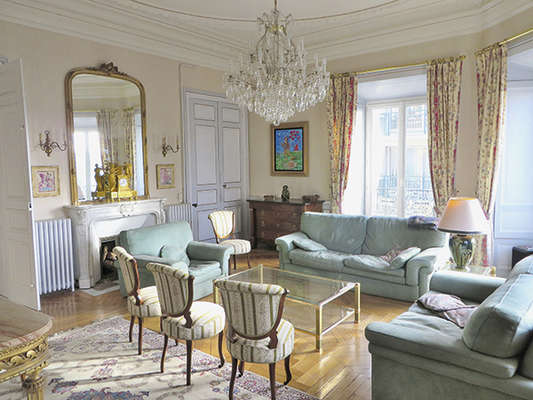 In a magnificent Haussmann building, this apartment of over 200 m2 is comprised of 8 main rooms. 707.200 €. Cabinet Dany Richard Immobilier (02 99 31 01 00).
In the centre of Rennes, prices nevertheless tend to fluctuate. "Prices per sq. metre range from 2,300 to 4,000 €, sometimes more," says Jean-Albin Richard, associate director of the Cabinet Dany Richard Immobilier, a family-run agency opened in 1998, mainly covering the intra-muros part of town. "It depends on the property's location, condition and type of construction." Prices here are the highest in the prefecture of Ille-et-Vilaine "together with those posted by Le Thabor, a neighbourhood right next to the hyper-centre". The top end of the market is, in fact, very buoyant : "Our portfolio currently contains, for example, an apartment of about 200 m2 priced at over 700,000 € which has had lots of visits, proving among other things that there is genuine demand". For new accommodation, in the guise of a few developments which occasionally come onto the market, one can expect to pay 6,000-6,500 € per sqm. In this sector, Jean-Albin Richard mainly receives enquiries from rental investors - especially for studios or apartments with one or two main rooms - and young working couples.
Arnaud Bouffort, sales manager with Cogir Immobilier, an agency operating in Rennes for the past 50 years, with two annexes in the agglomeration (Melesse and Le Rheu), describes the market as healthy, with prices that have stab­ilized. "Just a few years ago, high-end properties in the historic centre suffered from a serious lack of offerings and, often, prices fuelled by speculation. This has now been remedied. Today's buyers can find 3-bedroomed apartments with lots of character for around 300,000 €, in other words, 10 to 15 % less than before, while benefiting from mortgage rates which are exceptionally low." Another advantage offered by the town centre : "A great deal of rehab­ilitation has been undertaken over almost two years, greatly enhancing the city's heritage and widening the supply of homes with quality properties treated to a revamp. For 430,000 €, for example, we can propose a 4-bedroomed apartment of 125 m2, fully refurbished as new, on the top floor of a building whose frontage, staircase, cellars and even the main frame have been renovated". Generally, a property offering appealing features sells from 3,300 to 3,800 € per sqm., whereas "new apartments range from 4,100 to 5,500 € per sqm., and even more in prestige residences," adds the Cogir manager for new accommod­ation, Yonathan Sourigon, who is marketing over 100 dev­elopments. According to Arnaud Bouffort, "the clientele interested in old buildings is very diverse, mainly comprised of investors for small surface areas, couples moving into their second or third homes with budgets from 350,000 to 500,000 €, and 1st-time buyers, now back on the scene".
Jean-Yves Pincemin manages five Avis Immobilier agencies in Rennes' agglomeration (in the centre - an agency launched in 2001 - Betton, Chavagne, Bruz and Chateaugiron). "Prices per sq. metre can vary considerably here on one and the same street, so it's hard to determine average rates. Our agencies carry out property surveys using precise calculation methods and cross-referencing various data, enabling us to establish serious and precise evaluations. Because only properties reflecting real market prices actually sell. Determining a property's sales price is thus of prime importance." The calculation notably includes the location - the main criterion -, the property's age, the quality of its renovation and its energy performance, "which has now become very important". The approach bears fruit : "90 % of the properties we have evaluated over the past five years have sold within a 3 % margin of the price we determined". Prices, again, are remaining steady overall, though certain types of properties continue to decline, especially those for apartments in 1960's residences. The most sought-after properties ? "Those whose communal premises have been renovated and recent apartments benefiting from lifts. They are rather rare in the centre, as are parking facilities." Finally, for new accommodation in the centre of Rennes, Jean-Yves Pincemin confirms prices ranging from 5,000 to 6,000 € per sq. metre.
You will also like