The centre of Bordeaux, a lively market
The second most popular destination among French executives in 2018, Bordeaux is asserting its economic appeal more and more. Highly-prized among the actively employed, the city centre offers a good variety of properties, from traditional apartments to more original homes.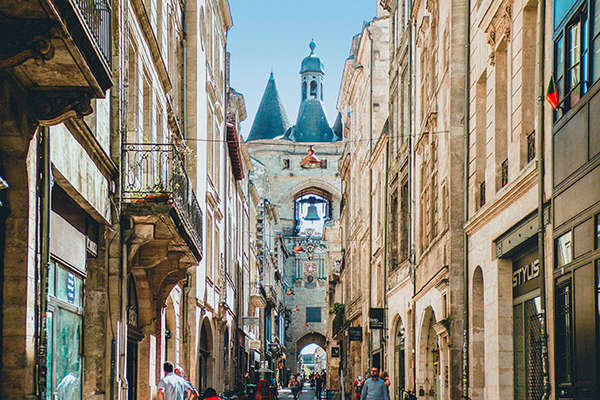 Bordeaux is decidedly an attractive and appealing city, offering pleasant strolls in its pedestrian streets.
Each year, about 2,000 new-comers settle in Bordeaux, drawn by its flourishing economy and the many opportunities it offers, but also by its quality living conditions and climate. The heart of town, its architecture and attractively renovated facades, its numerous green areas and "soft" public transport (tram, development of bike paths...) are all assets likely to attract both retirees and active residents. Since 2017, the latter have benefited from the TGV line, placing Bordeaux a 2-hour train ride from Paris, while the former appreciate an environment in which they can do everything on foot.
Founder and manageress of Bordeaux Sotheby's International Realty, Anne-Valérie Colas is happy to report an exceptionally successful 2018, with a rise of 42 % in both turnover and value. This year is also showing lots of promise. Her extensive portfolio of properties includes apartments in Haussmann style, ranging from 180 to 300 m2 and offering elegant appointments (high ceilings, parquet floors, at least one fireplace, and spacious reception areas), mostly of interest to active clients, the large majority French, from Paris, east or south-east France. But also to retirees, who are used to entertaining and have sold their family homes to get closer to the town centre and its amenities. These apartments are pegged from 6,000 to 7,500 € per sq.m. "Private mansions, mainly in the neighbourhood of Les Chartrons/Le Jardin Public, also benefit from generous living space (4 to 6 bedrooms), utilities (laundry room...), small gardens and garages close by. Often home to 40 year-olds and their families, they cost from 1,800,000 to 2,500,000 €." Small surface areas are also highly sought-after, 1- or 2-bedroomed apartments destined to become pieds-à-terre for holiday-makers and future retirees, or first homes acquired by young buyers.
Clément Kaufmann of Espaces Atypiques Bordeaux assures us that the city centre has a rich array of unusual properties. "They mainly consist of split-level apartments, lofts and Haussmann-style apartments, to be found between Saint-Pierre, Saint-Paul and Pey Berland." Clients in their forties or fifties, keen on original properties and fans of interior decor, are ready to overlook certain criteria, in particular those related to comfort. They opt for split-level apartments of 80 to 140 m2 with small roof terraces or little gardens for which they pay 4,800 € per sq.m on average, with spikes up to 7,000 € per sq.m if warranted by the location and/or appointments. One decidedly original example is a loft of 123 m2 in a former discotheque, with a terrace, priced at 690,000 €. "Thanks no doubt to TV programmes, today's buyers are increasingly interested in renovations ; they have become knowledgeable and appreciate a tasteful achievement." A property renovated as per the rules of the art will thus have every chance of finding a taker quickly, on condition, of course, that its price reflects current market realities. With offers ranging from 300,000 € to 3 million euros, both first-time buyers and the upper socio-economic categories can enjoy a highly urban ambiance and a pleasant neighbourhood life.
Marina Tonneau, President of Bordeaux Premium, confirms the market's buoyancy, with a very active start to the year and encouraging prospects for the months ahead. Stocks of available properties exist, both old and new. "We are marketing 80 developments in Bordeaux, three to be delivered in 2019 : "Palais Gallien" on Rue Fondaudège, "Héritage" in the Saint-Michel neighbourhood, and "Partition", in Caudéran. Being delegated to perform marketing activities enables us to offer our clients comprehensive service, from assistance to installation, not forgeting our essential role as advisors." When they cannot find the home of their dreams in old buildings, buyers willingly invest in new properties. Mostly French, members of the upper socio-economic categories with families, or well-off retirees, they then opt for prestigious apartments of 150 m2 on average, with terraces (a real bonus in the town centre) and lifts, another advantage, virtually non-existant in old buildings. Between the charm of old properties (renovated) and the ultra-practical benefits of new homes, the centre of Bordeaux offers many different facets, all highly appealing.
You will also like