The banks of the Sorgue, for fans of Provence
Walks along the rivers, charm, peacefulness and sunshine, this little gem in the Vaucluse wins over tourists but also home-seekers, both French and European. Holiday homes play an important part in this property market, sometimes becoming permanent residences for buyers impressed by the town's quality living conditions.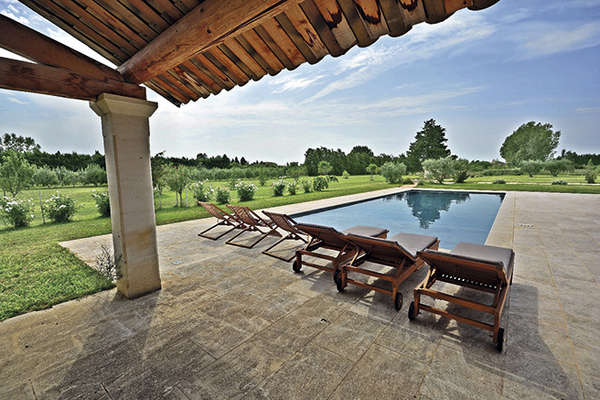 This outstanding property of 440 m2 is in Le Thor, 10 mins. from L'Isle-sur-la-Sorgue. Set on almost 7.5 acres of land with a pool area and pool-house, the residence offers total peace and quiet. 1.695.000 €. Janssens immobilier - Knight Frank (04 90 92 35 35).
In this area known for its many branches of the River Sorgue, the little town of L'Isle-sur-la-Sorgue is 40 minutes from Avignon, 2 hrs 30 from the beaches in Cannes, 1 hr from the Marignane-Marseille airport. Known as the "Venice of Le Comtat" and home to 18,000 residents, it attracts many visitors charmed by its rivers and canals, but also its antique-dealers. L'Isle-sur-la-Sorgue is surrounded by attractive little neighbours such as the commune of Velleron, Le Thor, Fontaine-de-Vaucluse and Saumane-de-Vaucluse.
"We have a high percentage of foreign clients, and French buyers from regions further north, looking for blue skies and sunshine. They hope to find a pied-à-terre on the banks of the Sorgue for weekends or holidays. Then, when they retire, they move here permanently so that they can invite their families, and their home in Provence becomes a meeting- place for all the various generations," says Franck de Mondésir. Such is the client profile of Janssens Immobilier - Knight Frank, a group specializing in prestige real-estate at worldwide level. Franck de Mondésir joined the group three years ago and opened his agency in L'Isle-sur-la-Sorgue. He focuses on properties of character with special features, which could be a striking view, a branch of the Sorgue, closeness to the town, high-spec appointments, or a renovated old property with lovely grounds and a pool. Foreign clients want to benefit from a peaceful atmosphere while taking advantage of easy access to amenities in the town centre, such as restaurants open year-round, boutiques and public transport. One of the assets also much appreciated by foreign buyers is the town's very famous antique and flea market, the second largest in France after Les Puces in Paris. One kind of highly-prized property in this area is the country house on the banks of the river, where one can moor one's kayak at the bottom of the garden. The 19th-C. Provençal "mas", renovated and whitewashed, with living space of 300 to 600 m2, lofty volumes, eight bedrooms, and 7,000 m2 of grounds with a pool, will cost over 1 million euros. In Franck de Mondésir's opinion, 2016 has been a good vintage for the market. "Favourable exchange rates with a lower euro have made the region more attractive, especially for the Swiss and Canadians."
Daniel Follain, associate manager of the ORPI - L'Orée de l'Isle agency since May 2012, specializes in the sale of houses, apartments and building land in the area. "Along the river banks, you mainly find single-storey villas built in the 1970's or even more recently. Most transactions concern houses of 100-130 m2 with gardens from 500 to 800 m²: more substantial properties are inevitably more expensive." In the town centre, a detached house of 150 m2 is on offer at 365,000 €. As for apartments, they are usually of recent construction, ie. from the 1990's to 2005, mostly offering 2 or 3 bedrooms. An apartment of 80 m2 with a terrace and view of the river will currently fetch from 249,000 to 340,000 €. Buyers in their thirties are looking for the cheapest homes, others selling their houses in the country to be closer to the centre opt for apartments. The clientele for the market on the river banks is comprised of buyers from Paris, Lille and Lyon, wanting to acquire a holiday home and sometimes moving in permanently. Market prospects are good, as there is always demand in this area blessed with a privileged climate and geographic location.
Gérard Escoffre of the Demain en Provence agency, a professional for over 30 years in the Luberon, explains his approach : "I am not just sellling a house ; above all, I am selling quality living conditions. Whether small detached houses or very desirable properties, they are selected depending on their location, environment and views". The Luberon and Le Pays de Sorgue are full of charm and secret corners of paradise. Gérard Escoffre says that the market got off to a good start early in 2016. "The prices proposed are becoming more reasonable, with a decline in some cases of 15 if not 20%." The most popular villages on the Sorgue, such as Fontaine de Vaucluse, Saumane de Vaucluse, L'Isle-sur-la-Sorgue, Le Thor, Velleron, are sought after by a French and international clientele mainly looking for holiday homes. They are drawn by the proximity of golf-courses, the TGV station in Avignon, the motorway and Marseille's international airport.
Properties in this area currently sell at prices between 400,000 and 800,000 €, though some are much more expensive : a few rare private mansions, large country houses and châteaux, whose prices can exceed 2 or even 3 million euros. It is, however, possible to acquire a charming house with a garden in the 250,000-500,000 € bracket, with no major renovation
on the programme.
You will also like