The area north of Toulouse : a lively countryside
Communes lying north of Toulouse combine the avantages of a quiet, residential life-style with the proximity of a large agglomeration constantly on the move.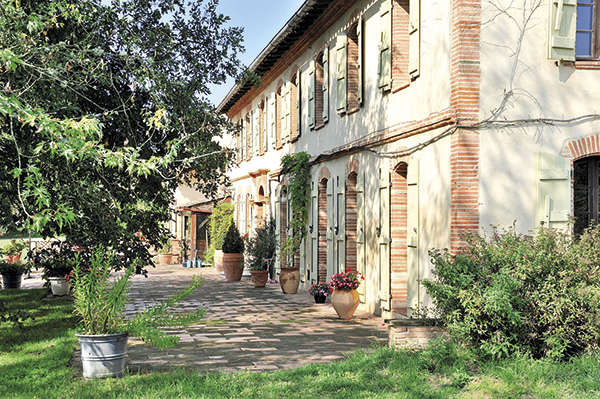 10 minutes from Castelginest, this renovated property of 550 m2 stands on almost 3.75 acres of land. 1.095.000 €. Arcad'Immo (05 61 54 80 30).
Seven km north of Toulouse, one comes across Aucamville, a commune with about 8,000 residents which has seen on-going urban and demographic development over the past 30 years. Crossed by three main roads (A62, RD820 and RD14) and benefiting from several bus services, this address, which is now a little town, disposes of a good array of infrastructures (Lacourtensourt station, nursery, prim­ary and intermediate schools, commercial and industrial activity zone...). This is where the second CIV Conseil agency is based (the first is in Toulouse), a family-run firm set up over 20 years ago which has accompanied the evolution of an area now highly-prized : "In the case of apartments, most demand is for those with one or two bedrooms. The first, often in residences built in the years 2000, offering living space of 40 to 45 m2, sell from 85,000 to 100,000 €, while the second range from 130,000 to 150,000 €," explains Jérémy Vidal. The most widely sought-after houses are those with three bedrooms. "Offering living space of 80-85 m2 with gardens of 400 m2, they cost from 190,000 to 230,000 €." The agency receives most of its enquiries for apartments from young first-time buyers, or from couples looking for their second houses. Many of them work in the Aucamville area, in Toulouse or Blagnac (Airbus and its sub-contractors).
A little further north, about 10 km from Toulouse, Castelginest is a commune with about 9,000 inhabitants, ben­efiting from the same vitality : "Our village enjoys easy access to the A62, bus services, nursery, primary and intermediate schools, all the necessary shops and even a cinema. Not forgetting the market which is held every Saturday on the main square. It is both charming and lively," say Frédérique Sicard and Dominique Cornil of Arcad'Immo, an agency opened in February, 2013, right in the town centre. The two partners, estate-agents for over 20 years, are the specialists for the area. Among their latest sales in Castelginest, a lovely 1-bedroom apartment of 50 m2 on the ground floor, with a small garden, priced at 104,000 €, and a 3-bedroomed terrace house of 80 m2 with a garden and garage, at 190,000 €. Other examples : in Launaguet, a recent 1-storey house of 100 m2 with a garden of 850 m2 sold for 280,000 €, and in Pechbonnieu, a villa of 140 m2 in grounds of 1,275 m2 with a pool, for 430,000 €. In the case of new developments, the price per sq. metre ranges from 3,000 to 3,200 €. As for building land, a serviced plot of 475 m2 in the centre of Castelginest has just been sold for 113,000 €. "Our clientele is mainly comprised of couples looking for their second, larger homes, and retirees who want a quiet life close to amenities."
12 km from Toulouse, to the north-west this time, one finds Castelmaurou, a commune home to about 4,000 inhab­itants, just as well equipped and pleasant to live in : fast access to the A68, bus services, nursery and primary schools... All in a countrified residential setting. An area in which Laurence Guiraud, manageress of Castelmaurou Immobilier, has specialized since 1994, backed by an experienced team : "We are now seeing high demand for the few apartments that are available. For example, we are currently proposing a lovely recent 1-bedroom apartment of 42 m2 in Gragnague, with a terrace and parking place, at 109,000 €, and a new 2-bedroom apartment of 57 m2 in a leafy residence in Saint-Jean, with quality appointments and a garage, at 205,000 €". Otherwise, the majority of transactions concern detached houses under 300,000 €, though more expensive properties also find takers. One such example is a contemporary "Castelmaur­ousienne" with four bedrooms, a double garage and over 1,000 m2 of grounds, which changed hands for 414,000 €. Finally, the market for building land is also active : "Our portfolio currently contains lots of building plots. Their prices depend on the commune : in Garidech, a plot of 1,500 m2 is up for sale at 148,000 €, while another of 1,685 m2 in Rouffiac-Tolosan is on offer at 229,000 €".
You will also like