The Ardèche, back to grassroots
History, heritage, nature, culture, and a quality life-style... The Ardèche is all that, at one and the same time. Setting more and more importance on the land, peacefulness and well-being, French buyers are coming to live in this département which also focuses on clubs and associations in order to propose a good number of sporting and cultural activities all year round.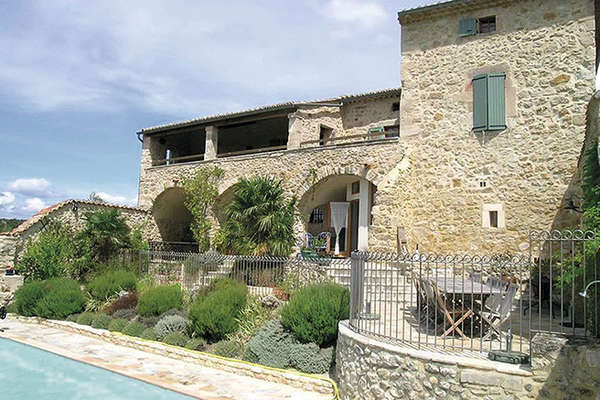 A few minutes from Vallon Pont d' Arc, this charming 17th-C. residence of 450 m2 offering a splendid view of the surrounding countryside has been tastefully and authentically renovated. 799.000 €. Immo-Loc Ardèche (04 75 85 14 48).
Immo-Loc Ardèche came into being three years ago, in Vallon Pont d'Arc. Its activities encompass three areas, property transactions, rental management and seasonal rentals, thus offering its clients close assistance for all their projects. In charge of the transaction and investment department, Patrick Gin and his team of four consultants manage a portfolio of properties up for sale. They cover the southern part of the region, from Saint-Just d'Ardèche to Les Vans, as far as the gateway to Aubenas and including, of course, Vallon Pont d'Arc. Overall, their clients' search criteria target a house in a quiet setting, a garden and pool. According to Patrick Gin : "Buyers wanting to settle in the region are well-informed and very careful, as they intend to pay a fair price". His clientele is comprised of three main profiles. First, those he describes as "investors looking for opportunities", searching for house of 80/90 m², ideally with a pool, at prices ranging from 80,000 to 200,000 €. This type of acquisition would allow them to benefit fully from their holidays while renting out their property the rest of the time. The second typical profile consists of young retirees or those close to retirement, planning to leave their own regions to treat themselves to a more spacious and stylish family home, and take advantage of the Mediterranean climate and a peaceful setting. On average, they are prepared to spend from 300,000 to 350,000 €. The third category is comprised of clients wanting to settle in the southern Ardèche with a specific professional project : disposing of budgets from 400,000 €, they aim to acquire a lovely stone property, for instance, in which to pursue a B&B activity. One of the agency's latest transactions is a good example : a couple from northern France just acquired a house with guest-rooms and self-catering "gîtes". Offering a surface area of 250 m² in grounds of 3,000 m2 with a lovely pool, it sold for 450,000 €.
Sylvain Berrée's activity in Eyrieux Immobilier covers the centre of the Ardèche, in the Vallée de l'Eyrieux, between Privas and Valence. "As regards the clientele, we see more and more people coming from Le Var, Les Bouches-du-Rhône or Le Vaucluse, mostly retirees or pre-retirees," he explains. "Here, they discover quality living conditions that no longer exist where they live. They are escaping from places where traffic has become unbearable, a lack of civility is on the rise, and where prices have soared." In this area, 25 minutes from the motorway, you can in fact find a stone house of 200 m2 in excellent condition, on almost 100 acres of land with a stream or natural spring, for 300,000 €. However, the vast majority of these properties are in need of renovation, though not to the extent of putting buyers off. "In our approach, we accompany our clients, advise them and, above all, explain that the cost of the work involved is much lower than they would expect. In our region, craftsmen charge extremely reasonable prices. We put them in contact and help them during the renovation work." In Beauchastel, Eyrieux immobillier has thus just sold to a young couple a large stone house of 170 m2 to renovate with a courtyard and good-sized grounds, priced at 175,000 €. "In our area, the market is pretty well-balanced," adds Sylvain Berrée. " There are still availabilities, it is just a little more challenging due
to growing demand."
You will also like