St-Jean-de-Luz, an insiders' market
Facing the Atlantic Ocean with a shoreline 7.5 km long, St-Jean-de-Luz is a highly-prized address on the Basque Coast. Characterized by authentic charm and cultivating an art of living that elegantly blends local traditions and leisure activities, this lovely seaside resort appeals to an up-market clientele, often including ex-pats, prepared to wait, occasionally up to 2 years, to make their dream of living here come true.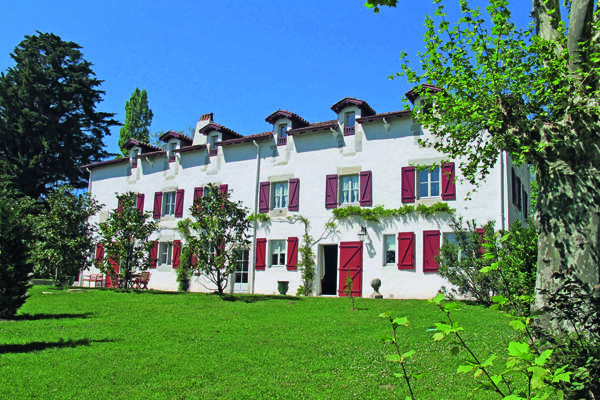 Set in a wooded and flowery park of 2,930 m2 just 5 minutes from the centre of Saint-Jean-de-Luz, this 17th-C. residence offers living space of approx. 500 m2, tastefully restored throughout with respect for tradition. 1.975.000 €. Barnes Côte Basque. (05 59 51 00 08)
Installée boulevard Thiers depuis 2010, l'agence Laffontan Immobilier créée par Caroline Laffontan, experte de ce secteur depuis 2003, s'est spécialisée dans les biens de charme. « Notre sélection comprend aussi bien des appartements T2 doté d'un fort cachet que de propriétés de caractère présentées entre 2 et 3 M d'€ » précise la spécialiste. « St-Jean-de-Luz demeure un marché étroit et non extensible. Il y a un très faible taux de rotation des biens car les propriétaires sont profondément attachés à leur commune. L'ancrage affectif est fort et les maisons demeurent souvent au sein d'une même famille sur plusieurs générations » explique Caroline Laffontan. Il en résulte des listes d'attentes d'acquéreurs prêts à patienter en moyenne 2 ans. D'autres préfèrent orienter leurs recherches sur le secteur limitrophe de Ciboure où l'offre est plus étoffée et les prix légèrement inférieurs. « Bien que les biens de qualité disponibles soient peu nombreux, le marché n'autorise pas pour autant une surestimation. Les acquéreurs sont au fait des barèmes et même s'ils admettent que St-Jean-de-Luz est l'adresse la plus chère de la Côte Basque, ils tiennent à réaliser une acquisition à prix raisonné. Lorsqu'un bien est présenté au prix de notre estimation, il se vend très rapidement. » À titre d'exemple, la professionnelle évoque la vente récente d'un lumineux appartement de 110 m2 nécessitant une rénovation intégrale. Situé au coeur de St-Jean-de-Luz, à 50 m de la plage au sein d'un immeuble équipé d'un ascenseur, ce bien prolongé par une terrasse offrant un aperçu mer et proposé avec sa place de parking s'est vendu dès la première visite à 630.000 €.
Spécialiste des biens de prestige et de standing, l'agence Barnes Côte Basque vient d'inaugurer un bureau de 100 m2 boulevard Victor Hugo, en face des Halles de St-Jean-de-Luz. « Un axe très passant » souligne Philippe Tho­mine-Des­ma­zures, directeur associé. « Bien que notre équipe de Biarritz travaillait déjà sur le secteur de St-Jean-de-Luz, il nous a semblé essentiel d'offrir cette proximité à nos clients » précise le professionnel. « Au sein de ce petit territoire, le relationnel est primordial. St-Jean-de-Luz représente un marché visant une clientèle huppée. De nombreuses transactions se réalisent directement au sein de cercles amicaux de personnes se fréquentant à Paris ou à Bordeaux » constate le professionnel dont la clientèle, majoritairement française, comprend de nombreux expatriés travaillant à Londres, Singapour ou New York. « St-Jean-de-Luz est l'adresse estivale pour des retrouvailles conviviales entre amis ». Dans le centre, les prix moyens des appartements oscillent entre 4000 et 5000 €/m2, voire 6000 €/m2 pour les situations les plus prisées. Les biens en première ligne face mer peuvent aisément être présentés au-delà de 10.000 €/m2. Ceux offrant depuis leur terrasse un aperçu mer se négocient autour de 8000 €/m2. « Les villas que nous proposons entre 1,5 et 2 M d'€ peuvent également se situer sur les communes voisines : Ciboure, Ascain, Urrugne et Ahetze » précise le professionnel qui cite à titre d'exemple une magistrale demeure du XVIIe siècle érigée au coeur d'un parc de 2930 m2 situé à 5 mn du centre ville de St-Jean-de-Luz, des plages et du golf de la Nivelle. Offrant 500 m2 habitables et récemment restaurée avec goût dans le respect de ses éléments d'origine, cette propriété sise aux portes de St-Jean-de-Luz est présentée à 1.975.000 €.
You will also like