Sète and Frontignan : the draw of the sun
On the shores of the Mediterranean and at the edge of the Étang de Thau, Sète and Frontignan offer the mild climate and quality life-style typical of the South of France. The area is also particularly popular for its holiday homes.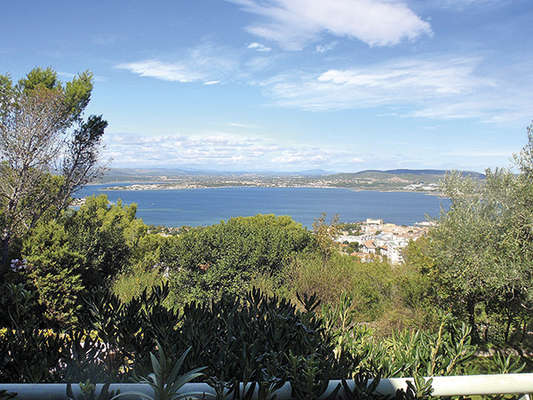 This house of 130 m2 in Sète benefits from grounds of 1,000 m2 and a magnificent view. 625.000 €. AGI (04 99 02 20 85).
A tourist town with almost 45,000 residents (the 3rd largest town in L'Hérault), "Sète offers a market particularly prized by retires with high purchasing power, looking for second residences bask­ing in the sun. Prices therefore remain high and have never really felt the effects of the crisis," explains Régine Meyer of AGI, an agency based on the commune for the past two years, covering the entire perimeter of the Bassin de Thau, as well as the back-country of L'Hérault (insurance, real-estate, asset management). In the case of houses and old buildings, prices range from 50,000 € for a studio to 140,000 € for 4 main rooms of more or less 95 m2 in the Château Vert area. In new residences, the average price per sq. metre is 3,800 €. "In the case of houses, there is great disparity between the various neighbourhoods : in Metairies and Le Barrou, a "pavillon" of about 90 m2 with a garden costs about 260,000 € ; in Villeroy, a villa of about 100 m2 with a garden of 300 m2 fetches 360,000 € ; in La Corniche, the same living space with a garden of 400 m2 starts from 380,000 € ; finally, in Saint-Clair, a villa of over 120 m2 with at least 1,000 m2 of grounds starts from 550,000 to 600.000 €." In addition to retirees "from outside the region", Régine Meyer receives enquiries from a wide array of clients : "locals acquir­ing their second homes, city-dwellers loking for holiday homes, and first-time buyers for whom we do everything we can to help them become home-owners".
Christelle Poulain, manageress of Immo Design, an agency based in Frontignan (less than 25,000 inhabitants, 6th largest town in the département) for the past ten years, covering the entire area around the Bassin de Thau, confirms the appeal of the sun : "While demand from the local clientele has tended to fall off these past few years, buyers from all over France wanting to enjoy the pleasant living conditions in the South are still standing in line. They are usually rather old, pay cash and have budgets of 300,000 € and upwards". First-time buyers are now extremely rare. "Otherwise, there a few investors and property dealers who buy building land in order to sell it off in smaller lots, thus proposing more attractive prices, as plots are usually expensive." They in fact range from 300 to 400 € per sqm. For apartments in 1960's-1970's residences, the price per sqm. is close on 1,800 €, whereas it can reach 4,000 € in high-class resid­ences. A 1-bedroom apartment of 45 m2 in the town centre will thus cost about 100,000 €. "For apartments with 2 or 3 bedrooms, one can expect to pay from 140,000 to 170,000 €." And what about houses ? "The most typical property, a house of 100 m2 all on one floor, with a garage and garden of 350 m2, sells from 260,000 to 320,000 €."
You will also like