Second residences in the Luberon
Between the Alpes de Haute-Provence and the plains of the Vaucluse, the Luberon unfurls its glowing colours from the blue of lavender fields to ochre-tinted cliffs. Meanwhile, its property market continues to exercise its irresistible appeal...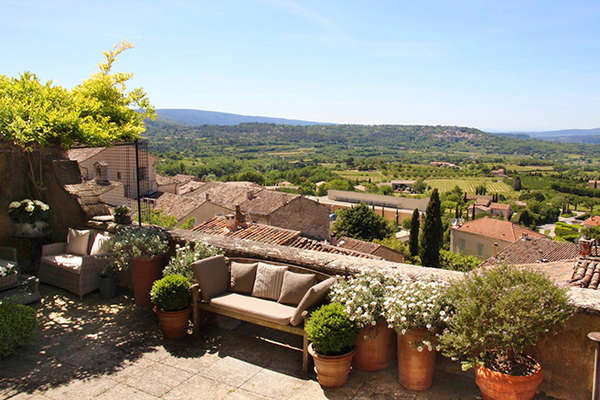 In Bonnieux, this tastefully renovated village house offers a superb terrace with a panoramic view. 820.000 €. Bacon Immobilier (04 90 75 86 77).
Offering easy access thanks to the TGV station in Avignon and the Marseille-Provence international airport, the Luberon is still seen as a sound investment among French and foreign buyers in search of a holiday residence or a charming property in which to enjoy peaceful retirement.
In Bonnieux, at the heart of the Luberon, Ludivine Le Monnier, manageress of the Bacon Immobilier agency, confirms that a "mas" to renovate in the midst of wooded grounds is still a dream for clients looking for second residences. But since the dream has been shared by a considerable number of people for quite a few years, this type of property is becoming increasingly rare. According to Ludivine Le Monnier, investing in the region is, however, still a safe bet : the Parc du Luberon is very carefully protected, guaranteeing an environment and construction of very high quality. She adds that fans of the authentic Provence also search for village houses with outdoor areas, near shops and amenities. She explains that confidence has been restored and sales volume has risen significantly over the past few months. "People acquire second residences in Provence for their personal enjoyment, so confidence and optimism are essential prerequisites for this kind of transaction. But as there are fewer and fewer building plots and "mas" left to renovate, buyers are turning their attention to houses built in the 70's-80's that they refurbish very tastefully, and which can still be found from 500,000 €."
Marie-Madeleine Nelson, based for almost two decades in Gordes, one of the Luberon's most highly-prized villages, shares these observations. "I called my agency "Un Mas en Provence" 20 years ago. The name conjures up everyone's dream, that of a traditional Provençal farmhouse, brimming with charm. The dream is still the same today in this well-preserved region." For holiday homes, buyers are most often in search of an old stone house in need of restoration. To acquire one here, one can expect to pay from 700,000 to 1.2 M €, though they are increasingly rare. For properties restored as per the rules of the art, prices start from around 1.5 M €, with the most desirable attaining 3 or 4 M €. Fans of the Luberon are often French, treating themselves to a delightful property for the price of a Parisian apartment, but also English (mainly Londoners from the City), Swiss, Belgians, Germans "who know exactly what they want", Australians and South Africans. The region has, however, felt the impact of economic or political crises and Marie-Madeleine Nelson says that there are now lots of properties up for sale. "Which explains," she confides, "why owners no longer hesitate to rent out their properties on a seasonal basis (with conciergerie services included). This now accounts for a large share of the agency's activity. People are no longer ashamed to rent, even when they own very beautiful and substantial properties".
You will also like