Second residences in Les Côtes-d'Armor
With a shoreline 350 km long, Les Côtes-d'Armor offer a good choice of seaside resorts. The market for second residences is therefore well-developed. What type of homes are available ? Are they expensive ? And what is the current trend ? Details from Trébeurden, Erquy and Saint-Cast-le-Guildo.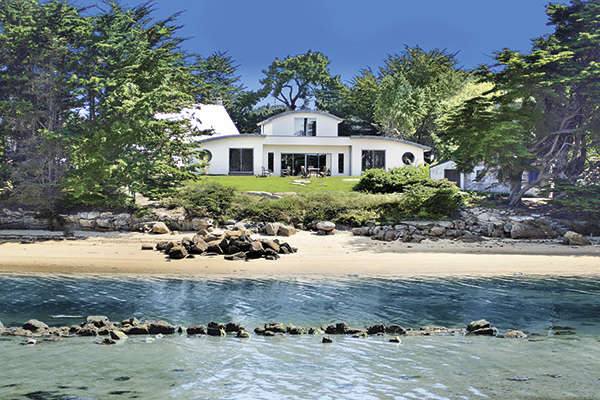 In Pleumeur-Bodou, this architect-designed house of 250 m2 comes with a movie lounge and swimming pool. 799.000 €. Côté Ouest (02 96 15 09 00).
Trébeurden, a commune with less than 4,000 inhabitants on the pink granite coast 75 km from Saint-Brieuc, was classified as a tourist resort back in 1921. And for good reason : it boasts beaches of white sand - including two facing south, which is rare in northern Brittany -, protected nature sites, archeological ruins (menhirs, dolmens and covered pathways), and a sailing harbour. The ideal spot for a holiday home. "Even though this market sector has posted lower prices for the past two years, it now accounts for almost 50 % of our transactions," says Pascal Prud'Homme, manager of Côté Ouest. Proposing reduced fees, "30 to 50 % lower than those of our competitors", this estate-agent describes high demand for houses confronted by limited offerings. "Buyers therefore turn their attention to apartments, and more precisely 2-bedroomed apartments near the beaches and shops." In this sector, the price per sq. metre ranges from 3,000 to 3,500 €. Or, in an old building, from 1,700 to 1,800 €. "In the case of houses, a 1970's property of about 120 m2 with 3 bedrooms costs around 170,000 €." Clients for this type of home, "with high bud­gets", mainly consist of active 50 to 60 year-olds "from the west side of Paris, as access to Brittany is particularly easy for them". Pascal Prud'Homme also notes that the reform on capital gains "has encouraged people to sell, but with modest results".
François-Xavier Le Chanu, manager of the Agence Rémy Cabaret, is based in Erquy, another "costarmoricaine" tourist resort with less than 4,000 residents. Situated 35 km from Saint-Brieuc, it is the "capital" of Saint-Jacques scallops (with a large fishing harbour), and also proposes lovely sandy beaches, well-preserved scenery (especially Cap d'Erquy) and an architectural heritage (Château de Bien Assis...). "The share of second residences here is about 55 % (approx. 16 % in the entire Côtes-d'Armor)", he explains. For apartments, demand mostly ranges from at least 1 bedroom to 3. "We are talking about residences built in the 1960's and 1970's, the time when the holiday home market developed in Erquy. Prices usually range from 120,000 to 200,000 €." For example : a 2-bedroomed ground-floor apartment in the town centre with a terrace and garden, which recently sold for 160,000 €. In the case of houses, which are older, the most sought-after offer living space of 90 to 120 m2 and a garden. "They range from 150,000 to 250,000 €, or even 300,000 € if they enjoy a view of the sea." Some can be found in Tu-Es-Roc, a fascinating part of the town with rose-coloured sandstone buildings. Clients here are "the actively employed aged from 40 to 60 or young retirees". As regards the reform of capital gains, François-Xavier Le Chanu comments : "It's receiving less attention, though it did serve to boost the market a little".
"This measure had very little impact," agrees Jean-Luc Rouxel, manager of three Guy Hoquet agencies in Matignon, Plancoët and Saint-Cast-le-Guildo. The latter is a seaside resort with about 3,500 inhabitants, situated on the Côte d'Emeraude near Cap Fréhel (less than 50 km from Saint-Brieuc). It also proposes sandy beaches, magnificent panoramic views (Pointe de l'Isle...) and historic monuments (ruins of a Roman villa...). Under these cond­itions, Jean-Luc Rouxel chalks up 22 % of his sales in the holiday home sector. "The market on the coast is still highly-prized, with prices that haven't declined all that much : 1,500 to 3,000 € per sq. metre. For a seafront property, the price climbs to 4,000 €, even occasionally 5,000 € per sq. metre." His transactions mainly concern 3-bedroomed houses near the beaches, with or without a view, but benefiting from a garage and small garden. "They are bought by people aged over 40 or retirees from the Paris region, as Saint-Cast-le-Guildo is only a 4-hour drive from the capital. Though we also have a clientele from northern and eastern France, and even from the south." Jean-Luc Rouxel has also noticed rising demand from Belgium over the past two years. He adds : "Our area particularly attracts those who can't find what they want in Saint-Malo or Dinard due to limited budgets".
You will also like