Seafront villas between Villefranche and Menton
From Villefranche-sur-Mer, boasting one of Europe's loveliest bays, to Menton, known as the "Pearl of France", via the sumptuous Cap Ferrat and Cap Martin, the eastern stretch of the Côte d'Azur plays host to magnificent villas at the edge of the Deep Blue Sea, much to the taste of a high-end foreign clientele.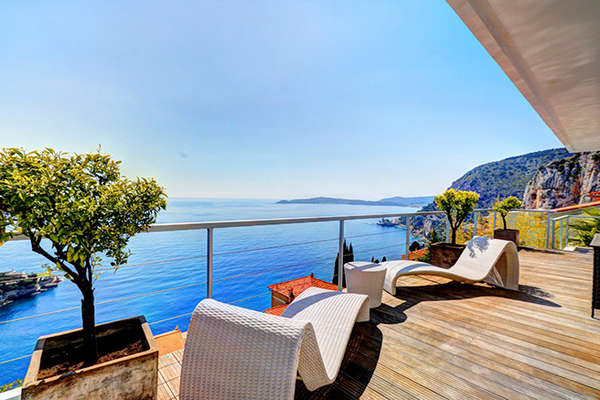 In Cap d'Ail, near Monaco, this smart contemporary villa of 240 m² on two floors offers terraces, a pool, and a splendid view of the sea and Cap Ferrat. 3.150.000 €. Agence Bristol (04 93 01 00 86).
The Agence Bristol was opened in 1923. Managed by Evelyne Quénardel-Pétoin, it specializes in property transactions in the Côte d'Azur's "Golden Triangle" formed by Beaulieu-sur-Mer, Saint-Jean-Cap Ferrat and Villefranche-sur-Mer. It also covers the areas of Eze Bord-de-Mer and Cap d'Ail. "Demand is as strong as ever, and villas close to the sea and Monaco are the most highly-prized by the agency's clients, mostly foreign, and mainly British and Central European," says our expert. "The most frequent enquiries are for properties priced from 1 to 5 million euros. Within this wide price-bracket, we currently propose, for example, a villa of 240 m2 on Cap d'Ail priced at 3,150,000 €, and another of 260 m2, in Eze Bord-de-Mer, at 4.5 M €. We recently satisfied one of our Monaco-based clients who acquired an outstanding and very charming villa in Eze Bord-de-Mer, for 5 million euros. Then one of our British buyers found just what he was looking for : a small villa near the sea, priced at 950,000 €."
Véronique Deguilhem and Frédérique Mathias work in the two Azur Méditerranée agencies based in Villefranche and Saint-Jean-Cap Ferrat. "Our foreign clients often have a preference for Saint-Jean-Cap Ferrat. Some choose the village for its shops, restaurants and proximity to the beaches, while others set their hearts on the cape," explains Véronique Deguilhem. Properties in the village are more affordable : fishermen's houses or small Provençal villas. On Cap Ferrat, the minimum budget is 3 million euros. Here, villas are rather classical, in Provençal style, with living space of approx. 200 m2 and a garden. They appeal to Swiss, German and Russian clients. Particularly prestigious properties, "right at the water's edge", start from 20 million euros ."At the top end of the market, clients are American and Italian," adds Véronique Deguilhem. "Villefranche attracts both French and foreign clients. It is possible to find very pretty villas here, offering views of Cap Ferrat and the bay of Villefranche. Our buyers are usually looking for renovated villas, in modern style, from 2.5 to 3.5 M €." Azur Méditerranée has thus handled the sale of several properties of about 250 m2, in grounds of 1,500 m2, priced at around 3.5 million euros. In Saint-Jean Cap Ferrat, it sold a superb, prestigious villa of 600 m2 in grounds of 2,500 m2, for around 17 million euros.
A negotiator for the Agence Edouard VII, Gabriele Lepri knows the market in Roquebrune-Cap Martin particularly well. "It is a market made up of micro-neighbourhoods with properties at very different prices. A high percentage of them in fact need renovating." Lying between Monaco and Menton, Cap Martin benefits from a privileged location. An address that is highly sought-after, especially by those doing business in Monaco and wanting to remain near the Principality. The same goes for Russian buyers and a few from the Arab Emirates. Gabriele Lepri explains that Cap Martin is comprised of two distinct markets. The first facing east towards Italy, where houses of about 200 m2 in grounds of 2,000 m2, mainly built in the 1950's-1960's, can be found from 18,000 to 20,000 € per sq. metre. Over the past ten years, these properties have gradually been modernized, and the market has evolved as a result. The agency recently sold one of the most highly-prized types of properties, a 1970's villa, on Avenue Winston Churchill. Offering living space of 170 m2 in grounds of 1,600 m2, it found a taker for around 2.5 million euros. Then, for the west side of Cap Martin, "seen as the most noble, as it looks towards Monaco", says Gabriel Lepri, clients need much higher budgets, ranging from 20 to 100 M €. "Generally speaking, the market on Cap Martin is rather tense, as there is currently more supply than demand. Buyers are also taking their time to reflect. They do not hesitate to compare offerings in order to be sure they are making the best deal possible, and will be able to re-sell the property, if need be, under satisfactory conditions."
You will also like