Saint-Rémy-de-Provence, a spotless reputation
Together with Maussane and Eygalières, Saint-Rémy-de-Provence forms part of the Golden Triangle of the Alpilles. Accessible from Paris in 3 hours by TGV, this gem of the Alpilles draws many Parisians wanting to acquire a delightful second family residence, ideally in the form of a stone "mas" already reflecting today's taste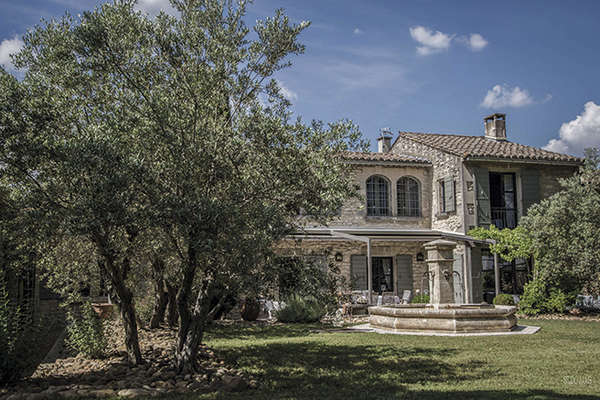 In immediate proximity to the town centre, this authentic restored "mas of over 300 m2 offers appealing amenities : a garden with fountains, terraces, heated pool... 2.150.000 €. AJC Immobilier (04 90 92 05 48).
Enjoying an international reputation built on its refined Provençal life-style, Saint-Rémy-de-Provence is seen as the jewel in the crown of the Alpilles. Reached from the motorways A7 (Lyon-Marseille), A4 (Nîmes Salon-de-Provence) and A9 (Orange-Montpellier-Perpignan), and only 20 minutes from Avignon's TGV station, Saint-Rémy is a lively commune all year round. Dear to Vincent van Gogh who immortalized its landscapes on over 150 canvasses, Saint-Rémy still welcomes many artists. As witnessed by the numerous art-galleries in the town centre, endowing it with more refined charm.
"The market is picking up, clients are more serene and determined to finalize their projects," says Valérie Lucien of Actuel Immobilier. Her clients include many Parisians and French ex-pats living in Hong Kong, Singapore or Dubai, looking for pleasant second residences. "Saint Rémy is still a very highly-prized address. Beyond its aura, the town is appreciated for its amenities, shops and restaurants open year-round. Buyers increasingly want to benefit from their homes on long inter-seasonal weekends." What about prices ? "They are stable and stocks are being renewed. Properties which were up for sale for two or three years have finally found takers, and new ones are on offer at realistic prices," explains Valérie Lucien, who handles sales of homes from 600,000 to 3 million euros. "Small" properties are in very high demand, like one house of about 150 m2 in need of a revamp, in grounds of 2,000 m2. "This villa on offer at around 600,000 € is a good example of the type of properties that sell extremely quickly. Buyers are prepared to spend about 200,000 € to bring them up to date. The 600,000-750,000 € price bracket is curently the most active." Very well-heeled clients are, however, also very keen on the address, treating themselves to beautiful properties such as a stone residence in grounds of 4,000 m2 in Eygalières, priced at around 3 million euros.
These observations are shared by Julia Braille, sales manageress for the AJC Immobilier agency based in Saint-Rémy since the year 2000, and also covering the entire Alpilles region. "The atmosphere is certainly buoyant, though buyers remain prudent and are very careful to obtain a fair price." The agency currently presents a wide array of properties ranging from 650,000 to 1.5 million euros. With a budget of 650,000 €, one can set one's sights on a traditional house in a pretty garden with a pool. Availabilities from 650,000 to 800,000 € are, however, the tightest, due to sustained demand. From 1 million euros, clients can target charming properties, including stone "mas". "The authentic Provençal "mas" is the property most widely sought-after by our clientele comprised of pre-retirees living in large towns. They are looking for a quality life-style based on peacefulness and casual chic, privileged settings where they can entertain their families in the holidays and for long weekends. Being within walking distance of the village is an important criterion," adds Julia Braille. As an example of properties that represent today's market, she mentions a stone "mas" that has been fully restored. Enthroned in 5,000 m2 of grounds, it is up for sale at 1.5 million euros.
You will also like