Saint-Raphaël : from holiday to permanent homes
Long regarded as a desirable holiday destination, Saint-Raphaël has undergone a change : most of the sales now involve a permanent home.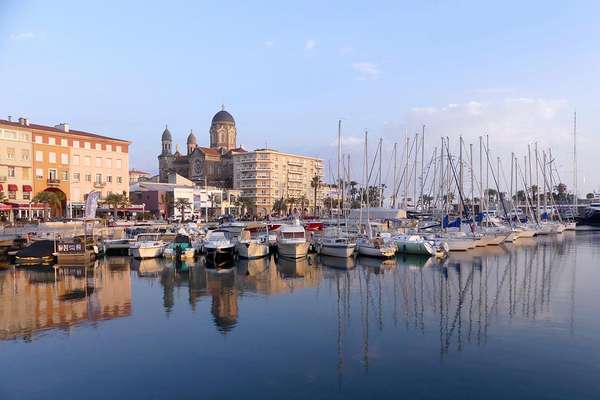 Offering many leisure activities and a wonderful climate, Saint-Raphaël is known as the town in the Var where tourism and a delightful lifestyle form a successful blend.
Specializing in sales in the area comprised by Valescure, Fréjus and Saint-Raphaël, WF King Immobilier offers a wide range of properties to meet the diverse needs of its clientele. "From buyers with a budget of 200,000 € wanting to benefit from a pied-à-terre in a pretty residence near a golf-course (studios or 1-bedroom apartments of 60 m2 on average) to exclusive villas priced from 2 to 5 million euros or more, we undertake each search with the insistance on quality that has built the reputation of WF King Immobilier," says Philippe Fonteneau. Since the end of the first confinement, the majority of demand is for smart seafront apartments whose prices can attain 3 million euros, and which have become particularly rare. "Previously dominated by holiday residences, our market now welcomes a growing number of buyers with budgets of around 900,000 €, wanting to settle in the region year-round. We also see a good many retirees looking for peaceful retreats, while foreign clients have now been replaced by a flock of French buyers aiming for properties with exclusive appointments. Despite a marked rise in demand, prices have however remained stable." With regard to new developments, WF King Immobilier gives priority to properties of charm benefiting from prime locations, also in high demand.
With three agencies in Saint-Raphaël – Littoral, Centre-ville, Les Golfs –, Canat & Warton devotes itself solely to sales under the joint management of Karim Cordelier and Jean-Philippe Bossy. "Long regarded as a desirable holiday destination, Saint-Raphaël has undergone a change : given the increase in taxes on second residences, this market has shrunk significantly, in terms of offerings too : studios and small 1-bedroomed apartments built for this purpose have become rare. So most transactions handled by Canat & Warton now concern the market for permanent, or semi-permanent, homes for buyers wanting to reside in the region for six months of the year." Jean-Philippe Bossy points to two tiers of budgets : the first ranges from 600,000 to 800,000 € – ie. 60 % of demand – giving access to properties in residential neighbourhoods in Boulouris, Valescure and the plateau of Notre-Dame, while the second, from 800,000 to 1 million euros, accounts for one-third of transactions and concerns properties with more exclusive appointments. "A town on a human scale where 75 % of the buildings are listed, Saint-Raphaël offers its residents top-notch everyday living. Its market for old properties is pretty well-balanced between supply and demand, while the market for new properties, currently seeing a slowdown in construction, remains lively, with prices ranging from 3,000 to 8,000 € per sq.m for apartments, 3,000 to 6,000 € per sq.m for houses. In certain exclusive, highly-prized neighbourhoods where offerings are rare, prices can significantly exceed 8,000 € per sq.m."
You will also like