Saint-Raphaël, a diverse market
More than just a seaside resort, Saint-Raphaël is a town in Le Var on a human scale (almost 35,000 residents) where business and tourism form a successful combination. Between the Mediterranean and Provence, at the entrance to the Estérel mountain range, this commune benefiting from five sailing harbours, sandy beaches and three golf-courses offers diverse accommodation in all price brackets.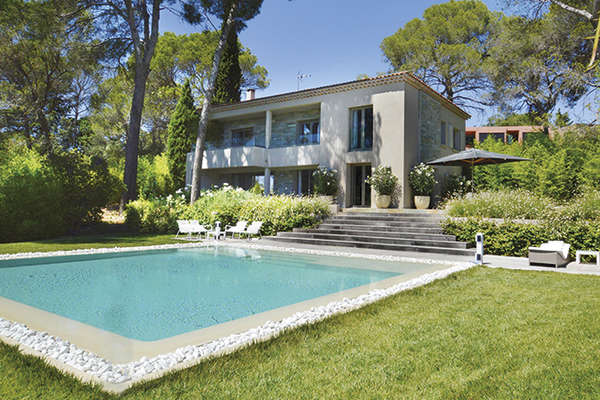 This contemporary villa in Valescure offers 6 main rooms including a lounge of 57 m2 extended by a terrace with a pleasant open view. The grounds of 1,667 m2 benefit from a lovely pool. 1.250.000 €. WF King Immobilier (04 94 95 79 55).
Well-connected thanks to its TGV station, access to motorways, and less than an hour from Nice's international airport, Saint-Raphaël is now the largest economic, administrative and cultural hub in the eastern part of Le Var.
"Our property market has shown more vitality over the past six months," says Sylvain Chaugne of the Solvimo agency, specializing in the town centre, Les Plaines and the Boulouris neighbourhood. "In the area we cover, all types of properties are currently finding takers. Our clientele mainly consists of retirees : mostly from Grenoble, Lille, Strasbourg and the Parisian region, they are looking for pleasant apartments near beaches, shops and restaurants. A property offering a practical life-style has every chance of selling within a few months, if it is correctly estimated." And therein lies the rub. Over the past two years, the market has seen a decline of 15 to 20 % in the prices of older properties. A pill which is still particularly hard to swallow for the majority of sellers. "It is almost always the same story. When a seller sticks to his price, he realises after a few months that if he really wants to sell, he will have to accept offers that come his way." 2-bedroomed apartments with terraces in recent residences with lifts are the most highly-prized properties in the town centre. You can now expect to pay from 250,000 to 280,000 € for a good example of this type of home. As an example representing today's market, Sylvain Chaugne mentions an apartment of 73 m2 prolonged by a terrace of 14 m2. On the 1st floor of a recent residence in the Clémenceau neighbourhood, it sold within three months for 250,000 €.
Set further back from the coast, the up-market area of Valescure is laid out around the golf-courses. Here, substantial villas in neo-Provençal style rub shoulders with a few high-end residences and private estates bearing some of the commune's most desirable addresses : Domaine de la Tour and Domaine du Golf Esterel. "We are seeing a rise in the number of serious buyers, set on treating themselves to year-round homes in this neighbourhood. From all over France, many active seniors are drawn by this quiet, green environment, the quality of the properties, their high security, easy access and, for most of them, the bonus of a golf-course," explains Philippe Fonteneau of WF King, an independent company founded in 1906, with five agencies in Le Var including one in Valescure. "Seventy per cent of our transactions involve year-round homes with buyers from Paris, Lyon, Strasbourg, and a few Swiss, Belgian and Russian clients attracted by an art of living that blends sunshine and golf." Villas built in the 1970's in the loveliest grounds are presented at prices ranging from 600,000 to 700,000 €. A budget of 150,000 to 200,000 € is then often necessary to bring them up to date. More recent houses, built in the years 2000, fetch around 1 million euros, depending on their size and appointments. High-class apartments in residences with 20 to 80 units at most cost from 4,000 to 8,000 € per sq. metre. One example, a luxury 2 bedroomed apartment with a terrace of 27 m2 offers an elevated view of the sea. Surrounded by golf-courses and benefiting from a garage, it is currently up for sale at 490,000 €.
You will also like