Saint-Paul and Vence, a delighful hinterland
A village of art and history, Saint-Paul de Vence is one of the region's foremost poles of attraction. Its charm and beautiful natural environment radiate outwards to include neighbouring towns and villages, such as La Colle-sur-Loup and Vence.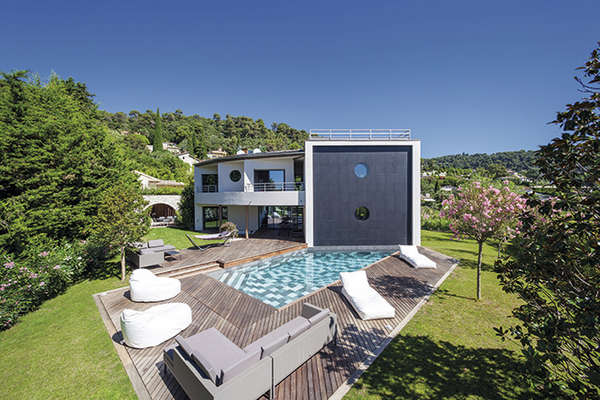 Near Saint-Paul, this very smart contemporary house with a panoramic view of the village offers 9 bedrooms and luxurious appointments : a wine cellar, movie lounge, elevator, pool... 3,5 M €. Agence Burns (04 93 32 00 00).
In both Saint-Paul de Vence, a village acclaimed by artists and celebrities from all over the world, and also in Vence, a pretty town whose centre dates back to the 12th century, the property market seems to have made a real recovery since the end of the winter.
Sébastien Verdoucq of the Agence Burns in Saint-Paul de Vence is one of the most passionate fans of his very famous village. And he can't help but notice that he is not alone. Saint-Paul continues to exercise its appeal and attraction among both French and foreign buyers. Easily accessible, "with no traffic jams, even in summer", only 15 minutes from the airport and mid-way between Cannes and Monaco, the village draws a discerning clientele, also aware that the most expensive properties and, above all, the ones most over-priced, are subject to negotiation by as much as 40 % of their price. Sébastien Verdoucq confirms that activity has picked up significantly since the spring, and that properties that have been properly evaluated sell very quickly. "Houses that had been on the market for a very long time have found takers as soon as owners agreed to lower their prices." Under 700,000 €, there is a lot of demand but few availabilities. "When they are fairly priced, these houses, which are rather rare, sell in less than two months. From 750,000 to 1.3 million euros, the market is a little more difficult. They always lack one of the criteria making them "exceptional properties" : flat grounds, a view of the sea, high-quality building materials, all within a desirable neighbourhood"... Over and above 1.4 million euros, one can find very beautiful houses, often holiday residences owned by foreigners, which are occasionally up for bargaining. Most of the very large properties have not been renovated for 20 or 30 years. "Clients ready to part with over 4 million euros want everything, right away : they are not, of course, overly fond of houses in need of refurbishment."
For Michael Deckers, the English estate-agent with Capital Immobilier, specializing in very lovely villas in grounds of over 2,500 m2 in Saint-Paul de Vence, the situation is simple : "For the past few months, there have not been enough properties available for sale in Saint-Paul". He points out that until the end of last year, buyers had disappeared from the market due to Brexit and the never-ending financial crisis. Today, the trend has reversed. Discouraged sellers who had withdrawn their properties from the market are beginning to put them back up for sale. This has been particularly the case since the month of March. According to Michael Deckers, prices have become more reasonable and at the same time some offers have been accepted, whereas they were well beneath the price initially required. Largely comprised of foreigners, his clients have very diverse requirements. The English are still "madly in love with France" and try to settle down in this magnificent village. Germans are looking for security, good neighbourhoods and practicality. Belgian and Dutch buyers find the well-preserved nature here to their taste. As for Russian and Arab clients, they tend to look for properties in secure elevated positions, guaranteeing their privacy.
A few kilometres from Saint-Paul, the historic town of Vence has also been attracting a rising number of buyers over the past few months. According to Patricia Puccetti of Vence Immo, while the winter was very quiet, it has been madness since February ! "Properties are scarce. For those under 600,000 €, when clients trust us for our estimates and agree to put their houses up for sale at the going price, they sell within less than one month." At the moment, numerous English owners of houses in the area around Vence find themselves obliged to sell and return to the land of Her Royal Majesty. "The exchange rate has lowered their purchasing power, and Brexit hardly looks as if it will make things easier," explains Patricia Puccetti. In the case of apartments, while studios and 1-bedroomed apartments can be found pretty easily in the narrow streets of the town centre, there are very few 2- or 3-bedroomed apartments. As soon as a large apartment with quality appointments comes up for sale, it is immediately snapped up. Patricia Pucetti also explains that, with extremely low interest rates and repayment periods being extended to up to 30 years, she is selling more and more properties to first-time buyers. She also congratulates herself on having created a group of estate agencies in Vence and its surrounding area, making it possible to share all the available properties and providing more efficient services for both buyers and sellers.
You will also like